BALLET & DANCE
Tales of Hoffmann
SCHEDULE
Fri, 23 February 2024, 13:00

Sat, 24 February 2024, 13:00

Sat, 24 February 2024, 18:00

Sun, 25 February 2024, 13:00

Show More
2023/2024 SEASON
OPERA PALACE
23 Feb - 25 Feb, 2024 ( 4 Performances )
Running time is approx. 2 hours 40mins including intervals
Booking Opens: Sat, 16 Dec 2023, 10:00am
DETAILS
Renowned British choreographer Peter Darrell's masterpiece Tales of Hoffmann was staged as a new production in 2015. This piece portrays an intense human drama through the love affairs of the protagonist Hoffmann, demanding great expressiveness and artistry on the part of the dancers. The love motifs are truly diverse and alluring, woven throughout the performance by the various characters, from the protagonist Hoffmann, shown from adolescence through to his latter years, the three seductive women who steal Hoffmann's heart, and the devil, who appears in different forms. Expect a fantasy of a story, romantic and luxurious yet with a touch of the forlorn, complemented by beautifully flowing and variegated music by Jacques Offenbach.
SYNOPSIS
< Prologue >
Middle-aged poet Hoffman waits for his lover, the prima donna La Stella, at a tavern outside the Opera House. La Stella appears with a letter intended as a message for Hoffman, but Councillor Lindorf (actually a devil ) intercepts it. Upon requests from his friends, Hoffmann begins to speak of his past loves.
< Act1-Olympia (The First Tale) >
After Hoffman puts on a pair of magical glasses from Spalanzani (actually a devil), he believes that a mechanical doll is actually a beautiful girl named Olympia. He falls in love with her and proposes marriage. Hoffmann dances with Olympia, but the mechanical doll eventually falls apart in his hands.
< Act2-Antonia (The Second Tale) >
Ten years later. The daughter of a piano teacher, Antonia has a weak heart but always dances to her lover Hoffman's piano music anyway, so her worried father sends Hoffman away and calls for a doctor. Doctor Miracle (actually a devil) uses hypnosis to convince Antonia that she is a ballerina. He forces Hoffman to continue playing the piano, and so Antonia continues dancing. Antonia finally dies in Hoffmann's arms.
< Act 3-Giulietta (The Third Tale) >
Having devoted himself to religion in his advancing age, Hoffmann visits the salon of Dapertutto (actually a devil). There, the courtesan Giulietta seduces him. His cross stolen and his reflection lost, Hoffman asks God for forgiveness. His reflection returns and Dapertutto and Giulietta both vanish.
< Epilogue >
Having finished his tale, Hoffmann falls asleep drunk. His lover La Stella appears, but she finds Hoffman passed out from drinking along with the crumpled and discarded letter. Disappointed by Hoffman, she leaves with Lindorf. Once awake, Hoffman recognises what has happened and is left standing alone.
CREATIVE TEAM & CAST
CREATIVE TEAM
Choreography and Scenario by: Peter DARRELL
Music by: Jacques OFFENBACH
Music arranged and Orchestrated by: John LANCHBERY
Set Designer: KAWAGUCHI Naoji
Costume Designer: MAEDA Ayako
Lighting Designer: SAWADA Yuji
Conductor: Paul MURPHY
Orchestra: Tokyo Symphony Orchestra
Choreography and Scenario by

Peter DARRELL

Music arranged and Orchestrated by

John LANCHBERY

Set Designer

KAWAGUCHI Naoji

Costume Designer

MAEDA Ayako

Lighting Designer

SAWADA Yuji

Conductor

Paul MURPHY
TICKETS
S

¥14,850

A

¥12,650

B

¥9,350

C

¥6,050

D

¥4,950

Z

¥1,650*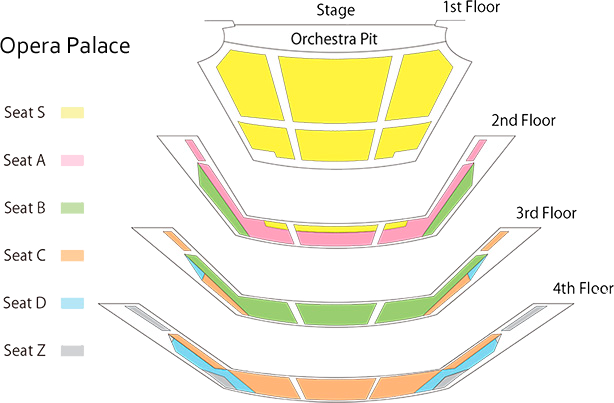 Booking Opens: Sat, 16 Dec 2023, 10:00am
Booking Z seats (Day tickets) 1,650 yen
You are able to purchase Z seat tickets online from 10:00 am. Click "BUY TICKETS" next to "Z" under each performance information.
There is a handling charge of ¥330 (incl. tax).
Only when seats allocated as Z seats are still available at 11:00am, you are able to purchase these tickets at the Box Office of the theatre.
Note that all Z seats are on a first come, first served basis and will come with restricted views.
Concession Prices
Under 15s discounts and Z seats (Day Tickets) are available online. Other types of discount tickets are not available online. Please inquire at the Box Office or by telephone.
Please Note
Latecomers will not be admitted to the auditorium unless there is a suitable break or interval.
No admittance to children under 4. Each child older than this age requires a ticket for entry, even when accompanied by a parent or guardian.
Tickets may not be changed or refunded except in the case of a cancelled performance.
A special discount price is available for disabled guests. Please inquire at the Box Office for details.
Users of wheelchairs are requested to contact the Box Office.
Please note that cast or programme change may be required depending on the situation.