Artistic Director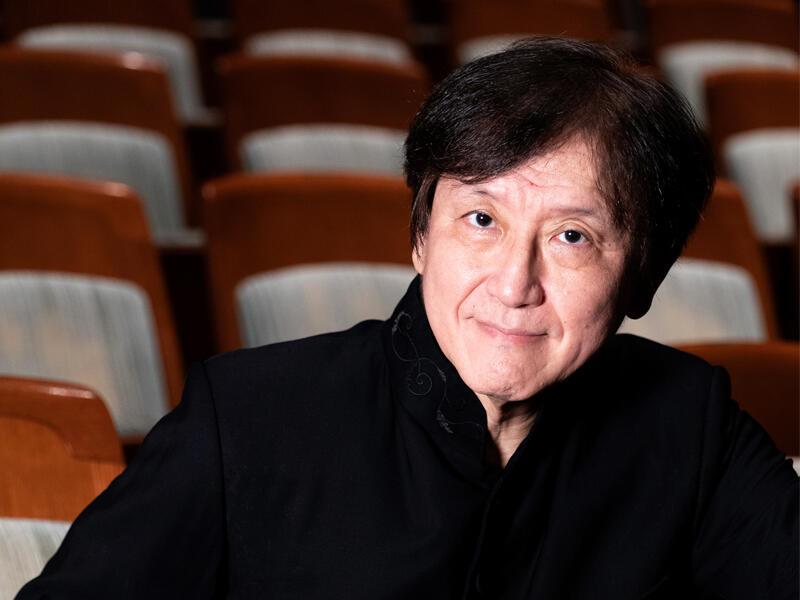 ONO Kazushi
ARTISTIC DIRECTOR OF OPERA
Message
It is my pleasure to introduce the New National Theatre, Tokyo under my direction from the 2018/2019 season. Our Theatre boasts a presence as one of Asia's leading opera venues, and we have maintained our international influence through showcasing numerous world premieres and new operas. As Artistic Director, I look forward to developing our pursuits with even greater energy.
To achieve this, I aim to utilise my global network to invite the world's best directors, conductors, stage designers, dancers, artists and singers to gather at our Theatre and inject our creations with vitality, transforming our Theatre into a space that will present us with much to consider as 21st century inhabitants. I would like to promote the use of cutting-edge Japanese visual technology to recreate traditional works, and work with other Asian countries to co-produce operas in a pan-Pacific alliance. I want to ensure that our world premieres are opportunities to send our message "from Tokyo to the world".
I believe that the potential of opera as a means of expression is going to become increasingly meaningful in terms of global-scale human connections. And I am positive that the NNTT will play a significant role as we enter this era.
Biography
Ono Kazushi is Artistic Director of Opera of the New National Theatre Tokyo, a position he has held since September 2018. At the New National Theatre Tokyo, he has conducted Die Zauberflöte (1998), Tristan und Isolde (2010, 2011), Asters (2019), Turandot (2019), A Dream of Armageddon (2020), Die Walküre (2021), Carmen (2021), Super Angels (2021), Die Meistersinger von Nürnberg (2021), Pelléas et Mélisande (2022) and Boris Godunov (2022).
Ono, having been born in Tokyo, studied in Munich and forged his early career in Zagreb, Karlsruhe and Tokyo. This variety of influences has shaped an inquiring and profound musical intellect and an ability to communicate meaning across languages and cultures, leading to longstanding relationships around the world.
Ono trained in Europe under Wolfgang Sawallisch and came to public attention winning first prize in the 1987 Toscanini Competition. Since his first appointment at Tokyo Philharmonic Orchestra in 1992 he has held continuous positions, including at Zagreb Philharmonic Orchestra, Badisches Staatstheater Karlsruhe, Theatre Royal de la Monnaie in Brussels, Opéra National de Lyon, the Orquestra Simfònica de Barcelona i Nacional de Catalunya, and currently, Tokyo Metropolitan Symphony Orchestra, New National Theatre Tokyo and Brussels Philharmonic Orchestra.
A favourite of orchestral players, he has lasting friendships with orchestras around the world and regularly guest conducts groups such as London Philharmonic Orchestra, Orchestre de Paris, City of Birmingham Symphony Orchestra and Orchestre de la Suisse Romande.
His passion and curiosity for repertoire takes him in different directions – to the standard classics but also to new music. He often commissions works and has collaborated several times with Mark-Anthony Turnage, including on Silent Cities, Hibiki (which won a Royal Philharmonic Society award) and Time Flies, which was originally commissioned for the 2020 Tokyo Olympiad. Recent commissions at New National Theatre Tokyo include Asters by Nishimura Akira and Fujikura Dai's A Dream of Armageddon. His programming there also includes Baroque, 20th-century and bel canto masterpieces.
In Europe he conducted the world premieres of Hosokawa Toshio's Hanjyo in Aix-en-Provence, Arnulf Hermann's Der Mieter at Oper Frankfurt and Kaija Saariaho's Emilie at Opéra de Lyon, as well as new productions of Ravel's L'heure espagnole and L'Enfant et les Sortilèges at Glyndebourne and Honegger's Jeanne d'Arc au Bûcher at Opéra de Lyon. He has worked closely with boundary-breaking directors such as Dmitri Tcherniakov, Romeo Castellucci, Pierre Audi, William Kentridge and Mariusz Treliński.
Ono is a vocal advocate for the role of culture in all our lives. During his time in Lyon he took part in a programme bringing opera to prisons and at TMSO he leads the inclusive SaLaD Music Festival, as well as working with community organisations for people with disabilities. In his new role in Brussels he will be part of an integration scheme for refugees. During the initial stages of the pandemic, he led ground-breaking research into the transmission of particles and the use of ventilation that meant that orchestras could get back to playing for audiences safely.
In 2017 he was awarded 'Officier de l'ordre des Arts et des Lettres' by French cultural minister Françoise Nyssen, adding to the prestigious Asahi Prize in January 2015, for his contribution to the development and progress of Japanese society.
Awards
1987
Arturo Toscanini International Competition for Conductors
1989
Muramatsu Award
1993
Akio Watanabe Music Foundation Award
Art Encouragement Prize for New Artists by Minister of Education Award for Fine Arts
1997
Hideo Saito Memorial Fund Award
Idemitsu Music Award
2006
Prix de la critique and European Grand Prize for Opera (Théâtre Royal de la Monnaie)
2007
Minister of Education Award for Fine Arts
2008
Medal with Purple Ribbon from the Japanese government
2009
Prix de la critique, Prix de Claude Rostand for "Le Joueur", "Lulu", "Mort à Venise" (l'Opéra National de Lyon)
Exxon Mobil Music Award
2010
The Imperial Prize, the Japan Arts Academy Prize
Suntory Music Award
2011
Prix de la critique, Prix de Claude Rostand for "Le Rossignol et autres fables" (l'Opéra National de Lyon)
2012
Grammy Award for "Diva Divo" (Joyce DiDonato with Orchestre de l'Opera National de Lyon)
2014
Gramophone's Opera Award for "L'heure espagnole" and "L'enfant et les sortilèges" (Glyndebourne Festival)
2016
Asahi Prize for his contribution to Japanese society
2017
Prix de la critique, Prix de Claude Rostand, "L'ange de Feu" (l'Opéra National de Lyon) Officier of the Ordre des Arts et des Lettres by the French government
Special Medal by the City of Lyon