BALLET & DANCE
Don Quixote
SCHEDULE
Fri, 20 October 2023, 19:00

Sat, 21 October 2023, 13:00

Sat, 21 October 2023, 18:30

Sun, 22 October 2023, 13:00

Sun, 22 October 2023, 18:30

Tue, 24 October 2023, 13:00

*Not for General Sales. No Z seats (Day Tickets) available.

Fri, 27 October 2023, 14:00

Sat, 28 October 2023, 13:00

Sat, 28 October 2023, 18:30

Sun, 29 October 2023, 14:00

Show More
2023/2024 SEASON
OPERA PALACE
20 Oct - 29 Oct, 2023 ( 10 Performances )
Running time is approx. 2 hours 45 mins including intervals
Booking Opens: Sat, 26 Aug 2023, 10:00am
DETAILS
This ballet, brimming with fun and vitality, is based on an episode from Cervantes' Don Quixote. It is a love story featuring the barber, Basilio, and the town girl, Kitri, which unfolds in bright, cheerful Barcelona.This popular program piece offers the beauty of classical ballet and character dancing in a rich variety of forms. Enjoy the full panoply of dramatic dance: Spanish dancing, with its distinctive accents, by bedazzlingly clad matadors and the girls of the town; the beautiful corps de ballet dancing in scenes from Don Quixote's dreams; and the final pas de deux danced with the utmost skill by the lovers in the final act. The National Ballet of Japan presents its rich line-up of soloists and its highly recognized corps de ballet in this much-loved classical work.
NEWS & FEATURES
19TH September, 2023
More cast announced for Ballet "Don Quixote"
19TH June, 2023
Main cast announced for "Don Quixote"
SYNOPSIS
Don Quixote goes out seeking adventure, traveling through various lands, accompanied by the peasant, Sancho Panza. Basilio the barber is the lover of Kitri, an attractive daughter of an inn-keeper, Lorenzo. However, Lorenzo is trying to have his daughter marry the wealthy aristocrat, Gamache. Don Quixote and Sancho Panza arrive at a square filled with merrymakers. Upon seeing Kitri, Don Quixote believes her to be Dulcinea, the woman of his dreams.
Kitri and Basilio hide away in a tavern on the outskirts of town in order to escape from Lorenzo. But, upon being discovered by the pursuing Lorenzo and others, Basilio declares that if he cannot marry Kitri he will kill himself, and takes his own life. Don Quixote, filled with indignation, holds his spear to Lorenzo, and insists that he allow Basilio to fulfil his dying wish and marry Kitri. Lorenzo reluctantly consents, and Basilio, who had been feigning death, leaps up and shares his joy with Kitri.
Don Quixote and Sancho Panza are wandering through the woods. Don Quixote mistakes a windmill for a giant and attacks it, is thrown violently to the ground, and passes out. In his dreams, he then meets the princess Dulcinea (Kitri).
Sancho Panza then encounters a duke and duchess out enjoying a hunt, and pleads with them to assist his master, who has lost consciousness. The duke and duchess invite Don Quixote to their castle. On hearing from Sancho Panza the story of the love between Kitri and Basilio, they arrange to host a wedding ceremony in their castle. A lavish party to celebrate the wedding takes place, with the joyous Kitri and Basilio dancing before the guests.
CREATIVE TEAM & CAST
CREATIVE TEAM
Choreography by Marius PETIPA / Alexander GORSKY
Production by Alexei FADEYECHEV
Music by Léon MINKUS
Set and Costume Designer: Vyacheslav OKUNEV
Lighting Designer: KAJI Kozo
Conductors: Matthew ROWE / TOMITA Misato
Orchestra: Tokyo Philharmonic Orchestra
Production by

Alexei FADEYECHEV

Set and Costume Designer

Vyacheslav OKUNEV

Lighting Designer

KAJI Kozo

Conductor

Matthew ROWE

Conductor

TOMITA Misato

Kitri

YONEZAWA Yui

20, 27

Basilio

HAYAMI Shogo

20, 27

Kitri

SHIBAYAMA Saho

21m, 24

Basilio

IZAWA Shun

21m, 24

Kitri

KIMURA Yuri

21s, 28s

Basilio

WATANABE Takafumi

21s, 28s

Kitri

IKEDA Risako

22m, 28m

Basilio

FUKUOKA Yudai

22m, 28m

Kitri

ONO Ayako

22s, 29

Basilio

NAKAYA Masahiro

22s, 29
TICKETS
S

¥14,850

A

¥12,650

B

¥9,350

C

¥6,050

D

¥4,950

Z

¥1,650*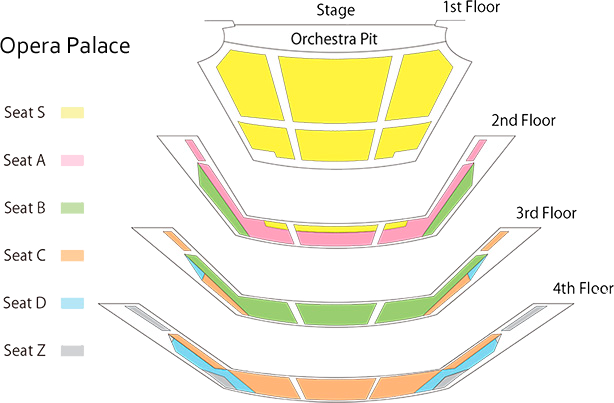 Booking Opens: Sat, 26 Aug 2023, 10:00am
*The tickets for the 24th are not for general sales. All the tickets including Z seats (Day Tickets) are not available.
Booking Z seats (Day tickets) 1,650 yen
You are able to purchase Z seat tickets online from 10:00 am. Click "BUY TICKETS" next to "Z" under each performance information.
There is a handling charge of ¥330 (incl. tax).
Only when seats allocated as Z seats are still available at 11:00 am, you are able to purchase these tickets at the Box Office of the theatre.
Note that all Z seats are on a first come, first served basis and will come with restricted views.
Concession Prices
Under 15s discounts and Z seats (Day Tickets) are available online. Other types of discount tickets are not available online. Please inquire at the Box Office or by telephone.
Please Note
Latecomers will not be admitted to the auditorium unless there is a suitable break or interval.
No admittance to children under 4. Each child older than this age requires a ticket for entry, even when accompanied by a parent or guardian.
Tickets may not be changed or refunded except in the case of a cancelled performance.
A special discount price is available for disabled guests. Please inquire at the Box Office for details.
Users of wheelchairs are requested to contact the Box Office.
Please note that cast or programme change may be required depending on the situation.