Ballet
The Nutcracker and the Mouse King
SCHEDULE
Sat, 14 December 2019, 13:00

Sat, 14 December 2019, 18:00

Sun, 15 December 2019, 13:00

Sun, 15 December 2019, 18:00

Tue, 17 December 2019, 13:00

Sat, 21 December 2019, 13:00

Sat, 21 December 2019, 18:00

Sun, 22 December 2019, 13:00

Sun, 22 December 2019, 18:00

Show More
2019/2020 SEASON
OPERA PALACE
14 Dec - 22 Dec, 2019 ( 9 Performances )
Running time is approx. 2 hours 15 mins including intervals
DETAILS
Highly acclaimed as a classic masterpiece taken to new frontiers when opened as a new production in 2017, this work features splendid, fast-paced choreography with a sense of humour by Wayne EAGLING, while the rich colours of the set and costumes describe the world of reality and a dream. Full of highlight scenes, from the sophisticated pas de deux of the leading characters, ensemble dance of the snow scene and flower waltz to the divertissements of the second act, it is no exaggeration to say that this production fully showcases the talent of the National Ballet of Japan dancers. We welcome you to celebrate the festive season with our version of the Nutcracker.
NEWS & FEATURES
21ST December, 2019
Review of Ballet "The Nutcracker and the Mouse King" on The Japan Times
SYNOPSIS
It is the night of Christmas Eve. Everyone at little Clara's house is frantically preparing for the party. The guests start arriving. A friend of the family, Herr Drosselmeyer, and his nephew arrive. Clara feels a little amorous towards the handsome young nephew.
Herr Drosselmeyer gives Clara a nutcracker doll. After the party, Clara enters the world of dreams, only to find a battle beginning between the Nutcracker and the mice. The Nutcracker is attacked and injured by the wicked Mouse King. Herr Drosselmeyer then comes in and makes everything right, upon which the Nutcracker turns into the dashing young officer of a nephew whom Clara had secret longings for, and he and Clara dance a romantic pas de deux. However, the Mouse King then turns him back into the Nutcracker doll.
As if by magic, the lounge transforms into a winter wonderland in which bright glistening snowflakes are falling. Herr Drosselmeyer saves Clara and the Nutcracker, whisking them away by balloon to an enchanted land, but only to find a pursuing party led by the Mouse King already there.
The Nutcracker doll thereupon attacks and eventually defeats the Mouse King, and a magnificent celebration gets underway in the Kingdom of Sweets. Clara becomes the Sugar Plum Fairy, and the nephew, the Prince, and they dance a glorious pas de deux.
All of a sudden, Clara wakes up in her bedroom. Together, she and brother Fritz see off Herr Drosselmeyer and his nephew. Clara is left wondering "Was this all a dream?"
CREATIVE TEAM & CAST
CREATIVE TEAM
Music: Pyotr Ilyich TCHAIKOVSKY
Choreography: Wayne EAGLING
Set Designer: KAWAGUCHI Naoji
Costume Designer: MAEDA Ayako
Lighting Designer: SAWADA Yuji
Conductor: Alexei BAKLAN
Orchestra: Tokyo Philharmonic Orchestra
Chorus: The Little Singers of Tokyo
Choreography

Wayne EAGLING

Set Designer

KAWAGUCHI Naoji

Costume Designer

MAEDA Ayako

Lighting Designer

SAWADA Yuji

Conductor

Alexei BAKLAN
TICKETS
S

¥13,200

A

¥11,000

B

¥7,700

C

¥4,400

D

¥3,300

Z

¥1,650*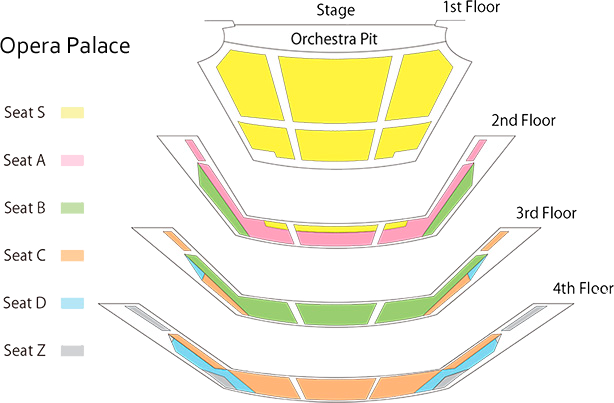 Booking Opens: Sat, 10 Aug 2019, 10:00am
Tickets for 22 Dec. are only sold at the Ticket Agent Pia. Z seats for 22 Dec. at 13:00 are sold at the Theatre.
*Booking Z seats (Day tickets) 1,650 yen
You are able to purchase Z seat tickets online from 10:00 am to 11:00 am. Click "BUY TICKETS" next to "Z" under each performance information.
There is a handling charge of ¥330 (incl. tax).
Only when seats allocated as Z seat are still available at 11:00 am, you are able to purchase these tickets at the Box Office of the theatre.
Note that all Z seats are on a first come, first served basis and will come with restricted views.
Concession Prices
Under 15s discounts and Z seats (Day Tickets) are available online. Other types of discount tickets are not available online. Please inquire at the Box Office or by telephone.
Please Note
No admittance to children under 4. Each child older than this age requires a ticket for entry, even when accompanied by a parent or guardian.
Tickets may not be changed or refunded except in the case of a cancelled performance.
A special discount price is available for disabled guests. Please inquire at the Box Office for details.
Users of wheelchairs are requested to contact the Box Office.
Preferred seats may not be available on the first day of ticket sales.