BALLET & DANCE
[CANCELLED] Alice's Adventures in Wonderland©
2019/2020 SEASON
*As of the 8th of May, we have cancelled all performances of "Alice's Adventures in Wonderland©".
>Announcement of Cancellation
>Refund Information


OPERA PALACE
          
  
Supported by British Council


5 Jun - 14 Jun, 2020 ( 10 Performances )
*7 Jun. is School Matinee. Only Z seats are available.
*10 Jun. is School Matinee. Only S seats and Z seats are available.
*11 Jun. Not for General Sales. No Z seats available.
*Tickets for 13 Jun. at 13:00 are only sold at the Ticket Agent Pia. Z seats will be sold at the Box Office of the theatre.

Running time is approx. 2 hours 50 mins including intervals
DETAILS
By popular demand, the season will conclude with a piece that featured at the start of the 2018/2019 season. Namely, this season ends with a revival performance of a highly-acclaimed production based on "Alice's Adventures in Wonderland" by the famous British author Lewis CARROLL. This production premiered at the Royal Ballet in the United Kingdom, enabled by a prominent line-up of artists, including British ballet choreographer Christopher WHEELDON, film and television music composer Joby TALBOT, and theatre designer, and multiple Award winner, Bob CROWLEY. It has swept the world and become part of the repertoire of the world's leading ballet companies. In Japan, the only ballet company with permission to perform this piece is the National Ballet of Japan. We trust you will enjoy this wonderfully entertaining and artistic work, now further perfected through repeated performances.
NEWS & FEATURES
13TH December, 2019
Main cast announced for Ballet "Alice's Adventures in Wonderland ©"
SYNOPSIS
A party is about to begin at a family home in England with daughter Alice. Alice makes a gift of a jam tart to the gardener, Jack, whom she is in love with, but Alice's mother mistakenly thinks he stole it, and fires him. Lewis Carroll, a friend of the family, tries to console the sorrowful Alice, but then a strange thing happens: he turns into a white rabbit!
Following him, Alice falls into a deep hole. She lands in a very unusual passageway, in which she gets lost, and finds herself in a kingdom ruled by the Queen of Hearts, who looks just like her mother. Alice's adventures begin with her attempt to rescue Jack, who is dressed as the Knave of Hearts, and who is suspected of having stolen the Queen's jam tart.
Alice drinks from a bottle that says 'Drink me" and eats a cake that says "Eat me," which makes her alternatively bigger and smaller, and has her swimming in a lake of her own tears. The White Rabbit then lures her into the inner depths of Wonderland, where she meets an odd bunch of characters, including the Duchess, the Cheshire Cat, the Mad Hatter and the March Hare. Alice is reunited with Jack in the Magic Garden, upon which he is captured by the Queen. Jack's trial begins. A succession of strange people and creatures whom Alice has encountered in Wonderland appears, giving evidence against Jack. Alice defends him, but the Queen gets only angrier and angrier, and the whole castle descends into pandemonium.
CREATIVE TEAM & CAST
CREATIVE TEAM
Music: Joby TALBOT
Choreography: Christopher WHEELDON
Set & Costume Designer: Bob CROWLEY
Scenario: Nicholas WRIGHT
Lighting Designer: Natasha KATZ
Projection Designers: Jon DRISCOLL and Gemma CARRINGTON
Puppetry Designer: Toby OLIÉ
Magic Consultant: Paul KIEVE
Conductor: Nathan BROCK / TOMITA Misato
Orchestra: Tokyo Philharmonic Orchestra
Co-production with: The Australian Ballet
Music

Joby TALBOT

Choreography

Christopher WHEELDON

Set & Costume Designer

Bob CROWLEY

Lighting Designer

Natasha KATZ

Conductor

Nathan BROCK

Conductor

TOMITA Misato

Alice

YONEZAWA Yui

Alice

ONO Ayako

Jack/The Knave of Hearts

FUKUOKA Yudai

Alice

IKEDA Risako

Jack/The Knave of Hearts

IZAWA Shun

Alice

YONEZAWA Yui

Jack/The Knave of Hearts

WATANABE Takafumi

Jack/The Knave of Hearts

WATANABE Takafumi
TICKETS
S

¥16,500

A

¥13,200

B

¥8,800

C

¥6,600

D

¥4,400

Z

¥1,650*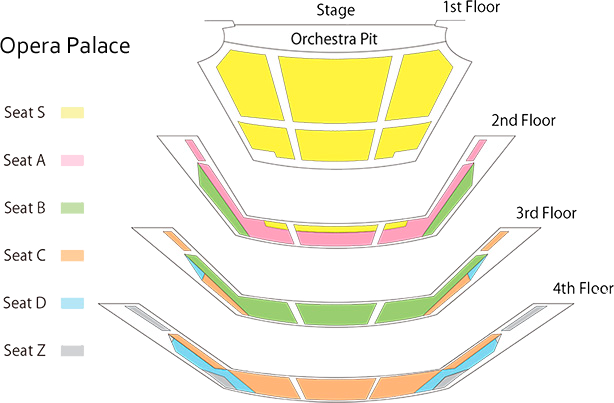 Booking Opens: Sun, 9 Feb 2020, 10:00am
*7 Jun. is School Matinee. Only Z seats are available.
*10 Jun. is School Matinee. Only S seats and Z seats are available.
*11 Jun. Not for General Sales. No Z seats available.
*Tickets for 13 Jun. at 13:00 are only sold at the Ticket Agent Pia.
Z seats are sold at the Theatre.


*Booking Z seats (Day tickets) 1,650 yen
You are able to purchase Z seat tickets online from 10:00 am to 11:00 am. Click "BUY TICKETS" next to "Z" under each performance information.
There is a handling charge of ¥330 (incl. tax).
Only when seats allocated as Z seat are still available at 11:00 am, you are able to purchase these tickets at the Box Office of the theatre.
Note that all Z seats are on a first come, first served basis and will come with restricted views.
Concession Prices
Under 15s discounts and Z seats (Day Tickets) are available online. Other types of discount tickets are not available online. Please inquire at the Box Office or by telephone.
Please Note
No admittance to children under 4. Each child older than this age requires a ticket for entry, even when accompanied by a parent or guardian.
Tickets may not be changed or refunded except in the case of a cancelled performance.
A special discount price is available for disabled guests. Please inquire at the Box Office for details.
Users of wheelchairs are requested to contact the Box Office.
Preferred seats may not be available on the first day of ticket sales.