BALLET & DANCE
Swan Lake
2022/2023 SEASON


OPERA PALACE
10 Jun - 18 Jun, 2023 ( 9 Performances )
Running time is approx. 3 hours including two intervals.
DETAILS
The production that opened the 2021/2022 Season to much acclaim now returns to close the season. This production by Sir Peter WRIGHT is a stately work, full of dramatic elements that are very British. We trust you will enjoy this production of Swan Lake, combining the traditional charm of classic ballet with a new sense of drama.
[Covid-19] Our Prevention Plan and Request to Our Patrons

The performances will be taking place based on the policies of the Japanese government and the Tokyo Metropolitan government, along with the guideline for the prevention of the spread of COVID-19 infection by the Association of Public Theatres and Halls in Japan.
Please read this page before visiting the theatre.
NEWS & FEATURES
1ST March, 2022
2022/2023 Season Ballet & Dance at the New National Theatre, Tokyo
SYNOPSIS
Following his father's death, Prince Siegfried is to be crowned king and must therefore marry. He dreads the loss of his freedom and has no wish to choose a bride he does not love. It is the night of his 21st birthday and his friends at court have assembled to present him with the gift of a crossbow. His equerry and friend, Benno, has arranged an entertainment to divert him, but in the middle of these celebrations the Queen Mother arrives, unannounced. She is shocked at the revelry while the court is still officially in mourning and reminds Siegfried that the following day he must choose a bride. She departs leaving Siegfried despondent. Benno attempts to cheer him with the help of two girls and the men then join in a drinking dance to toast the future king. When the dancers have gone, a flight of swans passes and Benno suggests that Siegfried try out his new crossbow. They depart in pursuit.
On arrival at the lakeside Prince Siegfried sends Benno in search of the swans. Left alone he becomes aware of an evil presence - the magician Baron von Rothbart. Suddenly a swan approaches, and Siegfried watches in amazement as it is transformed into a beautiful maiden. She is Princess Odette. She and her companions have been turned into swans by Baron von Rothbart and only at night can they return to human form. Odette's enchantment can be broken only if someone who has never loved before swears an oath of undying love and promises to marry her. Prince Siegfried declares his love and swears to be true for eternity. When von Rothbart appears Prince Siegfried attempts to shoot him, but Odette intercedes explaining that if the magician dies the spell can never be broken. She warns him that if he breaks his vow of love she must remain a swan forever. Dawn approaches. Odette and her companions return to the lake and resume their guise as swans.
At a grand reception Prince Siegfried must choose his bride from three princesses. They each dance for him but his thoughts are elsewhere and he refuses to make a choice. A fanfare announces the arrival of two univited guests; they are von Rothbart, disguised as an ambassador, and his daughter Odile, whom the sorcerer has transformed to look like Odette. The Prince is taken in by the unknown visitors startling resemblance to Odette and belives her to be the Swan Princess.
CREATIVE TEAM & CAST
CREATIVE TEAM
Choreography by: Marius PETIPA, Lev IVANOV and Sir Peter WRIGHT
Production by: Sir Peter WRIGHT in association with Galina SAMSOVA
Music by: Pyotr IlyichTCHAIKOVSKY
Set and Costume Designer: Philip PROWSE
Lighting Designer: Peter TEIGEN

Conductors: Paul MURPHY / TOMITA Misato
Orchestra: Tokyo Philharmonic Orchestra
Choreography by

Sir Peter WRIGHT

Production by

Galina SAMSOVA

Set and Costume Designer

Philip PROWSE

Lighting Designer

Peter TEIGEN

Conductor

Paul MURPHY

Conductor

TOMITA Misato

Odette / Odile

YONEZAWA Yui

10, 13

Prince Siegfried

FUKUOKA Yudai

10, 13

Odette / Odile

SHIBAYAMA Saho

11m, 15

Prince Siegfried

IZAWA Shun

11m, 15

Odette / Odile

ONO Ayako

11s, 18

Prince Siegfried

OKUMURA Kosuke

11s, 18

Odette / Odile

KIMURA Yuri

14, 17m

Prince Siegfried

WATANABE Takafumi

14, 17m

Odette / Odile

YONEZAWA Yui

17s

Prince Siegfried

HAYAMI Shogo

17s
TICKETS
S

¥14,300

A

¥12,100

B

¥8,800

C

¥6,600

D

¥4,400

Z

¥1,650*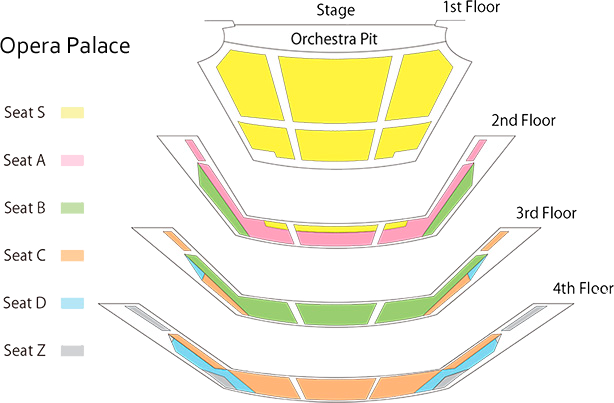 Booking Opens: Sat, 25 Mar 2023, 10:00am
*The tickets will be sold for all seats as normal.
Booking Z seats (Day tickets) 1,650 yen
You are able to purchase Z seat tickets online from 10:00 am. Click "BUY TICKETS" next to "Z" under each performance information.
There is a handling charge of ¥330 (incl. tax).
Only when seats allocated as Z seat are still available 2 hours before the show starts, you are able to purchase these tickets at the Box Office of the theatre.
Note that all Z seats are on a first come, first served basis and will come with restricted views.
Concession Prices
Under 15s discounts and Z seats (Day Tickets) are available online. Other types of discount tickets are not available online. Please inquire at the Box Office or by telephone.

*Please note that further changes or cancellations may be required as the coronavirus situation develops or to comply with requests from the Government.
Please Note
No admittance to children under 4. Each child older than this age requires a ticket for entry, even when accompanied by a parent or guardian.
Tickets may not be changed or refunded except following conditions.


When the performance is cancelled.

In case

you

correspond to the conditions as mentioned on

this page
If

you choose not to attend the performance due to prevent infection.
 Please be sure to call the New National Theatre, Tokyo Box Office in advance.
 At that point, we will tell you the Refund method.
A special discount price is available for disabled guests. Please inquire at the Box Office for details.
Users of wheelchairs are requested to contact the Box Office.
Please note that cast or programme change may be required depending on the situation.