Ballet
Kenneth MacMillan's Manon
2019/2020 SEASON
NOTICE
In response to a request by Japan's Minister of Education, Culture, Sports, Science and Technology (MEXT) regarding the prevention of the spread of novel coronavirus (COVID-19) infections, with a view to reducing the potential risk of spreading infectious disease, NNTT announced the cancellation of the performances on Feb. 29 and on March 1.
We deeply regret this inconvenience to our valued audience.

OPERA PALACE
          
  
Supported by British Council


22 Feb. - 1 Mar., 2020 ( 5 Performances )
Running time is approx. 2 hours 45 mins including intervals
DETAILS
The story "Manon Lescaut" by the Abbé PRÉVOST has been portrayed many times, in opera by PUCCINI and MASSENET, and even in paintings and film. Throughout the ages, artists have been captivated by the femme fatale Manon. Lauded as the pinnacle of British ballet, Kenneth MACMILLAN's "Manon" is known as a piece that challenges every aspect of the strength of a ballet company. A story about a young couple falling into the pitfall of love is both beautiful and sublime. The many pas de deux, featuring the acrobatic lifts typical of MACMILLAN, blend with MASSENET's beautiful, stirring melodies to bring the emotions of the young lovers deep into the hearts of the audience.
NEWS & FEATURES
20TH August, 2019
Main cast announced for Ballet "Kenneth MacMillan's Manon"
26TH February, 2020
[NOTICE] Performances from February 28 to March 15 Cancelled
3RD March, 2020
[NOTICE] Ticket refund information (Feb. 28 - Mar. 24, 2020)
SYNOPSIS
Manon meets Des Grieux (a young student) and they fall in love and decide to escape to Paris. Monsieur G.M. tells Lescaut that he too is interested in Manon and because of G.M.'s wealth Lescaut promises to find Manon and persuade her to accept him.
With little hope, de Grieux writes to his father, imploring permission to marry Manon. Des Grieux goes to post the letter and in his absence Lescaut arrives with Monsieur G.M. Manon yields to G.M.'s advances.
Manon arrives at the party given by Monsieur G.M. and is clearly torn between the wealth of her companion and her love for Des Grieux, who is there with Lescaut. Des Grieux tries to persuade Manon to leave with him but she tells him that the time is not right and will be only when he takes more of Monsieur G.M.'s money at cards. Des Grieux is caught cheating and he and Manon rush away.
Monsieur G.M. ariives with the police and Manon is arrested as a prostitute. In the ensuing struggle Lescaut is killed.
Manon has been deported to America as a prostitute and Des Grieux has followed her there by pretending to be her husband. The Gaoler now turns his interest towards Manon.
The Gaoler has arrested Manon but offers her rewards in the hope that she will desert Des Grieux and live with him. Des Grieux breaks in and kills the Gaoler.Manon and Des Grieux have escaped into the swamp of Louisiana. While eluding their pursuers Manon collapses and dies in Des Grieux's arms.
CREATIVE TEAM & CAST
CREATIVE TEAM
Music: Jules MASSENET
Music arranged and re-orchestration: Martin YATES
Choreography: Sir Kenneth MACMILLAN
Set & Costume Designer: Peter FARMER
Lighting Designer: SAWADA Yuji
Conductor: Martin YATES
Orchestra: Tokyo Symphony Orchestra
Costumes and scenery: Courtesy of The Australian Ballet

Music arranged and re-orchestration

Martin YATES

Choreography

Sir Kenneth MACMILLAN

Set & Costume Designer

Peter FARMER

Lighting Designer

SAWADA Yuji

Conductor

Martin YATES

Manon

YONEZAWA Yui

Manon

ONO Ayako

Des Grieux

FUKUOKA Yudai

Manon

YONEZAWA Yui

Des Grieux

IZAWA Shun
TICKETS
S

¥13,200

A

¥11,000

B

¥7,700

C

¥4,400

D

¥3,300

Z

¥1,650*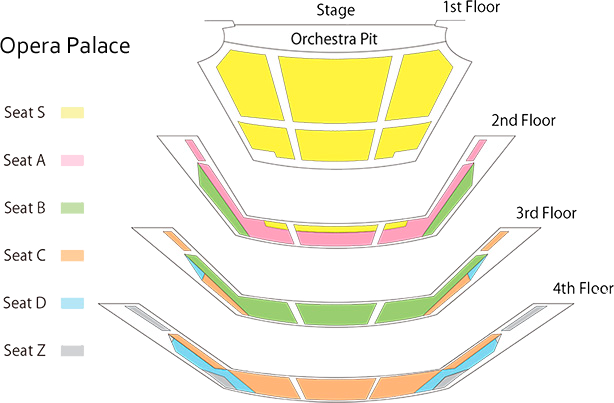 Booking Opens: 2019 Nov 3 (Sun) 10:00
*Booking Z seats (Day tickets) 1,650 yen
You are able to purchase Z seat tickets online from 10:00 am to 11:00 am. Click "BUY TICKETS" next to "Z" under each performance information.
There is a handling charge of ¥330 (incl. tax).
Only when seats allocated as Z seat are still available at 11:00 am, you are able to purchase these tickets at the Box Office of the theatre.
Note that all Z seats are on a first come, first served basis and will come with restricted views.
Concession Prices
Under 15s discounts and Z seats (Day Tickets) are available online. Other types of discount tickets are not available online. Please inquire at the Box Office or by telephone.
Please Note
No admittance to children under 4. Each child older than this age requires a ticket for entry, even when accompanied by a parent or guardian.
Tickets may not be changed or refunded except in the case of a cancelled performance.
A special discount price is available for disabled guests. Please inquire at the Box Office for details.
Users of wheelchairs are requested to contact the Box Office.
Preferred seats may not be available on the first day of ticket sales.