BALLET & DANCE
La Bayadère
SCHEDULE
Sat, 27 April 2024, 14:00

Sun, 28 April 2024, 13:00

Mon, 29 April 2024, 14:00

Show More
2023/2024 SEASON
OPERA PALACE
27 Apr - 5 May, 2024 ( 7 Performances )
Running time is approx. 2 hours 45mins including an interval
Booking Opens: Fri, 23 Feb 2024, 10:00am
DETAILS
La Bayadère premiered at the NNTT in November 2000, and was the first of the ballets to be produced with revised choreography by the artistic director of the time, Maki Asami. Its production had all the formal beauty of classical ballet, with spectacular, rapid stage transformations and lush stage art with deep oriental shades. These qualities gave the production an originality not seen in the original version, and made it a great success. This work offers not only classical ballet's unique beauty, such as an astounding dream scene with the Shades slowly dancing down a three-tier, winding slope, but also captivating drama among the characters. The story features complex and dramatic human relationships between Nikiya, the temple dancer with a subtle inner strength, her lover Solor, who serves the Rajah, Gamzatti, the king's daughter who loves Solor, and the High Brahmin, who also loves Nikiya. At the end of the story, the temple collapses in a thunderous roar, and Nikiya and Solor emerge from the ruins and ascend to the heavens in a scene of breath-taking beauty.
SYNOPSIS
A bayadère (temple dancer) to an Indian temple, Nikiya is an innocent and beautiful girl. She is in love with Solor, a young captain serving the Rajah (king). The High Brahmin (high priest), who is also in love with Nikiya, is seeking a chance to make her his own possession. Meanwhile, the Rajah's daughter Gamzatti, who has loved Solor ever since she saw him for the first time, wishes to marry Solor to whom her father has decided to marry her.
Introduced to Gamzatti at the Rajah's palace, Solor is fascinated by her beauty as well and consents to marrying her because, given his position as the Rajah's soldier, he cannot disobey the order.
When Nikiya learns that Solor is to marry Gamzatti, Nikiya is bitten by a poisonous snake sent by Gamzatti and the Rajah and chooses to die and pushes away the High Brahmin, who offers a cure for the poison. Solor, who reproaches himself in repentance and despair, meets Nikiya again in a hallucination, but awakened from the dream, he goes to the temple in search of Nikiya, only to find that Gamzatti, the Rajah and the High Brahmin are waiting for him as the wedding ceremony starts···
CREATIVE TEAM & CAST
CREATIVE TEAM
Choreography by: Marius PETIPA
Production by: MAKI Asami
Music by: Léon MINKUS
Music Arranged and Orchestrated by: John LANCHBERY
Set and Costume Designer: Alistair LIVINGSTON
Lighting Designer: Alistair LIVINGSTON / ISONO Mutsumi
Conductor: Alexei BAKLAN
Orchestra: Tokyo Philharmonic Orchestra
Production by

MAKI Asami

Music Arranged and Orchestrated by

John LANCHBERY

Conductor

Alexei BAKLAN
TICKETS
S

¥14,850

A

¥12,650

B

¥9,350

C

¥6,050

D

¥4,950

Z

¥1,650*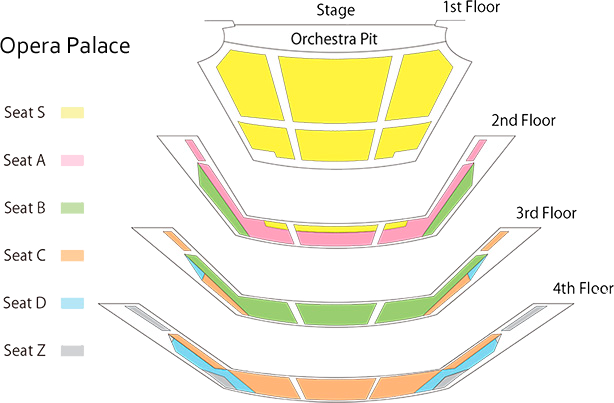 Booking Opens: Fri, 23 Feb 2024, 10:00am
Booking Z seats (Day tickets) 1,650 yen
You are able to purchase Z seat tickets online from 10:00 am. Click "BUY TICKETS" next to "Z" under each performance information.
There is a handling charge of ¥330 (incl. tax).
Only when seats allocated as Z seats are still available at 11:00 am, you are able to purchase these tickets at the Box Office of the theatre.
Note that all Z seats are on a first come, first served basis and will come with restricted views.
Concession Prices
Under 15s discounts and Z seats (Day Tickets) are available online. Other types of discount tickets are not available online. Please inquire at the Box Office or by telephone.
Please Note
Latecomers will not be admitted to the auditorium unless there is a suitable break or interval.
No admittance to children under 4. Each child older than this age requires a ticket for entry, even when accompanied by a parent or guardian.
Tickets may not be changed or refunded except in the case of a cancelled performance.
A special discount price is available for disabled guests. Please inquire at the Box Office for details.
Users of wheelchairs are requested to contact the Box Office.
Please note that cast or programme change may be required depending on the situation.