2020/21 Season Opera at the New National Theatre, Tokyo
We are pleased to announce the 2020/21 Opera Season at the New National Theatre, Tokyo.
10 PRODUCTIONS IN TOTAL including 4 NEW PRODUCTIONS
Message from ONO Kazushi, Artistic Director of Opera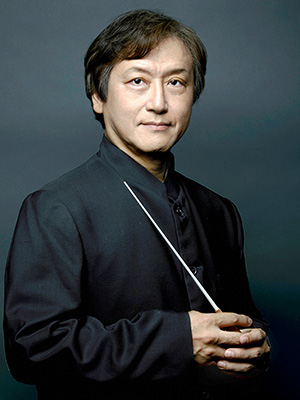 It is my great pleasure to announce the 2020/2021 season opera programme of the New National Theatre, Tokyo (NNTT). As in previous seasons, we have a lineup of four new productions and six repertory productions. This will be my third season as Artistic Director, and we will see the return of the double bill programme and the series of commissioned works by Japanese composers, which we present every other year.
The new double bill pairs Pyotr TCHAIKOVSKY's Iolanta and Igor STRAVINSKY's Le Rossignol. Iolanta was TCHAIKOVSKY's last opera; it was his younger brother Modest who adapted the play by the Danish writer Henrik HERTZ into a libretto and presented it to his brother to set to music. TCHAIKOVSKY's music has a fairy-tale beauty, and it is a masterpiece that reflects his purity, elegance, and delicacy as composer and as a human being. Meanwhile, in STRAVINSKY's Le Rossignol, based on a fairy tale by H.C. ANDERSEN, the sweet coloratura of the nightingale touches the heart amongst the troubles in the human world. The director is Yannis KOKKOS, who produced Iolanta for the NNTT Opera Studio last year with this double bill in mind.
As the second opera in our series of commissioned works by Japanese composers, we present A Dream of Armageddon by FUJIKURA Dai, based on the short novel of the same title by British author H.G.WELLS. Often regarded as "the father of Science Fiction", WELLS wrote several works that foresaw the future, and in A Dream of Armageddon, published in 1901, he eerily predicted the weapons of mass destruction in the First World War, the approach of fascism leading up to the Second World War, and even nuclear warfare. FUJIKURA explains that in his opera setting, "the drama, which is described through a conversation between strangers on a train...moves in and out of a dreamscape seamlessly through music", and "the role of the chorus changes from a train of commuters into a bloodthirsty army."
This is FUJIKURA's third opera, after Solaris and The Gold-Bug. A dynamic presence in the contemporary music world, he has received constant commissions from international orchestras and festivals including Chicago Symphony Orchestra and BBC Proms, and he is also known as the Artistic Director of the Born Creative Festival in Tokyo, a unique festival of new music aimed at both the young and old.
A Dream of Armageddon will be directed by Lydia STEIER, whose production of MOZART's Die Zauberflöte at the 2018 Salzburg Festival attracted international attention. We are happy to welcome this talented director to the NNTT for the first time to stage our world premiere.
The season's other two new productions are Carmen by Georges BIZET and A Midsummer Night's Dream by Benjamin BRITTEN.
Carmen is directed by Àlex OLLÉ, whose stunning production of Turandot in the 2018/2019 season was greatly acclaimed. His new staging of an opera set in his homeland Spain, a world of heated passion, is not to be missed.
French mezzo Stéphanie D'OUSTRAC takes the title role, Don José is sung by rapidly rising tenor Migran AGADZHANYAN, and Escamillio by baritone Alexandre DUHAMEL, who has made a name for himself at Opera de Paris. I will conduct Carmen and Dream of Armaggedon.
The opera A Midsummer Night's Dream is a fruitful union of two British geniuses, Shakespeare and Britten. It's a faithful setting of Shakespeare's delightful comedy, in which four lovers and six workmen are manipulated by the whims and mischief of the fairies, and Britten portrays each of the worlds with colourful and evocative music. We present this opera at the NNTT in the fantastical production by David McVICAR, originally seen at La Monnaie in Brussels, where the whole stage is transformed into a forest. Led by British conductor Martyn BRABBINS, the large cast is formed from experts in this repertoire; in particular, Japanese countertenor FUJIKI Daichi as Oberon will surely drive the drama as the main culprit of the turmoil.
Our repertoire productions also feature a strong lineup of conductors and singers.
In Tosca, the title role will be sung by Chiara ISOTTON, internationally renowned for her Puccini roles, Cavaradossi by spinto tenor Francesco MELI, familiar with Japanese audiences, and Scarpia by Dario SOLARI, a darkly expressive baritone. Acclaimed in Verdi and Puccini, conductor Daniele CALLEGARI will lead the highly charged drama.
Le Nozze di Figaro sees the house debut of Evelino PIDÒ, regular conductor at the Vienna State Opera. The cast features Japanese star singers, USUKI Ai as Susanna and WAKIZONO Aya as Cherubino, who together with distinguished singers from abroad are certain to create a lively and exciting ensemble.
Die Fledermaus will be conducted by Christopher FRANKLIN, an American maestro who has become internationally recognized after a successful career at the major houses in Italy. A specialist in operetta repertoire, he will entertain us together with two outstanding singer-actors in the main roles; Gabriel von Eisenstein is sung by baritone Daniel SCHMUTZHARD, who has appeared at Bayreuth and is a keen singer of German lieder, and the mysterious masked woman Rosalinde by Astrid KESSELER, equally at home in the roles such as the Marschallin and Sieglinde and operetta roles. We hope to transport you to the world of Viennese sophistication and a touch of ennui.
In the production of Die Walküre, we welcome back maestro IIMORI Taijiro, our former Artistic Director, who will captivate us with his masterful interpretation of Wagner's music. We have assembled an outstanding cast for this occasion, including Iréne THEORIN, Daniel KIRCH, Egils SILINS, and our own FUJIMURA Mihoko.
Two female artists are in the spotlight in Lucia di Lammermoor: conductor Speranza SCAPPUCCI and soprano Irina LUNGU in the title role. Widely praised SCAPPUCCI has conducted at several major houses including the Vienna State Opera, and is currently Music Director of Opéra Royal de Wallonie-Liège. Actually her name Sperenza means "hope", which already gives a frisson as we watch her take to the podium. LUNGU is currently unrivalled in the roles of Lucia, Anna Bolena, Marguerite in Faust and Violetta in La Traviata. The evenness of her voice as it shifts from the middle range right up to the highest notes is impressive. How will the star of "hope" respond to her voice with the orchestra?
Don Carlo will be conducted by Paolo CARIGNANI. Alongside the international cast that includes Michele PERTUSI, Luciano GANCI, Marina COSTA-JACKSON, and Anna Maria CHIURI, Japanese baritone TAKADA Tomohiro makes a return in VERDI's masterpiece, following his sonorous portrayal of the main role in NISHIMURA's Asters in the 2018/2019 season.
We look forward to welcoming you all to the exciting new season at the Opera Palace of NNTT, and hope that you will experience many heart-stirring moments here.
Profile of ONO Kazushi
ONO Kazushi graduated from Tokyo University of the Arts. He was formerly Music Director of the Zagreb Philharmonic Orchestra (1990-1996) and General Music Director of Badisches Staatstheater Karlsruhe (1996-2002) before he succeeded Antonio Pappano as Music Director of Theatre Royal de la Monnaie in Brussels where he enjoyed six highly successful seasons (2002-2008).
He then served as Principal Conductor of Opéra National de Lyon (2008-2017), during which time he was also Principal Guest Conductor of Filarmonica Arturo Toscanini. He is currently Music Director for the Tokyo Metropolitan Symphony Orchestra and the Orquestra Simfònica de Barcelona i Nacional de Catalunya.
He made his opera debut in 2007 at La Scala in Milan (Macbeth). Since then, he has made a number of appearances at the Metropolitan Opera in New York (Der fliegende Hollaender), the Opéra National de Paris (Król Roger), the Bayerische Staatsoper in Munich (Der fliegende Hollaender and Hänsel und Gretel), the Deutsche Staatsoper in Berlin (Elektra), the Glyndebourne Festival Opera (L'heure espagnole, L'enfant et les sortileges and Hänsel und Gretel), and the Festival d'Aix-en-Provence (Le Rossignol).
In September 2016, he took up the role of Artistic Consultant for Opera at the New National Theatre Tokyo, and in September 2018 he assumed office as the theatre's Artistic Director of Opera.
He conducted Die Zauberflöte(1998), Tristan und Isolde(2010 and 2011), Asters and Turandot(2019) at the NNTT and is scheduled to conduct Die Meistersinger von Nürnberg in June, Super Angels in August 2020, and A Dream of Armageddon and Carmen in the 2020/2021 season.