Opera
Carmen
2020/2021 SEASON
New Production
Music by Georges BIZET
Opera in 3 Acts
Sung in French with English and Japanese surtitles
OPERA PALACE
3 Jul. - 19 Jul., 2021 ( 6 Performances )
Running time is approx. 3 hours and 30 mins.
DETAILS
Carmen is one of the most popular operas ever written. The drama unfolds around the free-spirited Carmen and the earnest Don José, who are fatefully bound in both love and death. This work brims with familiar music, including the lively prelude, "Habanera", which accompanies Carmen's appearance on stage, "Seguidilla", by which Carmen beguiles Don José, the spectacular "Les tringles des sistres tintatient (La Chanson Bohême)" , accompanied by flamenco dancing, and the showy "Votre toast, je peux vous le render (Toreador Aria)".
This is a new production of Carmen by Spanish director Àlex OLLÉ of Barcelona, who brings his own inimitable reading of the opera and has it unfold in a completely new way. As with his new production of Turandot, performed at several venues in Japan in 2019, OLLÉ's musical sensitivity, bold ideas and strongly coherent vision flower in the dynamic space of his productions. This is a production bound to gain national and international attention.
Artistic Director of Opera ONO Kazushi will be taking up the baton, tag-teaming with OLLÉ to sweep up the house in a passionate whirl. The role of Carmen will be performed by the talented French mezzo soprano Stéphanie D'OUSTRAC, while the up-and-coming tenor Migran AGADZHANYAN will take on the role of Don José.
SYNOPSIS
In a square in Seville, the girls from the cigarette factory nearby come out for a break. One of them, the gypsy Carmen, flirts with the soldiers while she sings her habanera song. As she leaves, she throws a flower at corporal Don José. At that moment, Micaëla, José childhood sweetheart from his home village, brings a letter from his mother, putting him in a nostalgic mood. A fight erupts between Carmen and another girl, and Carmen is arrested. José is ordered to guard her, but seduced by her alluring words, he lets her go.
At Lillas Pastia's inn, Carmen waits for José who has just been released from prison. The bull-fighter Escamillo enters and is attracted by her but she refuses him. José arrives and Carmen starts to dance for him, but soon he is summoned back to the barracks. As he struggles between love and duty, Zuniga, his captain, turns up to see Carmen and José attacks him in a jealous rage. Zuniga is led away by Carmen's smuggler friends Dancairo and Remendado, and José has no choice but to join the smugglers' group.
The smugglers are in their mountain hideout. Carmen is tired of José and they quarrel. Reading her fortune in the cards with her friends, Carmen forsees death. Micaëla appears and begs José to come home as his mother is dying. He leaves, but warns Carmen he will return.
On the day of the bullfight in Seville, Carmen comes to see her lover Escamillo in the fight. Her friends warn her that José is looking for her and to be careful. The two meet outside the arena and José begs her to return to him, but she refuses: she was born free and free she will die. Enraged, José stabs Carmen to death as the cheers for Escamillo's triumph is heard.
CREATIVE TEAM & CAST
CREATIVE TEAM
Conductor: ONO Kazushi
Production: Àlex OLLÉ
Set Design: Alfons FLORES
Costume Design: Lluc CASTELLS
Lighting Design: Urs SCHÖNEBAUM
CAST
Carmen: Stéphanie D'OUSTRAC
Don José: Migran AGADZHANYAN
Escamillo: Alexandre DUHAMEL
Micaëla: SUNAKAWA Ryoko
Zuniga: TSUMAYA Hidekazu
Moralès: YOSHIKAWA Kenichi
Le Dancaïre: MACHI Hidekazu
Le Remendado: ITOGA Shuhei
Frasquita: MORIYA Mari
Mercédès: KANEKO Mika
Chorus: New National Theatre Chorus
Orchestra: Tokyo Philharmonic Orchestra
Conductor

ONO Kazushi

Production

Àlex OLLÉ

Carmen

Stéphanie D'OUSTRAC

Don José

Migran AGADZHANYAN

Escamillo

Alexandre DUHAMEL

Micaëla

SUNAKAWA Ryoko
TICKETS
S

¥27,500

A

¥22,000

B

¥15,400

C

¥8,800

D

¥5,500

Z

¥1,650*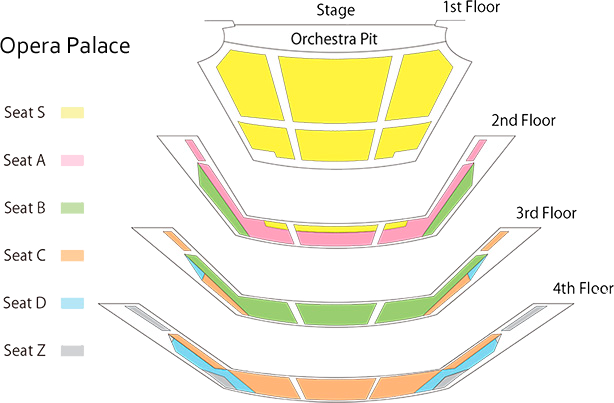 *Booking Z seats (Day tickets) 1,650 yen
You are able to purchase Z seat tickets online from 10:00 am to 11:00 am. Click "BUY TICKETS" next to "Z" under each performance information.
There is a handling charge of ¥330 (incl. tax).
Only when seats allocated as Z seat are still available at 11:00 am, you are able to purchase these tickets at the Box Office of the theatre.
Note that all Z seats are on a first come, first served basis and will come with restricted views.
Concession Prices
Under 15s discounts and Z seats (Day Tickets) are available online. Other types of discount tickets are not available online. Please inquire at the Box Office or by telephone.
Please Note
No admittance to pre-school children. Each child older than this age requires a ticket for entry, even when accompanied by a parent or guardian.
Tickets may not be changed or refunded except in the case of a cancelled performance.
A special discount price is available for disabled guests. Please inquire at the Box Office for details.
Users of wheelchairs are requested to contact the Box Office.
Preferred seats may not be available on the first day of ticket sales.