Opera
"Der Ring des Nibelungen" Erster Tag Die Walküre
2020/2021 SEASON
Music by Richard WAGNER
Music Drama in 3 Acts
Sung in German with English and Japanese surtitles
A Production of the Finnish National Opera
OPERA PALACE
11 Mar. - 23 Mar., 2021 ( 5 Performances )
Running time is approx. 5 hours 20 mins including intervals
DETAILS
Die Walküre is the most popular piece of the Der Ring des Nibelungen and is frequently performed as a standalone work. The work features poignant scenes and dramatic portrayals, set to mellifluous music, including the forbidden love between Siegmund and his twin sister Sieglinde, and the eternal separation between Wotan, ruler of the gods, and his daughter Brünnhilde. The work contains a number of notable pieces of music that have been performed as standalone pieces at concerts, such as the "Winterstürme wichen dem Wonnemond" sung by Siegmund, "Wotan's Farewell" and of course the famous "Ride of the Valkyries".
This production of Ring by maestro Götz FRIEDRICH, staged over three years at the NNTT since 2015, is one of beauty, characterised by its clarity and philosophical approach, and elicited much attention. Former Artistic Director of Opera IIMORI Taijiro first introduced this work to the Theatre and conducted it. He now returns to the Opera Palace to take up the baton for this production. The cast includes some of the world's greatest WAGNER singers. Brünnhilde is sung by Iréne THEORIN, who performed the role in 2016. Siegmund is played by Daniel KIRCH, a heldentenor standing out on the international stages. Egils SILINS, who has performed in many of WAGNER's productions at major houses, appears in the leading role of Wotan, while Fricka will be performed by FUJIMURA Mihoko.
SYNOPSIS
Wotan intends to have Siegmund, his son by a mortal woman, win back the Ring to rule the world. Fricka, wife of Wotan and also goddess of marriage, becomes so infuriated at the fact that Siegmund has committed incest with Sieglinde, his twin sister, who is married to Hunding, as to ruin Wotan's plan. Wotan's favorite daughter, Brünnhilde, tells Siegmund of his impending death according to her father's order. But she gets deeply moved by Siegmund's life where he values love the most. She then promises to take his side in a duel to fight with Hunding.
However, interrupted by Wotan, the battle results in Siegmund's death. Sieglinde escapes and goes off into a forest, carrying with an unborn child fathered by Siegmund. The disobedient Brünnhilde must get punished for defying Wotan's order. Then she tries to persuade Wotan to understand Sieglinde's commited love and to realize that this has been Wotan's sincere wish.
Her punishment is that she will be forced for a long sleep, shorn of divinity and defenseless on the Valkyrie rock until claimed by the first man that wakes her. She pleads passionately for one grace: let her rocky resting place be guarded by fierce flames so that only a dauntless hero may penetrate the barrier and claim her as his bride. Wotan complies with his favorite daughter's plea and bids eternal farewell to her, ordaining that he who proposes marriage to his daughter should be a freer man (Siegfried) than the god who is her father.
CREATIVE TEAM & CAST
CREATIVE TEAM
Conductor: IIMORI Taijiro
Production: Götz FRIEDRICH
Set and Costume Design: Gottfried PILZ
Lighting Design: Kimmo RUSKELA
CAST
Siegmund: Daniel KIRCH
Hunding: Ain ANGER
Wotan: Egils SILINS
Sieglinde: Elisabet STRID
Brünnhilde: Iréne THEORIN
Fricka: FUJIMURA Mihoko
Gerhilde: SATO Michiko
Ortlinde: MASUDA Noriko
Waltraute: MASUDA Yayoi
Schwertleite: NAKAJIMA Ikuko
Helmwige: HIRAI Kaori
Siegrune: KOIZUMI Eiko
Grimgerde: KANEKO Mika
Rossweisse: TAMURA Yukie
Orchestra: Tokyo Symphony Orchestra
Conductor

IIMORI Taijiro

Production

Götz FRIEDRICH

Siegmund

Daniel KIRCH

Hunding

Ain ANGER

Wotan

Egils SILINS

Sieglinde

Elisabet STRID

Brünnhilde

Iréne THEORIN

Fricka

FUJIMURA Mihoko
TICKETS
S

¥27,500

A

¥22,000

B

¥15,400

C

¥8,800

D

¥5,500

Z

¥1,650*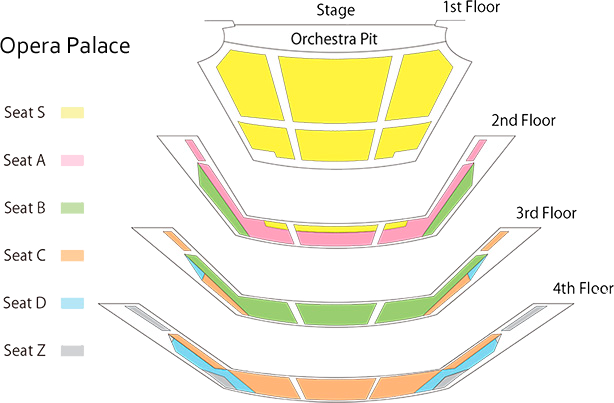 *Booking Z seats (Day tickets) 1,650 yen
You are able to purchase Z seat tickets online from 10:00 am to 11:00 am. Click "BUY TICKETS" next to "Z" under each performance information.
There is a handling charge of ¥330 (incl. tax).
Only when seats allocated as Z seat are still available at 11:00 am, you are able to purchase these tickets at the Box Office of the theatre.
Note that all Z seats are on a first come, first served basis and will come with restricted views.
Concession Prices
Under 15s discounts and Z seats (Day Tickets) are available online. Other types of discount tickets are not available online. Please inquire at the Box Office or by telephone.
Please Note
No admittance to pre-school children. Each child older than this age requires a ticket for entry, even when accompanied by a parent or guardian.
Tickets may not be changed or refunded except in the case of a cancelled performance.
A special discount price is available for disabled guests. Please inquire at the Box Office for details.
Users of wheelchairs are requested to contact the Box Office.