Opera
Le Nozze di Figaro
2020/2021 SEASON
Music by Wolfgang Amadeus MOZART
Opera in 4 Acts
Sung in Italian with English and Japanese surtitles
OPERA PALACE
7 Feb. - 14 Feb., 2021 ( 4 Performances )
Running time is approx. 3 hours 15 mins including an interval
DETAILS
A prominent Mozart opera. This opera buffa masterpiece unfolds around the story of the Count and the Countessa Almaviva, their servant Figaro, Figaro's betrothed Susanna and the count's page Cherubino.
Musical highlights include Figaro's aria "Non Più Andrai", Cherubino's aria "Voi Che Sapete Che Cosa è Amor" and the Countessa's "Porgi Amor", among other well-known pieces.
Director Andreas HOMOKI (currently the General Director of Opernhaus Zürich) created the set to be a space "outside of time", noting that in this work Mozart deals with the troubles and worries of humanity which are unchanging. Everything is arranged in black and white, the design that changes with the passage of time representing the breakdown of feudal society.
The cast includes rising Italian stars Vito PRIANTE, Serena GAMBERONI and Filippo MORACE. They are joined by USUKI Ai, known for bringing her beautiful voice and expressiveness to a difficult role in Asters, and WAKIZONO Aya, who has taken on leading roles in works by Rossini and Mozart at opera houses in Italy, mesmerising Japanese audiences with her outstanding vocal expression and acting prowess, in Don Giovanni presented in 2019. Expect great things of this illustrious line up!
SYNOPSIS
A former barber and now a servant of Count Almaviva, Figaro is going to marry Susanna, a servant of the Countess. Although the Count has already given up the right of the first night (the lord's right to share the first marriage night with his servant's bride in place of the servant), the Count, who fancies Susanna, intends to reclaim the right. The Countess laments that her husband's love for her is cooling. Therefore, the Countess, Figaro and Susanna all conspire to outwit the Count. They use Susanna's clothes to disguise Cherubino, a page at puberty, as a woman and try to lure out the Count...
CREATIVE TEAM & CAST
CREATIVE TEAM
Conductor: Evelino PIDÒ
Production: Andreas HOMOKI
Set Design: Frank Philipp SCHLÖSSMANN
Costume Design: Mechthild SEIPEL
Lighting Design: Franck EVIN
CAST
Il Conte Almaviva: Vito PRIANTE
La Contessa: Serena GAMBERONI
Figaro: Filippo MORACE
Susanna: USUKI Ai
Cherubino: WAKIZONO Aya
Bartolo: TSUMAYA Hidekazu
Basilio: AOCHI Hideyuki
Antonio: OKUBO Mitsuya
Barbarina: YOSHIHARA Keiko
Chorus: New National Theatre Chorus
Orchestra: Tokyo Symphony Orchestra
Conductor

Evelino PIDÒ

Production

Andreas HOMOKI

Il Conte Almaviva

Vito PRIANTE

La Contessa

Serena GAMBERONI

Figaro

Filippo MORACE

Susanna

USUKI Ai

Cherubino

WAKIZONO Aya
TICKETS
S

¥22,000

A

¥16,500

B

¥11,000

C

¥6,600

D

¥3,300

Z

¥1,650*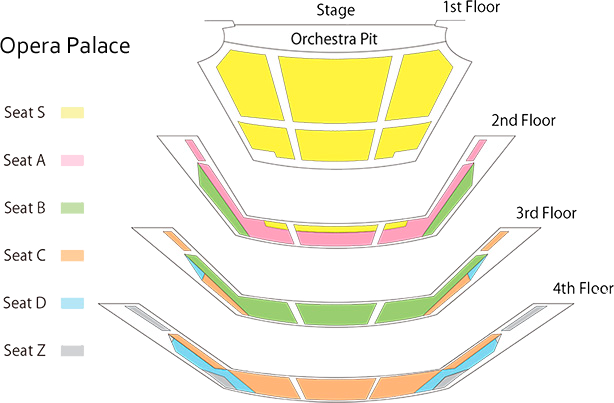 *Booking Z seats (Day tickets) 1,650 yen
You are able to purchase Z seat tickets online from 10:00 am to 11:00 am. Click "BUY TICKETS" next to "Z" under each performance information.
There is a handling charge of ¥330 (incl. tax).
Only when seats allocated as Z seat are still available at 11:00 am, you are able to purchase these tickets at the Box Office of the theatre.
Note that all Z seats are on a first come, first served basis and will come with restricted views.
Concession Prices
Under 15s discounts and Z seats (Day Tickets) are available online. Other types of discount tickets are not available online. Please inquire at the Box Office or by telephone.
Please Note
No admittance to pre-school children. Each child older than this age requires a ticket for entry, even when accompanied by a parent or guardian.
Tickets may not be changed or refunded except in the case of a cancelled performance.
A special discount price is available for disabled guests. Please inquire at the Box Office for details.
Users of wheelchairs are requested to contact the Box Office.