OPERA
SUMMER FESTIVAL OPERA 2019-20 Japan ↔ Tokyo ↔ World "Turandot"
SCHEDULE
2018/2019 SEASON
New Production
Music by Giacomo PUCCINI
Opera in 3 Acts
Sung in Italian with ENGLISH and Japanese surtitles
OPERA PALACE
18 Jul - 22 Jul, 2019 ( 4 Performances )
Running time is approx. 2 hours 50 mins including intervals
DETAILS
"We are entering an age where visitors from all over the world will come to Tokyo for opera". With the 2020 Tokyo Olympics and Paralympics in focus, it has been the vision of the Artistic Director ONO Kazushi to produce operas in Japan that can attract international attention, and finally this will come to fruition as part of "Summer Festival Opera 2019-20 Japan ↔ Tokyo ↔ World" project. As the climax of the current season, ONO will conduct Puccini's Turandot which is a co-production with Tokyo Bunka Kaikan and will also be staged nationally at Biwako Hall in Shiga and the new Sapporo Cultural Arts Theater "hitaru". Furthermore, in the pit we welcome the Barcelona Symphony Orchestra, of which ONO is the musical director.
The new production is directed by Alex OLLÉ, Artistic Director of the internationally acclaimed theatrical group La Fura Dels Baus, who has directed several major operas and events, including the opening ceremony of Barcelona Olympics. The production will feature a star-studded international cast and the collective chorus of the New National Theatre Chorus, the Fujiwara Opera Chorus Group and the Biwako Hall Vocal Ensemble. A similar co-production of Wagner's festive masterpiece Die Meistersinger von Nürnberg will be staged in June 2020.

Please also refer to the official site of "Summer Festival Opera 2019-20 Japan ↔ Tokyo ↔ World".
NEWS & FEATURES
19TH July, 2019
Summer Festival Opera 2019-20 Japan ↔ Tokyo ↔ World "Turandot" opened
10TH May, 2019
Alex Ollè talks about his forthcoming production of Turandot
SYNOPSIS
In ancient Peking. Outside the Imperial Palace, the exiled King Timur of Tartary and the slave-girl Liu are reunited with Prince Calaf, Timur's long-lost son. Princess Turandot appears in front of the public and wordlessly orders the execution of her suitor Prince of Persia. Anyone seeking to marry her must answer her three riddles, and he has failed. Prince Calaf, transfixed by her beauty, decides to try his fortune with her.
The three ministers of state, Ping, Pang, and Pong lament the fate of the foreign princes who have lost their lives. The crowd assembles to watch Calaf's challenge, and Turandot declares that if he fails in answering the riddles, he will be executed. However, Calaf answers all three riddles correctly. Turandot is shaken and begs her father, Emperor Altoum, not to give her away to this unknown Prince. Calaf in turn offers her a riddle of his own: if she can discover his name by dawn, he will offer her his life.
At Turandot's command, people search all night for the stranger's name while Calaf sings his resolve in the aria "Nessun Dorma" (None shall sleep). Timur and Liu are captured and brought to Turandot. Liu declares that she alone knows the Prince's identity and then stabs herself. When the crowd leaves and Turandot is left alone with Calaf, he reveals his love and kisses her. Finally, she succumbs to him, declaring that the stranger's name is "Love".
CREATIVE TEAM & CAST
CREATIVE TEAM
Conductor: ONO Kazushi
Production: Àlex OLLÉ
Set Design: Alfons FLORES
Costume Design: Lluc CASTELLS
Lighting Design: Urs SCHÖNEBAUM
Associate Director: Susana GÓMEZ
CAST
7/18, 20, 22
Turandot: Iréne THEORIN
Calaf: Teodor ILINCĂI
Liù: NAKAMURA Eri
Timur: Riccardo ZANELLATO
L'imperatore Altoum: MOCHIKI Hiroshi
Ping: MASU Takashi
Pang: YOGI Takumi
Pong: MURAKAMI Toshiaki
Un mandarino: TOYOSHIMA Yuichi
7/21
Turandot: Jennifer WILSON
Calaf: David POMEROY
Liu: SUNAKAWA Ryoko
Timur: TSUMAYA Hidekazu
L'imperatore Altoum: MOCHIKI Hiroshi
Ping: MORIGUCHI Kenji
Pang: AKITANI Naoyuki
Pong: ITOGA Shuhei
Un mandarino: NARITA Makoto
Chorus:
New National Theatre Chorus
Fujiwara Opera Chorus Group
BIWAKO HALL Vocal Ensemble
Orchestra: Barcelona Symphony Orchestra
Produced by: New National Theatre, Tokyo / Tokyo Bunka Kaikan
Conductor

ONO Kazushi

Production

Àlex OLLÉ

Turandot

Iréne THEORIN

Calaf

Teodor ILINCĂI

Liù

NAKAMURA Eri

Timur

Riccardo ZANELLATO

Turandot

Jennifer WILSON

Calaf

David POMEROY

Liù

SUNAKAWA Ryoko

Timur

TSUMAYA Hidekazu
TICKETS
S

¥32,400

A

¥27,000

B

¥19,440

C

¥12,960

D

¥6,480

Z

¥1,620*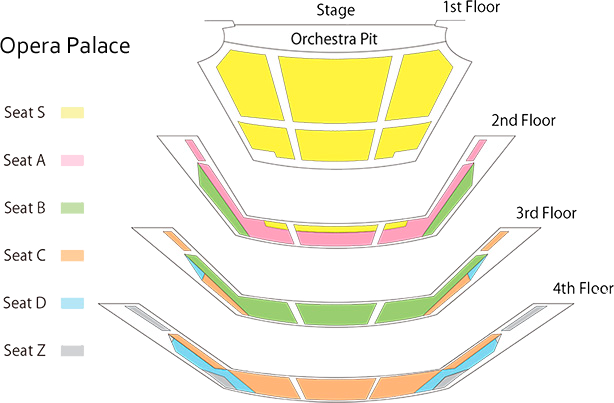 Booking Opens: Sat, 2 Mar 2019, 10:00am
*Booking Z seats (Day tickets) 1,620 yen
You are able to purchase Z seat tickets online from 10:00 am to 11:00 am. Click "BUY TICKETS" next to "Z" under each performance information.
There is a handling charge of ¥324 (incl. tax).
Only when seats allocated as Z seat are still available at 11:00 am, you are able to purchase these tickets at the Box Office of the theatre.
Note that all Z seats are on a first come, first served basis and will come with restricted views.
Concession Prices
Under 15s discounts and Z seats (Day Tickets) are available online. Other types of discount tickets are not available online. Please inquire at the Box Office or by telephone.
Please Note
No admittance to pre-school children. Each child older than this age requires a ticket for entry, even when accompanied by a parent or guardian.
Tickets may not be changed or refunded except in the case of a cancelled performance.
A special discount price is available for disabled guests. Please inquire at the Box Office for details.
Users of wheelchairs are requested to contact the Box Office.
Preferred seats may not be available on the first day of ticket sales.