Opera
Il Barbiere di Siviglia
SCHEDULE
2019/2020 SEASON
Gioachino Antonio ROSSINI
Opera in 2 Acts
Sung in Italian with English and Japanese surtitles
OPERA PALACE
6 Feb - 16 Feb, 2020 ( 5 Performances )
Running time is approx. 3 hours 10 min including an interval
DETAILS
The witty story development and enjoyable, lyrical vocal performances make this opera ROSSINI's most popular work. The exhilarating love story unfolds with the action of Figaro eventually making the match between the sheltered Rosina and Il Conte d'Almaviva. The spectacular music includes the famous opening overture that bursts into a Rossini Crescendo, Figaro's "Largo al factotum" ("Make way for the handyman"), in which the barber goes on about his pride, and Rosina's cavatina about love, "Una voce poco fa" ("A voice a while back"), famous for coloraturas. The production by Josef E. KÖPPLINGER is set in Francoist Spain in the late 1960s. The comedy unfolds based on the delicate balance of power and vice, with the pop, kitsch mood of the 1960s expressed through colourful art.
For this performance, soprano WAKIZONO Aya takes on the familiar role of Rosina, having performed as Rosina at the Rossini Opera Festival in 2018, among her other performance throughout Italy. The role of Il Conte d'Almaviva will be played by René BARBERA, who dominates Bel Canto in theatres across the West. We have a full cast of Rossini vocalists who are making names for themselves at opera houses around the world. The production will be conducted by Antonello ALLEMANDI, who performed in "Turandot" which opened our 2008/2009 season.
NEWS & FEATURES
10TH December, 2019
Interview:Florian SEMPEY on Il Barbiere di Siviglia
3RD December, 2019
Interview:WAKIZONO Aya on Il Barbiere di Siviglia
SYNOPSIS
The setting is Seville, Spain under the Franco regime.
Count Almaviva, a young dandy, falls in love at first sight with Rosina, the most beautiful girl in town. But he cannot easily approach her because her guardian, Dr. Bartolo, who is infatuated with her for her wealth, interferes with his courtship. So he seeks Figaro's help.
Figaro is a barber and general factotum, who, if paid, undertakes everything from hairdressing to consultation about others' personal affairs, to acting as an intermediary for lovers, and as a hired scribe. The count tries every trick to sneak into Dr. Bartolo's house and successfully conveys his feelings to Rosina but gives rise to great confusion.
Thanks to Figaro's quick wit, he manages to ride out a crisis, and after much ado, the opera comes to a happy ending.
CREATIVE TEAM & CAST
Conductor

Antonello ALLEMANDI

Production

Josef E. KÖPPLINGER

Il Conte d'Almaviva

René BARBERA

Rosina

WAKIZONO Aya

Bartolo

Paolo BORDOGNA

Figaro

Florian SEMPEY

Don Basilio

Marco SPOTTI

Berta

KANOH Etsuko
TICKETS
S

¥24,200

A

¥19,800

B

¥13,200

C

¥7,700

D

¥4,400

Z

¥1,650*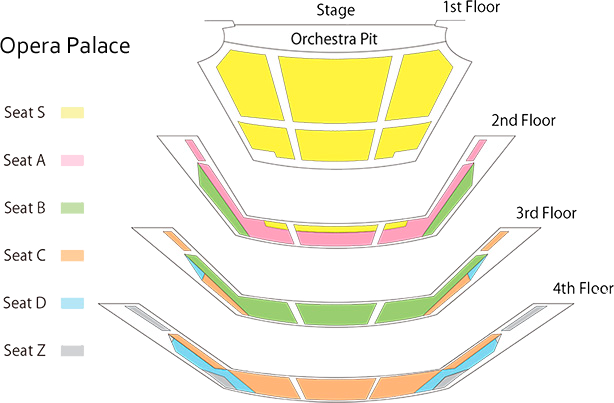 Booking Opens: Sat, 19 Oct 2019, 10:00am
*Booking Z seats (Day tickets) 1,650 yen
You are able to purchase Z seat tickets online from 10:00 am to 11:00 am. Click "BUY TICKETS" next to "Z" under each performance information.
There is a handling charge of ¥330 (incl. tax).
Only when seats allocated as Z seat are still available at 11:00 am, you are able to purchase these tickets at the Box Office of the theatre.
Note that all Z seats are on a first come, first served basis and will come with restricted views.
Concession Prices
Under 15s discounts and Z seats (Day Tickets) are available online. Other types of discount tickets are not available online. Please inquire at the Box Office or by telephone.
Please Note
No admittance to pre-school children. Each child older than this age requires a ticket for entry, even when accompanied by a parent or guardian.
Tickets may not be changed or refunded except in the case of a cancelled performance.
A special discount price is available for disabled guests. Please inquire at the Box Office for details.
Users of wheelchairs are requested to contact the Box Office.
Preferred seats may not be available on the first day of ticket sales.