OPERA
[Cancelled] Giulio Cesare
SCHEDULE
Sat, 11 April 2020, 14:00

Sun, 12 April 2020, 14:00

Show More
2019/2020 SEASON
*As of the 24th of March, we have cancelled all performances of "Giulio Cesare".
>See for the details
>Refund Information

New Production
Music by Georg Friedrich HÄNDEL
Opera in 3 Acts
Sung in Italian with English and Japanese surtitles
OPERA PALACE
7 Apr - 12 Apr, 2020 ( 3 Performances )
Running time is approx. 4 hours 15mins including intervals
DETAILS
This season the NNTT will be putting on its first Baroque opera. "Giulio Cesare" by master Baroque composer Georg Friedrich HÄNDEL is a notable work that established HÄNDEL's reputation in England. This opera seria is based on the story of Caesar and Cleopatra and features successively unfolding arias in recitativo style. It is a spectacle of pleasure, showcasing dramatic effects, a variety of beautiful music and skilled vocal performances. Baroque opera had outstanding entertainment value, enabled by elaborate devices and props. Its appeal has been rediscovered in recent years and it has gained popularity in theatres around the world as a creative art form. This 2011 production by Laurent PELLY was a hit when it was staged at The Palais Garner of the Opera National de Paris. It was also performed at the Teatro Regio di Torino in 2014. Set in the warehouse of an Egyptian museum, the stage design features paintings and giant statues. This production is brimming with PELLY's distinctive humour.
Leading Baroque musician Rinaldo ALESSANDRINI will conduct.
NEWS & FEATURES
19TH December, 2019
Interview:Aytaj SHIKHALIZADA on Giulio Cesare
16TH March, 2020
Cast change : Georg Friedrich HÄNDEL's "Giulio Cesare" (7th - 12th April, 2020)
17TH March, 2020
Interview:Rinaldo ALESSANDRINI on Giulio Cesare
25TH March, 2020
[NOTICE] Performances from March 27 to April 12 Cancelled
25TH March, 2020
[NOTICE] Ticket refund information (Mar. 27 - April. 12, 2020)
SYNOPSIS
The Roman general Cesare enters Egypt in pursuit of his political opponent, Pompey, only to find that he has been killed by Tolomeo, the king of Egypt. Pompey's wife, Cornelia, and his son, Sesto, swear vengeance, but in the end are taken prisoner by Tolomeo. Tolomeo's sister, Cleopatra, seeks to dethrone her brother, and approaches Cesare. Cesare is being pursued by Tolomeo's general, Achilla, and escapes by sea. Cesare comes to the aid of Cleopatra, who has been imprisoned by her brother, and Sesto kills Tolomeo. Cesare crowns Cleopatra queen.
CREATIVE TEAM & CAST
Conductor

Rinaldo ALESSANDRINI

Production, Costume Design

Laurent PELLY

Giulio Cesare

Aytaj SHIKHALIZADA

Curio

KOMADA Toshiaki

Cornelia

KANOH Etsuko

Sesto

KANEKO Mika

Cleopatra

MORIYA Mari

Tolomeo

FUJIKI Daichi

Achilla

Vitaly YUSHMANOV

Nireno

MURAMATSU Toshiyuki
TICKETS
S

¥27,500

A

¥22,000

B

¥15,400

C

¥8,800

D

¥5,500

Z

¥1,650*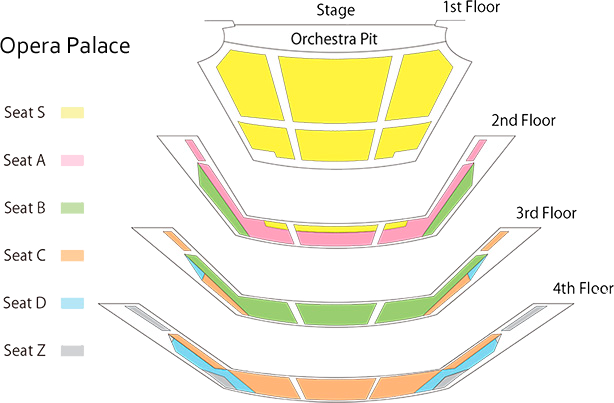 Booking Opens: Sat, 16 Nov 2019, 10:00am
*Booking Z seats (Day tickets) 1,650 yen
You are able to purchase Z seat tickets online from 10:00 am to 11:00 am. Click "BUY TICKETS" next to "Z" under each performance information.
There is a handling charge of ¥330 (incl. tax).
Only when seats allocated as Z seat are still available at 11:00 am, you are able to purchase these tickets at the Box Office of the theatre.
Note that all Z seats are on a first come, first served basis and will come with restricted views.
Concession Prices
Under 15s discounts and Z seats (Day Tickets) are available online. Other types of discount tickets are not available online. Please inquire at the Box Office or by telephone.
Please Note
No admittance to pre-school children. Each child older than this age requires a ticket for entry, even when accompanied by a parent or guardian.
Tickets may not be changed or refunded except in the case of a cancelled performance.
A special discount price is available for disabled guests. Please inquire at the Box Office for details.
Users of wheelchairs are requested to contact the Box Office.
Preferred seats may not be available on the first day of ticket sales.