OPERA
Eugene Onegin
SCHEDULE
2019/2020 SEASON
NOTICE
Due to circumstances and suspension of public transport arising from the Typhoon Hagibis, Eugene Onegin on Saturday 12 October at 14:00 is unfortunately cancelled.
We deeply regret this inconvenience to our valued audience.


New Production
Music by Pyotr TCHAIKOVSKY
Opera in 3 Acts
Sung in Russian with English and Japanese surtitles

The Opening of the Agency for Cultural Affairs,
the 74th National Arts Festival
OPERA PALACE
1 Oct - 12 Oct, 2019 ( 5 Performances )
Running time is approx. 3 hours including intervals
DETAILS
To highlight the importance of Russian opera in the history of opera, Artistic Director of Opera ONO Kazushi is opening his second season with "Eugene Onegin". One of the most frequently performed work in Russian opera, this masterpiece brims with the lyricism of TCHAIKOVSKY, known for his brilliance in orchestral and ballet music. The piece is originally based on the poetic novel by Alexander PUSHKIN, depicting the misunderstanding between a man and a woman of the Imperial Russian aristocracy. This story of young people, the nihilistic intellectual Onegin and the dreamer Tatyana, confronted with love, despair and death, is woven throughout with the emotive music by TCHAIKOVSKY and will touch the hearts of all.
It is directed by Dmitry BERTMAN, the founder and artistic director of Helikon Opera in Moscow. Presenting a succession of Russian operas and other works from classic to modern, BERTMAN is the director who has nurtured the Helikon Opera into one of Moscow's leading theatres. His new production takes on the motif of "Eugene Onegin" as directed by Konstantin STANISLAVSKY, famed for his method of realism known as the "Stanislavsky System", when he remodelled a rehearsal room in his own residence into "Onegin Hall" in 1922. Conductor Andriy YURKEVICH is from Ukraine and has been active all over Europe. The cast includes Russian opera specialists such as Vasily LADYUK, who has earned a name for himself playing Onegin at Bolshoi Theatre and around the world, and Evgenia MURAVEVA, who has achieved sensational success at Salzburg Festival.
NEWS & FEATURES
11TH October, 2019
[NOTICE] Performances on 12th&13th of October Cancelled
1ST October, 2019
NNTT's 2019/2020 Opera Season opened with "Eugene Onegin"!
25TH September, 2019
Interview with Evgenia MURAVEVA in the role of Tatyana
13TH September, 2019
Interview with Vasily LADYUK in the role of Onegin
19TH June, 2019
Interview:Dmitry Bertman on Eugene Onegin
SYNOPSIS
Russia in the 1820s. Tatyana, daughter of Larina, a landowner in a farming village, is strongly attracted to Onegin, who came with Lensky, sweetheart of her sister, Olga. She confesses her growing love for Onegin in a letter to him; however, he rejects her.
One night, while a ball is in progress at Larina's house, Onegin dances only with Olga, inviting the jealousy of Lensky. This develops into a duel and Onegin kills Lensky. With a heart of atonement, Onegin starts on a wandering journey.
After years have gone by, Onegin reappears in front of Tatyana, who is now a princess and is highly celebrated in fashionable society. Now, in contrast to his previous behavior, he confesses his passionate love to her. Tatiana admits that she still loves him, but that she has made her decision and will not leave her husband. Onegin is left desperate.
CREATIVE TEAM & CAST
CREATIVE TEAM
Conductor: Andriy YURKEVYCH
Production: Dmitry BERTMAN
Set Design: Igor NEZHNY
Costume Design: Tatiana TULUBIEVA
Lighting Design: Denis ENYUKOV
Choreographer: Edvald SMIRNOV
Assistant Director: Galina TIMAKOVA
Conductor

Andriy YURKEVYCH

Production

Dmitry BERTMAN

Eugene (Yevgeny) Onegin

Vasily LADYUK

Vladimir Lensky

Pavel KOLGATIN

Olga

TORIKI Yayoi

Prince Gremin

Alexey TIKHOMIROV

Madama Larina

MORIYAMA Kyoko

Filipyevna

TAKEMOTO Setsuko
TICKETS
S

¥27,500

A

¥22,000

B

¥15,400

C

¥8,800

D

¥5,500

Z

¥1,650*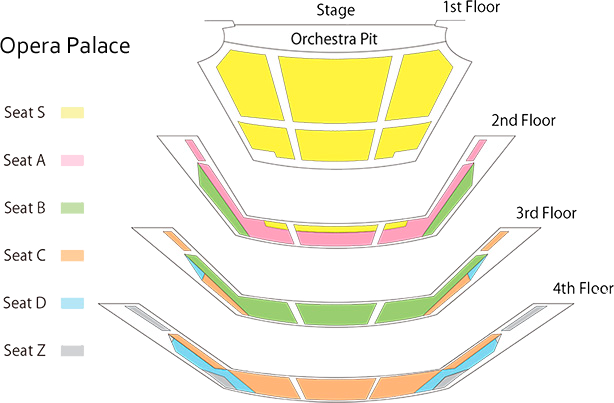 Booking Opens: Sun, 23 Jun 2019, 10:00am
*Booking Z seats (Day tickets) 1,650 yen
You are able to purchase Z seat tickets online from 10:00 am to 11:00 am. Click "BUY TICKETS" next to "Z" under each performance information.
There is a handling charge of ¥330 (incl. tax).
Only when seats allocated as Z seat are still available at 11:00 am, you are able to purchase these tickets at the Box Office of the theatre.
Note that all Z seats are on a first come, first served basis and will come with restricted views.
Concession Prices
Under 15s discounts and Z seats (Day Tickets) are available online. Other types of discount tickets are not available online. Please inquire at the Box Office or by telephone.
Please Note
No admittance to pre-school children. Each child older than this age requires a ticket for entry, even when accompanied by a parent or guardian.
Tickets may not be changed or refunded except in the case of a cancelled performance.
A special discount price is available for disabled guests. Please inquire at the Box Office for details.
Users of wheelchairs are requested to contact the Box Office.
Preferred seats may not be available on the first day of ticket sales.