Ballet
Coppélia Ballet by Roland Petit
2020/2021 SEASON
OPERA PALACE
1 May. - 8 May., 2021 ( 5 Performances )
Running time is approx. 2 hours including an interval
DETAILS
The Coppélia features the ground-breaking production and choreography of Roland PETIT and was first brought to life by the Ballet National de Marseille in 1975. Whereas the "Coppélia" performed around the world until that time had been stuck in a 19th century style, this production brought the timeless themes of life and love to the fore, giving the characters the feel of our time. PETIT's own brilliant performance as Dr. Coppélius was one of his masterpieces, still talked about today. The unique humor and chic French taste featured on this stage, there is a memorable ending that will leave you engrossed, with a message that won't fade with repeat viewing.
SYNOPSIS
Coppélius is an aging dandy who looks good in a frock coat. He is infatuated with the much younger Swanilda, but Swanilda has eyes only for her lover Franz, and merely toys with Coppelius. In Coppelius's lonely lodgings there is a doll that looks exactly like Swanilda. If only one day something would breathe life into the doll and turn it into a human being...
CREATIVE TEAM & CAST
CREATIVE TEAM
Music by: Léo DELIBES
Choreography by: Roland PETIT
Artistic Advisor/Staging: Luigi BONINO
Set and Costume Designer: Ezio FRIGERIO
Lighting Designer: Jean-Michel DÉSIRÉ
Conductor: TOMITA Misato
Orchestra: Tokyo Philharmonic Orchestra
CAST
5/1 14:00
Swanilda: ONO Ayako
Franz: WATANABE Takafumi
5/2 14:00
Swanilda: YONEZAWA Yui
Franz: IZAWA Shun
5/4 14:00
Swanilda: KIMURA Yuri
Franz: FUKUOKA Yudai
5/5 14:00
Swanilda: IKEDA Risako
Franz: OKUMURA Kosuke
5/8 14:00
Swanilda: TBA
Franz: TBA
Choreography by

Roland PETIT

Artistic Advisor/Staging

Luigi BONINO

Set and Costume Designer

Ezio FRIGERIO

Lighting Designer

Jean-Michel DÉSIRÉ

Conductor

TOMITA Misato
TICKETS
S

¥13,200

A

¥11,000

B

¥7,700

C

¥4,400

D

¥3,300

Z

¥1,650*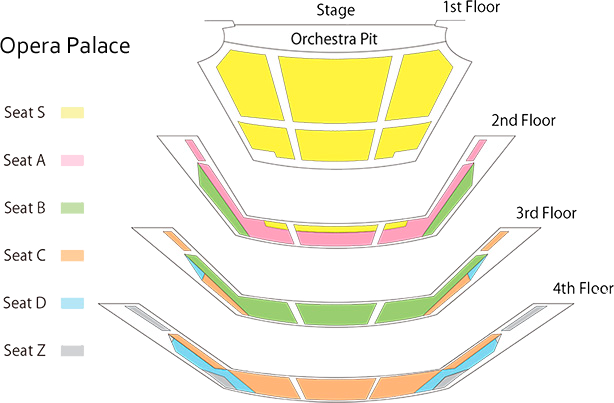 *Booking Z seats (Day tickets) 1,650 yen
You are able to purchase Z seat tickets online from 10:00 am to 11:00 am. Click "BUY TICKETS" next to "Z" under each performance information.
There is a handling charge of ¥330 (incl. tax).
Only when seats allocated as Z seat are still available at 11:00 am, you are able to purchase these tickets at the Box Office of the theatre.
Note that all Z seats are on a first come, first served basis and will come with restricted views.
Concession Prices
Under 15s discounts and Z seats (Day Tickets) are available online. Other types of discount tickets are not available online. Please inquire at the Box Office or by telephone.
Please Note
No admittance to children under 4. Each child older than this age requires a ticket for entry, even when accompanied by a parent or guardian.
Tickets may not be changed or refunded except in the case of a cancelled performance.
A special discount price is available for disabled guests. Please inquire at the Box Office for details.
Users of wheelchairs are requested to contact the Box Office.