OPERA
Simon Boccanegra
SCHEDULE
2023/2024 SEASON
New Production



Presented by New National Theatre Foundation, Japan Arts Council, Agency for Cultural Affairs, Government of Japan

Music by Giuseppe Verdi
Opera in 3 Acts with a Prologue
Sung in Italian with English and Japanese surtitles

OPERA PALACE
15 Nov - 26 Nov, 2023 ( 5 Performances )
At the performance on 15 November 19:00, we will increase the level of security in our theatre.
Baggage inspection and metal detection will be conducted at the entrance. Please be aware that it may take longer than usual to get into the auditorium.

Running time is approx. 2 hours and 50 mins including intervals.
Booking Opens: Sat, 9 Sep 2023, 10:00am
Co-production with Finnish National Opera and Ballet, Teatro Real Madrid
DETAILS
Originally composed during Verdi's middle period when the composer was 43 and then revised to great acclaim 24 years later, Simon Boccanegra will be staged for the first time at the New National Theatre Tokyo. Based on the real-life figure Simon Boccanegra who lived during the 14th century and became the first Doge of Genoa, this powerfully dramatic work depicts battles between plebeians and patricians, where the love and hate of parents, children and lovers all intertwine. It offers endless delights for the ears, including Fiesco's pensive aria 'Il lacerato spirit', Amelia's romanza 'Come in quest'ora bruna', Simon and Amelia's duet, Gabriele's aria 'Sento avvampar nell'anima', Simon's monologue 'Plebe! Patrizi! Popolo!' as well as highly-charged ensembles and a variety of chorus scenes. Featuring many of Verdi's unique, remarkably appealing characters with lower male voices like the reformed pirate, Simon (Baritone), and the stern patrician, Fiesco (Bass), this is also a work that requires superb singers to perform it.
The production will be directed by world-renowned opera director, Pierre Audi, who led the Dutch National Opera for many years and has been serving as the general director of the Festival d'Aix-en-Provence since 2018. Contemporary artist Anish Kapoor joins the team as collaborator. Ono Kazushi, famed for his passion for Italian opera, will conduct. This production has an impressive cast, with the role of Simon sung by Roberto Frontali, an internationally acclaimed Verdi-Baritone, Fiesco by Riccardo Zanellato, who has performed numerous bass roles in major theatres such as Teatro alla Scala and Paulo by the talented Simone Alberghini along with a star soprano Irina Lungu as Amelia, and Amelia's lover, Gabriele, portrayed through the glorious voice of Luciano Ganci.
This is a co-production with the Finnish National Opera and Teatro Real, and after the premiere at the New National Theatre Tokyo, the next performance is planned to be presented in Helsinki and Madrid.
NEWS & FEATURES
26TH October, 2023
Interview: Pierre Audi on "Simon Boccanegra"
26TH October, 2023
Baggage inspection and metal detection at Opera "Simon Boccanegra" (15 November 19:00)
31ST October, 2023
Special Event: 'Have a taste of Opera and Japanese Whisky' to be held at opera "Simon Boccanegra" (Updated on 31 Oct)
SYNOPSIS
Paolo, a plebeian in Genoa, wants to make Simon Boccanegra the new doge and wrest power away from the patrician aristocracy. Simon agrees to become a candidate for doge in hopes of receiving permission to marry Maria, the daughter of a noble patrician family. However, imprisoned by her father Fiesco, Maria has already died of an illness. Simon asks Fiesco for permission to marry Maria. While concealing Maria's death, Fiesco asks Simon to give him the daughter he shares with Maria, but the child has vanished. Having turned away from Fiesco, Simon sees the body of his beloved.
25 years later. Simon's daughter, Maria, has been adopted by the Grimaldi family and renamed Amelia Grimaldi. She has been raised by Fiesco, who now goes by the name Andrea Grimaldi. Amelia's lover Gabriele says that he wants to marry Amelia and that he doesn't care that she was an orphan. When hearing about Amelia's situation, the doge, Simon, realizes that Amelia is his missing daughter, and the father and daughter are reunited. Paolo also wants to marry Amelia but is refused by Simon. Paolo decides to kidnap Amelia. Gabriele kills the man who kidnapped Amelia, causing violence to erupt, and is brought before the council with Andrea. Gabriele denounces Simon as the culprit behind it all and attacks him. But Amelia, who has escaped, takes control of the situation. Simon admonishes everyone and arrests the pair. Ordered by Simon to curse the true criminal, Paolo trembles with fear as he curses himself.
Filled with hatred for Simon, Paolo puts poison in water intended for him and urges Andrea to kill Simon, but he refuses. But then, intrigued by Paolo and convinced that Simon had been toying with Amelia, Gabriele calls for his death. Hiding an infuriated Gabriele, Amelia asks Simon to pardon her lover. After drinking the water, Simon loses consciousness. Gabriele attacks, but apologises when he realises that Amelia is Simon's real daughter. Gabriele turns to confront the uprising that has taken place against the doge.
Peace returns to Genoa, and Paolo, who had joined in the uprising, is arrested. A distant wedding song is audible, and the dying Simon thinks of the sea. When Fiesco visits, Simon is finally enjoying peaceful, happy days, and tells Fiesco that Amelia is his granddaughter. Simon dies after naming Gabriele as his successor.
CREATIVE TEAM & CAST
CREATIVE TEAM
Conductor: ONO Kazushi
Production: Pierre AUDI
Set Design: Anish KAPOOR
Costume Design: Wojciech DZIEDZIC
Lighting Design: Jean KALMAN
CAST
Simon Boccanegra: Roberto FRONTALI
Amelia (Maria Boccanegra): Irina LUNGU
Jacopo Fiesco: Riccardo ZANELLATO
Gabriele Adorno: Luciano GANCI
Paolo Albiani: Simone ALBERGHINI
Pietro: SUDO Shingo
Un capitano dei balestrieri: MURAKAMI Toshiaki
Un'ancella di Amelia: SUZUKI Ryoko
Chorus: New National Theatre Chorus
Orchestra: Tokyo Philharmonic Orchestra
Conductor

ONO Kazushi

Production

Pierre AUDI

Set Design

Anish KAPOOR

Simon Boccanegra

Roberto FRONTALI

Maria Boccanegra (Amelia)

Irina LUNGU

Jacopo Fiesco

Riccardo ZANELLATO

Gabriele Adorno

Luciano GANCI

Paolo Albiani

Simone ALBERGHINI
TICKETS
S

¥29,700

A

¥24,200

B

¥17,600

C

¥11,000

D

¥7,700

Z

¥1,650*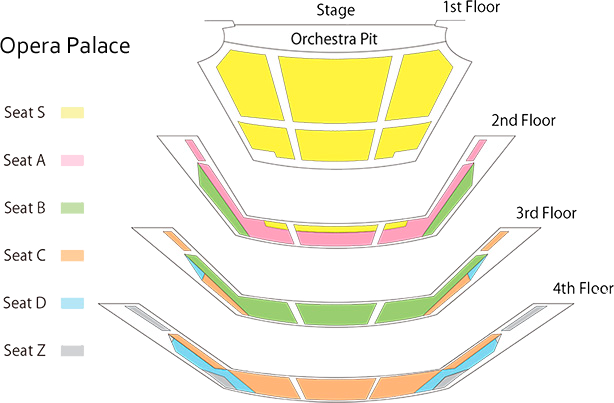 Booking Opens: Sat, 9 Sep 2023, 10:00am
Booking Z seats (Day tickets) 1,650 yen
You are able to purchase Z seat tickets online from 10:00 am. Click "BUY TICKETS" next to "Z" under each performance information.
There is a handling charge of ¥330 (incl. tax).
Only when seats allocated as Z seats are still available at 11:00 am, you are able to purchase these tickets at the Box Office of the theatre.
Note that all Z seats are on a first come, first served basis and will come with restricted views.
Concession Prices
Under 15s discounts and Z seats (Day Tickets) are available online. Other types of discount tickets are not available online. Please inquire at the Box Office or by telephone.
Please Note
Latecomers will not be admitted to the auditorium unless there is a suitable break or interval.
For Seat D of Opera performances, maximum of 2 tickets per person on the first day of ticket sale.
No admittance to pre-school children. Each child older than this age requires a ticket for entry, even when accompanied by a parent or guardian.
Tickets may not be changed or refunded except in the case of a cancelled performance.
A special discount price is available for disabled guests. Please inquire at the Box Office for details.
Users of wheelchairs are requested to contact the Box Office.
Please note that cast or programme change may be required depending on the situation.