OPERA
[Cancelled] Les Contes d'Hoffmann
SCHEDULE
Sun, 19 April 2020, 14:00

Tue, 21 April 2020, 14:00

Thu, 23 April 2020, 18:30

Sat, 25 April 2020, 14:00

Show More
2019/2020 SEASON
*As of the 30th of March, we have cancelled all performances of "Les Contes d'Hoffmann". See for the details
>Refund Information
Music by Jacques OFFENBACH
Opera in 5 Acts
Sung in French with English and Japanese surtitles
OPERA PALACE
19 Apr - 25 Apr, 2020 ( 4 Performances )
Running time is approx. 3 hours 40 mins including intervals
DETAILS
This is Philippe ARLAUD's production of a whimsical love story. It is Jacques OFFENBACH's sole opera, best known for its "Belle nuit, ô nuit d'amour" ("Beauteous Night, O Night of Love"), other highlights including the "Chanson de Kleinzach" ("Song of little Zaches") sung by Hoffman, and that ultimate showcase of coloratura soprano singing, the "Les oiseaux dans la charmille" ("The birds in the arbour") aria sung by Olympia. This is ARLAUD's 2003 production at the New National Theatre Tokyo. He brings added depth to the work with radiating wit and humour, as well as effective use of fluorescent colours, bringing out the sense of fantasy of the work.
This will be a noteworthy production, featuring Marko LETONJA, Music Director of Strasbourg Philharmonic Orchestra, as conductor, and Leonardo CAPALBO who has been highly acclaimed for this role, will make his debut in NNTT. Kyle KETELSON, well-known for his Escamillo and Leporello roles, will be playing the four villains, while the rising star, mezzo soprano KOBAYASHI Yuka, will play Nicklausse and La Muse. The three soprano parts will be taken up by leading Japanese sopranos YASUI Yoko, KINOSHITA Mihoko and YOKOYAMA Keiko.
SYNOPSIS
The setting is a tavern next to the opera house.
The poet Hoffmann, who exchanged promises with the singer Stella, with whom he is in love, to meet each other after her performance, begins telling stories of past love with three women: falling in love with Olympia, a mechanical doll; his consumptive lover Antonia being coaxed to sing one last time, draining her of her last breath; and his shadow being taken by the courtesan Giulietta;.
The tales over, Hoffman falls into despair over the emptiness of love, getting drunk. Whereupon the Muse appears before him.
CREATIVE TEAM & CAST
Conductor

Marko LETONJA

Production, Set and Lighting Design

Philippe ARLAUD

Hoffmann

Leonardo CAPALBO

Nicklausse, La Muse

KOBAYASHI Yuka

Olympia

YASUI Yoko

Antonia

KINOSHITA Mihoko

Giulietta

YOKOYAMA Keiko

Lindorf, Coppélius, Miracle, Dapertutto

Kyle KETELSEN

Andrès, Cochenille, Frantz, Pitichinaccio

AOCHI Hideyuki
TICKETS
S

¥24,200

A

¥19,800

B

¥13,200

C

¥7,700

D

¥4,400

Z

¥1,650*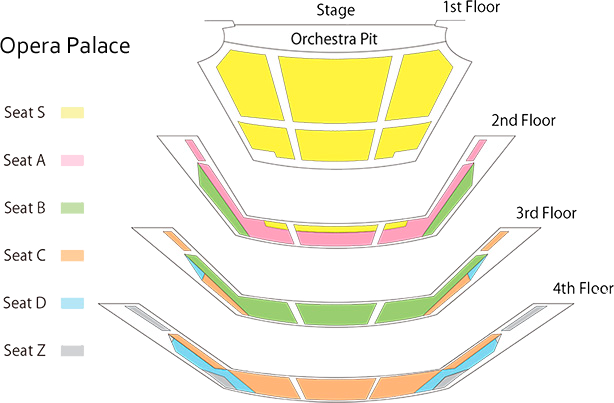 Booking Opens: Sun, 15 Dec 2019, 10:00am
*Booking Z seats (Day tickets) 1,650 yen
You are able to purchase Z seat tickets online from 10:00 am to 11:00 am. Click "BUY TICKETS" next to "Z" under each performance information.
There is a handling charge of ¥330 (incl. tax).
Only when seats allocated as Z seat are still available at 11:00 am, you are able to purchase these tickets at the Box Office of the theatre.
Note that all Z seats are on a first come, first served basis and will come with restricted views.
Concession Prices
Under 15s discounts and Z seats (Day Tickets) are available online. Other types of discount tickets are not available online. Please inquire at the Box Office or by telephone.
Please Note
No admittance to pre-school children. Each child older than this age requires a ticket for entry, even when accompanied by a parent or guardian.
Tickets may not be changed or refunded except in the case of a cancelled performance.
A special discount price is available for disabled guests. Please inquire at the Box Office for details.
Users of wheelchairs are requested to contact the Box Office.
Preferred seats may not be available on the first day of ticket sales.