2021/2022 Season Opera at the New National Theatre, Tokyo
We are pleased to announce the 2021/22 Opera Season at the New National Theatre, Tokyo.
10 PRODUCTIONS IN TOTAL including 4 NEW PRODUCTIONS


Message from ONO Kazushi,
Artistic Director of Opera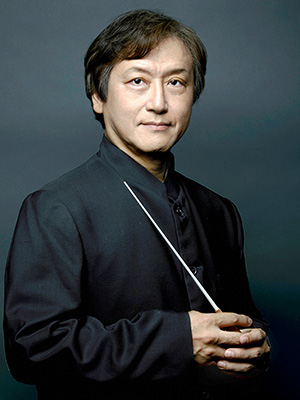 Dear opera lovers and supporters of New National Theatre, Tokyo.

Throughout the world, we are currently living in uncertain times, with no clear end in sight. But I am sure you are all hoping for the light to shine again.

When we look back at the history of opera, we can see how composers have overcome various difficulties to turn a new page in its history. Interestingly, this is a theme that unites the four new productions of the New National Theatre's 2021/22 season.

Gluck's operatic reform is well known. The rise of baroque opera in the eighteenth century led to the adulation of castrato singers and their virtuosity, but often composers and librettists became secondary. It was at such a time that Gluck came on the scene. His view was that opera should be a "musical drama" born from the necessity of the drama, and he gave a larger role to the orchestra and from the singers he demanded beauty created by the unity of music and text. This would become the norm, but at that time Gluck experienced strong resistance from the conservative camp. Yet he persevered, saying "there is no rule I would not have felt in duty bound to break in order to achieve the delivered effect". It was with Orfeo ed Euridice that Gluck launched his historic reform, and this will now be the first work in NNTT's Baroque Opera series, replacing last season's production of Handel's Giulio Cesare which had to be postponed to a later season. It will be directed by internationally renowned dancer and choreographer, TESHIGAWARA Saburo, and conducted by the multi-talented SUZUKI Masato. The cast includes distinguished countertenor Lawrence ZAZZO as Orfeo, and Australian soprano Valda WILSON as Euridice. The staging, which will skillfully combine the Viennese original version and the Paris version with ballet, aims to get to the core of this "revolutionary drama".

Who was the successor to Gluck and his revolutionary ideas? French composer Berlioz revered Gluck, and once said "were Gluck to come back to life, he would say of me 'here is my son'." When Berlioz conducted his own version of Orfeo ed Euridice in Paris, Wagner was in the audience. At that time, Wagner was living a life of exile, and experienced many setbacks such as not being able to attend the world premiere of his Lohengrin at Weimar under Liszt, and the failure of the Paris staging of Tannhäuser. Yet it was during this difficult period that he conceived the idea of Gesamtkunstwerk, the synthesis of poetry and music based on the principles of Gluck. He completed Tristan und Isolde and the first two parts of his Ring cycle despite having no plans of having them performed. All he needed was for Ludwig II of Bavaria to come on the scene. When his exile was finally over, he set to work on Die Meistersinger von Nürnberg, an opera about who can create the most sophisticated song and poetry. We are extremely happy to announce we have been able to reschedule this production, which had to be postponed last year. At Tokyo Bunka Kaikan, there will be two performances in August 2021, and at the NNTT there will be five performances in November/December. "Das Volk und Kunst gleich blüh' und wachs' (The people and art bloom and thrive equally)" - we look forward to this famous line of Hans Sachs to ring out in the theatre.

When Berlioz and Wagner were still small, a young Italian composer was taking the opera world by storm - Gioacchino Rossini. Although he was educated at music school, he learnt his trade out in the big wide world. He composed his first opera at the age of 14, and quickly learnt by trial and error. Faithful to his own values, he was not fazed even when he met the British monarch in London. He lived independently without any patronage, experiencing both the highs and lows, and continued to produce operas with a common touch. Perhaps the reason he stopped composing opera at the age of 37 was that he had experienced too much joy and sorrow at a young age. We present a new production of his opera La Cenerentola, the work that indeed became his Cinderella story. In the role of Angelina is Japanese mezzo WAKIZONO Aya, who sparkled as Rosina in Il barbiere di Siviglia (2019/20 season) amongst an international cast. The performance will be conducted by acclaimed Italian maestro Maurizio BENINI and directed by AGUNI Jun, who spent his formative years in Rome.

A century later, French composer Debussy criticized Gluck's historical achievements, saying "from getting to know Gluck, French music fell straight into the arms of Wagner". In fact, Debussy used to be a fervent Wagnerian who could play Tristan und Isolde on the piano by memory, but he gradually distanced himself from the Germanic way of using explanatory leitmotivs and massive orchestral sounds. Instead, he explored the ideal way of combining melody with the French language, and also the way to express the subconscious through the orchestra, and eventually produced Pelléas et Mélisande, a masterpiece of the twentieth century. However, in order to undertake this reform - albeit a very different sort of reform to Gluck - it took Debussy ten years after receiving Maeterlinck's libretto. He too experienced difficulties in bringing a new idea into the world. An outstanding international cast including Bernard RICHTER, Karen VOURC'H, Laurent NAOURI, and HAMADA Rie will gather in Tokyo for this new production.

We have an appealing lineup of cast for the revival productions of our repertoire works as well. Madama Butterfly features NAKAMURA Eri as Cio-Cio san. Pinkerton is sung by talented tenor Luciano GANCI, and SHIMONO Tatsuya will support the pair from the pit. Renowned maestro James CONLON makes his first appearance at NNTT in Der fliegende Holländer, Wagner's youthful opera about fantasy and doomed love. As the Dutchman we have Egils SILINS, one of the best interpreters of this role today, Senta is sung by Martina WELSCHENBACH, and house regular TSUMAYA Hidekazu appears as Daland. Rising Italian conductor Francesco LANZILLOTTA conducts Donizetti's L'elisir d'amore. Soprano Jessica Aszodi, who impressed with her superb performance in the world premiere of FUJIKURA's A Dream of Armageddon last season, will display her coloratura as Adina, with Francisco GATELL as Nemorino. In the revival production of La Traviata, Violetta will be sung by Anita HARTIG, who is in demand in houses all over the world including the Metropolitan Opera, Vienna State Opera, Covent Garden, and La Scala. Her NNTT debut will surely excite many opera fans. Taking the baton in Der Rosenkavalier is Viennese born and bred Sascha Goetzel, who has conducted several performances of the work at the Vienna State Opera. The female trio will be sung by an alluring lineup of Annette DASCH, Maria KATAEVA and YASUI Yoko. William Kentridge's Die Zauberflöte makes a welcome return. Against the backdrop of his imaginative drawings, Oleg CAETANI conducts a handpicked Japanese cast.

SHIBUYA Keiichiro's eagerly awaited android opera Super Angels, postponed from last summer, will be staged in August 2021. It's a cutting-edge opera about the friendship between an android and the boy Akira, featuring a children's choir of 60. Known for his radical electronic music, as well as for his vocaloid opera starring Hatsune Miku and the world's first android opera, it's the first time SHIBUYA has composed an opera for both orchestra and choir. The video and stage design also feature state-of-the-art technology. We hope that many young people and children will come and enjoy this production.

Finally, along with everyone at NNTT, I sincerely hope that the planned productions for next season will be performed as programmed. However, even if it takes longer for normality to resume, we will make every effort to produce each opera in the best form possible and present enjoyment to our public.
Profile of ONO Kazushi
ONO Kazushi graduated from Tokyo University of the Arts. He was formerly Music Director of the Zagreb Philharmonic Orchestra (1990-1996) and General Music Director of Badisches Staatstheater Karlsruhe (1996-2002) before he succeeded Antonio Pappano as Music Director of Theatre Royal de la Monnaie in Brussels where he enjoyed six highly successful seasons (2002-2008).
He then served as Principal Conductor of Opéra National de Lyon (2008-2017), during which time he was also Principal Guest Conductor of Filarmonica Arturo Toscanini. He is currently Music Director for the Tokyo Metropolitan Symphony Orchestra and the Orquestra Simfònica de Barcelona i Nacional de Catalunya.
He made his opera debut in 2007 at La Scala in Milan (Macbeth). Since then, he has made a number of appearances at the Metropolitan Opera in New York (Der fliegende Holländer), the Opéra National de Paris (Król Roger), the Bayerische Staatsoper in Munich (Der fliegende Holländer and Hänsel und Gretel), the Deutsche Staatsoper in Berlin (Elektra), the Glyndebourne Festival Opera (L'heure espagnole, L'enfant et les sortileges and Hänsel und Gretel), and the Festival d'Aix-en-Provence (Le Rossignol).
In September 2016, he took up the role of Artistic Consultant for Opera at the New National Theatre Tokyo, and in September 2018 he assumed office as the theatre's Artistic Director of Opera.
He conducted Die Zauberflöte(1998), Tristan und Isolde(2010 and 2011), Asters and Turandot in 2019, A Dream of Armageddon in 2020 at the NNTT, and is scheduled to conduct Die Walküre and Carmen in the 2020/2021 season, Super Angels in August 2021, and Die Meistersinger von Nürnberg and Pelléas et Mélisande in the upcoming season.