The Pit is an open-space theatre featuring a movable floor for both the stage and seating areas – vertically moving this floor can create precisely the right layout for any staging.
The versatile venue transforms freely from a traditional end stage to a thrust stage with the stage centre extending into the auditorium, to a centre stage with seating both in front of and behind the stage, and even to an arena stage with seats surrounding the stage on all sides. The space is designed to give the director's imagination free rein.
The balconies along the walls can accommodate seating to offer the audience a special bird's-eye view of the compact stage. Depending on the layout, the theatre can hold a maximum of 468 seats.
Seating capacity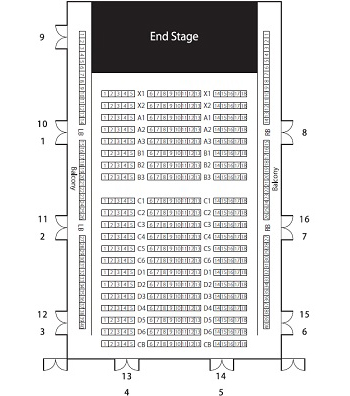 | | |
| --- | --- |
| End Stage | 358-438 seats (varies by the size of the stage) |
| Thrust Stage | 400 seats |
| Centre Stage | 420 seats |
| Arena Stage | 468 seats |
Buffet
1st floor of the theatre
Toilet
1st and 2nd floor of the theatre
Earthquake Response & Evacuation in case of Fire
This theatre is designed to withstand a major earthquake, and is structurally fire resistant.
In the event of an earthquake or the issuing of a J-Alert, please remain seated if in the auditorium, and please crouch on the floor if in the lobby. For good measure, please stay well away from any windows.
Please evacuate upon a fire, following staff instructions.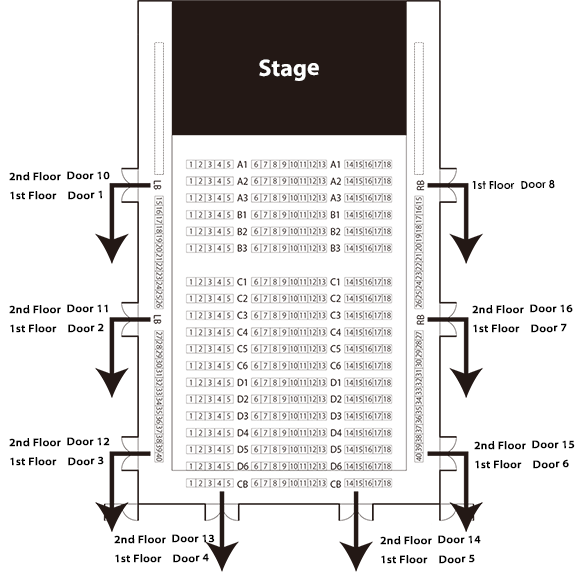 Evacuation from the Pit
Go out to the alley around the pond in front of the Pit.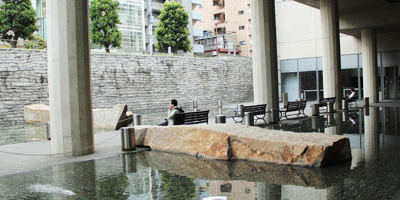 If the performance is discontinued
1. The lights will come on in the auditorium if a performance is discontinued.
In the case of an earthquake, please remain seated until the shaking has subsided.
In the case of strong quaking, please be aware of the falling objects.
2. Staff will provide instructions once the situation has been ascertained.
3. Please remain seated until staff issue instructions.
In the case of evacuation
following a fire
1. Staff will announce the commencement of evacuation.
2. Please exit the building, following staff guidance.
Points to note when evacuating
1. Please calmly leave through the exit indicated.
2. Please keep your ticket with you and make sure you will not lose it.