OPERA
Werther
SCHEDULE
2018/2019 SEASON
Music by Jules MASSENET
Opera in 4 Acts
Sung in French with Japanese surtitles
OPERA PALACE
19 Mar - 26 Mar, 2019 ( 4 Performances )
Running time is approx. 3 hours 15 mins including intervals
DETAILS
GOETHE's classic "Die Leiden des jungen Werthers (The Sorrows of Young Werther)", an eighteenth-century novel depicting the anguish of love and heartbreak, has been read all over the world. Composed over a century after the novel, Jules MASSENET's opera Werther adds French romantic passion to GOETHE's text, bringing it even closer to the heart. The work has many memorable moments, from the dramatic overture to Charlotte's "Air des lettres" and Werther's soulful aria "Porquoi me réveiller?" The staging by Nicolas JOEL, first seen in 2016, faithfully recreates the atmosphere of the original story and places the focus on Werther's sentiments. In this revival production, Werther is played by leading lyric tenor Saimir PIRGU, who returns to NNTT after his highly acclaimed Nemorino last season. Making a highly anticipated role debut as Charlotte is internationally renowned Japanese mezzo-soprano FUJIMURA Mihoko. A singer well known for her intellectual and sensitive approach, we look forward to her portrayal of Charlotte's emotional conflict. Sweet-natured little sister Sophie is sung by popular Japanese soprano KOUDA Hiroko. Bringing out Massenet's lush yet delicate orchestration is Paul DANIEL, Music Director of the Orchestre National Bordeaux Aquitaine, in his first appearance at the NNTT.
NEWS & FEATURES
27TH February, 2019
Backstage Tour at the Opera Palace (the 3rd and the 24th of March)
SYNOPSIS
July. The young poet Werther visits the house of the recently widowed Bailiff where his young children are practicing a Christmas carol. Werther is to escort Charlotte, the Bailiff's eldest daughter, to a ball that evening. He is strongly attracted by the beauty and tenderness of Charlotte as she looks after her siblings. On their return from the ball, Werther declares his love to her, but he finds out that Charlotte is already engaged to Albert, who she promised her dying mother to marry. Werther is devastated.
September. The townspeople gather for the Pastor's 50th wedding anniversary. From a distance, Werther observes Charlotte and Albert - who have been married for three months - enter the church. Meanwhile, Charlotte's sister Sophie attempts to grab his attention. Werther has maintained friendship with the couple, but when he sees Charlotte he can no longer restrain himself and tells her of his love. Distraught, Charlotte tells him to leave the town and not return until Christmas. Werther departs hastily.
On Christmas Eve. Charlotte is obsessively re-reading Werther's letter and her heart is torn. Werther appears, and after he reads to her some poetry of Ossian ("Porquoi me reveiller"), he tells her he is still in love with her. They embrace for a moment but Charlotte flings herself away and flees. Albert returns to find his wife agitated, and when a servant brings a note from Werther asking to borrow his pistols for his journey, he sends his servant with it. Charlotte has a terrible premonition and rushes to Werther, but it is too late. He has shot himself and is mortally wounded. Werther says he is happy to die thinking of her. She finally admits that she had always loved him and kisses him. He dies in her arms as the children's Christmas carol is heard outside.
CREATIVE TEAM & CAST
CREATIVE TEAM
Conductor: Paul DANIEL
Production: Nicolas JOEL
Set Design: Emmanuelle FAVRE
Costume Design: Katia DUFLOT
Lighting Design: Vinicio CHELI
CAST
Werther: Saimir PIRGU
Charlotte: FUJIMURA Mihoko
Albert: KURODA Hiroshi
Sophie: KOUDA Hiroko
Le Bailli: ITO Takayuki
Schmidt: ITOGA Shuhei
Johann: KOMADA Toshiaki
Chorus: New National Theatre Chorus
Orchestra: Tokyo Symphony Orchestra
Conductor

Paul DANIEL

Production

Nicolas JOEL

Werther

Saimir PIRGU

Charlotte

FUJIMURA Mihoko

Albert

KURODA Hiroshi

Sophie

KOUDA Hiroko
TICKETS
S

¥23,760

A

¥19,440

B

¥12,960

C

¥7,560

D

¥4,320

Z

¥1,620*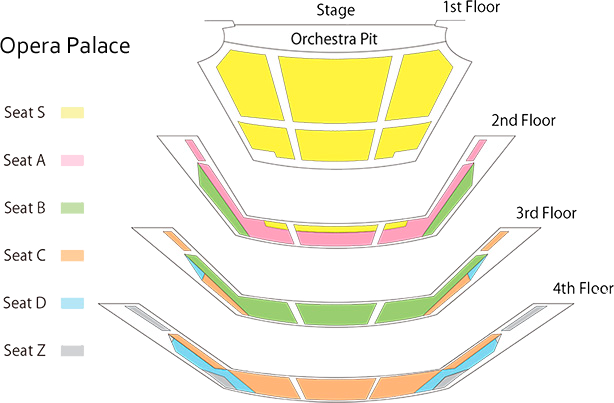 Booking Opens: Sat, 17 Nov 2018, 10:00am
*Booking Z seats (Day tickets) 1,620 yen
You are able to purchase Z seat tickets online from 10:00 am to 11:00 am. Click "BUY TICKETS" next to "Z" under each performance information.
There is a handling charge of ¥324 (incl. tax).
Only when seats allocated as Z seat are still available at 11:00 am, you are able to purchase these tickets at the Box Office of the theatre.
Note that all Z seats are on a first come, first served basis and will come with restricted views.
Concession Prices
Under 15s discounts and Z seats (Day Tickets) are available online. Other types of discount tickets are not available online. Please inquire at the Box Office or by telephone.
Please Note
No admittance to pre-school children. Each child older than this age requires a ticket for entry, even when accompanied by a parent or guardian.
Tickets may not be changed or refunded except in the case of a cancelled performance.
A special discount price is available for disabled guests. Please inquire at the Box Office for details.
Users of wheelchairs are requested to contact the Box Office.
Preferred seats may not be available on the first day of ticket sales.