OPERA
Tristan und Isolde
SCHEDULE
Thu, 14 March 2024, 16:00

Sun, 17 March 2024, 14:00

Wed, 20 March 2024, 14:00

Sat, 23 March 2024, 14:00

Tue, 26 March 2024, 14:00

Fri, 29 March 2024, 14:00

Show More
2023/2024 SEASON
Music by Richard Wagner
Opera in 3 Acts
Sung in German with English and Japanese surtitles
OPERA PALACE
14 Mar - 29 Mar, 2024 ( 6 Performances )
Running time is approx. 5 hours and 45 mins including intervals.
Booking Opens: Sat, 6 Jan 2024, 10:00am
DETAILS
Tristan und Isolde returns to the New National Theatre Tokyo for the first time since the sensational 2010/2011 Season performances under conductor Ono Kazushi and director David McVicar. Tristan und Isolde, a musical drama from Richard Wagner's mature period, is often called Wagner's greatest musical masterpiece. Musically depicting all-consuming love and anguish, this work lets Wagner's magical power resonate through audience members' entire bodies. Wagner's Tristan und Isolde features not only the leitmotiv (motifs that indicate characters or situations) unique to Wagner's musical dramas and abundant use of unediliche Melodie leading continuously from one melody to another without pause, but also half-step progressions concluding with the so-called Tristan Chord to create harmonies with a sense of uncertainty, expressing sensuality and inspiration. With the famous prelude and the climax of 'Isoldes Liebestod', this work leads the audience to catharsis with sweetly undulating sounds.
Ono Kazushi, who as artistic director has a strong desire to bring this work ― a revolutionary work in opera history ― to opera fans, will conduct. Torsten Kerl, one of the world's greatest Heldentenors returns to the NNTT as Tristan, alongside Eva-Maria Westbroek making her NNTT debut as Isolde.
SYNOPSIS
The middle ages of legend. Isolde, an Irish princess, is to be married to Marke, King of Cornwall, in a strategic union. She is quartered aboard the ship of Tristan, the king's nephew. Tristan is the foe of Isolde's previous fiancé, yet she is secretly drawn to him. On the ship, she plans a double suicide with Tristan by poison. But her handmaid, Brangäne, has switched the poison for a love potion, and the two young people fall instantly and passionately in love. Isolde becomes the wife of King Marke, but her meetings with Tristan continue. Brangäne's warnings fall on deaf ears, and one day the king catches the two during a rendezvous. Tristan is mortally wounded by the sword of Melot, the king's vassal. Tristan's henchman Kurwenal takes him back to his castle to wait for Isolde. Isolde arrives, but her beloved Tristan expires in her arms. The king has learned of the love potion and goes with his entourage intent on forgiving the two, but he arrives to find their lifeless bodies.
CREATIVE TEAM & CAST
CREATIVE TEAM
Conductor: ONO Kazushi
Production: David McVICAR
Set and Costume Design: Robert JONES
Lighting Design: Paule CONSTABLE
Choreographer: Andrew GEORGE
CAST
Tristan: Torsten KERL
König Marke: Wilhelm SCHWINGHAMMER
Isolde: Eva-Maria WESTBROEK
Kurwenal: Egils SILINS
Melot: AKITANI Naoyuki
Brangäne: FUJIMURA Mihoko
Ein Hirt: AOCHI Hideyuki
Ein Steuermann: KOMADA Toshiaki
Stimme eines jungen Seemanns: MURAKAMI Kota
Chorus: New National Theatre Chorus
Orchestra: Tokyo Metropolitan Symphony Orchestra
Conductor

ONO Kazushi

Production

David McVICAR

Tristan

Torsten KERL

König Marke

Wilhelm SCHWINGHAMMER

Isolde

Eva-Maria WESTBROEK

Kurwenal

Egils SILINS

Brangäne

FUJIMURA Mihoko
TICKETS
S

¥31,900

A

¥26,400

B

¥18,700

C

¥13,200

D

¥7,700

Z

¥1,650*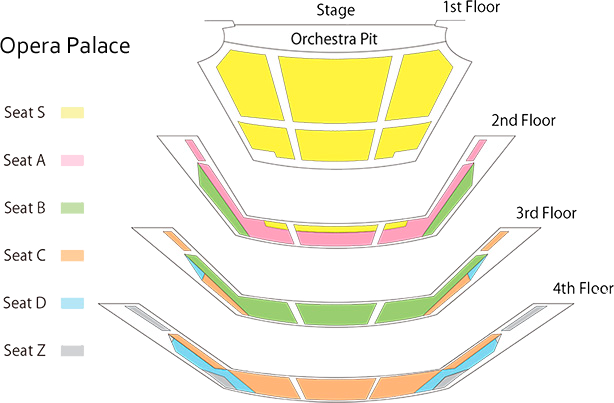 Booking Opens: Sat, 6 Jan 2024, 10:00am
Booking Z seats (Day tickets) 1,650 yen
You are able to purchase Z seat tickets online from 10:00 am. Click "BUY TICKETS" next to "Z" under each performance information.
There is a handling charge of ¥330 (incl. tax).
Only when seats allocated as Z seats are still available at 11:00 am, you are able to purchase these tickets at the Box Office of the theatre.
Note that all Z seats are on a first come, first served basis and will come with restricted views.
Concession Prices
Under 15s discounts and Z seats (Day Tickets) are available online. Other types of discount tickets are not available online. Please inquire at the Box Office or by telephone.
Please Note
For Seat D of Opera performances, maximum of 2 tickets per person on the first day of ticket sale.
No admittance to pre-school children. Each child older than this age requires a ticket for entry, even when accompanied by a parent or guardian.
Tickets may not be changed or refunded except in the case of a cancelled performance.
A special discount price is available for disabled guests. Please inquire at the Box Office for details.
Users of wheelchairs are requested to contact the Box Office.
Please note that cast or programme change may be required depending on the situation.