OPERA
Tosca
2023/2024 SEASON
Music by Giacomo Puccini
Opera in 3 Acts
Sung in Italian with English and Japanese surtitles
OPERA PALACE
6 Jul - 21 Jul, 2024 ( 5 Performances )
Running time is approx. 2 hours and 55 mins including intervals.
Booking Opens: Sat, 13 Apr 2024, 10:00am
DETAILS
Italian director Antonello Madau-Diaz's highly popular production of Puccini's Tosca returns to the New National Theatre Tokyo. His visually spectacular staging, especially in the "Te Deum" scene in Act I, vividly evokes the atmosphere of turn of the nineteenth century Rome where the tragedy of the doomed lovers Tosca and Cavaradossi takes place.
The opera is full of vocal highlights including Cavaradossi's ardent romanza "Recondita armonia", Tosca's heart-felt prayer "Vissi d'arte, vissi d'amore" and Cavaradossi's farewell song, "E lucevan le stele", and Puccini's music maintains the dramatic tension right to the climactic final scene. This production welcomes the renowned Maurizio Benini as conductor and features an outstanding cast including Joyce El-Khoury as Tosca and Teodor Ilincăi, who also performed impressively as Calaf in Turandot, as Cavaradossi.
SYNOPSIS
The setting is Rome, June 1800 - a period of power struggle between Republicans and Royalists. Republican Angelotti escapes prison and seeks help from his friend, the painter Cavaradossi who is painting in the church. Soon after, his lover and celebrated singer Tosca arrives. She is jealous of the woman represented in his painting, but they promise to meet later and she leaves. While Cavaradossi takes Angelotti to his villa, the police chief Scarpia arrives at the church in search for the fugitive. He tricks Tosca into leading the police to Cavaradossi and Angelotti.
Cavaradossi is captured and brought in to Scarpia. Tosca is also summoned to his study and when she hears Cavaradossi being tortured in the next room, she reveals Angelotti's hiding place. Tosca pleads for Cavaradossi and Scarpia agrees to release him if she would give herself to him. She reluctantly submits, but as he finishes writing her a safe-conduct pass, she stabs him to death.
At dawn the next morning, as Cavaradossi awaits execution at the Castel Sant'Angelo, Tosca appears and explains the mock execution and tells him how she killed Scarpia. When the squad fires, Cavaradossi falls. Tosca rushes to him but discovers that Scarpia had betrayed her, and before she is arrested for his murder, she leaps from the battlements.
CREATIVE TEAM & CAST
CREATIVE TEAM
Conductor: Maurizio BENINI
Production: Antonello MADAU-DIAZ
Set Design: KAWAGUCHI Naoji
Costume Design: Pier Luciano CAVALLOTTI
Lighting Design: OKUHATA Yasuo
CAST
Tosca: Joyce EL-KHOURY
Cavaradossi: Teodor ILINCĂI
Scarpia: Nikoloz LAGVILAVA
Angelotti: TSUMAYA Hidekazu
Spoletta: ITOGA Shuhei
Sciarrone: OTSUKA Hiroaki
Il Sagrestano: SHIMURA Fumihiko
Chorus: New National Theatre Chorus
Orchestra: Tokyo Philharmonic Orchestra
Conductor

Maurizio BENINI

Production

Antonello MADAU-DIAZ

Tosca

Joyce EL-KHOURY

Cavaradossi

Teodor ILINCĂI

Scarpia

Nikoloz LAGVILAVA
TICKETS
S

¥29,700

A

¥24,200

B

¥17,600

C

¥11,000

D

¥7,700

Z

¥1,650*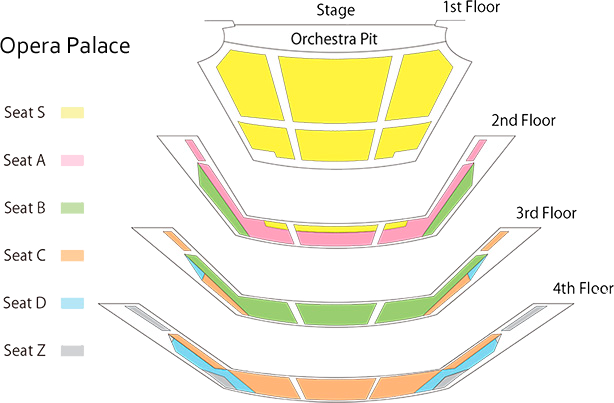 Booking Opens: Sat, 13 Apr 2024, 10:00am
Booking Z seats (Day tickets) 1,650 yen
You are able to purchase Z seat tickets online from 10:00 am. Click "BUY TICKETS" next to "Z" under each performance information.
There is a handling charge of ¥330 (incl. tax).
Only when seats allocated as Z seats are still available at 11:00 am, you are able to purchase these tickets at the Box Office of the theatre.
Note that all Z seats are on a first come, first served basis and will come with restricted views.
Concession Prices
Under 15s discounts and Z seats (Day Tickets) are available online. Other types of discount tickets are not available online. Please inquire at the Box Office or by telephone.
Please Note
Latecomers will not be admitted to the auditorium unless there is a suitable break or interval.
For Seat D of Opera performances, maximum of 2 tickets per person on the first day of ticket sale.
No admittance to pre-school children. Each child older than this age requires a ticket for entry, even when accompanied by a parent or guardian.
Tickets may not be changed or refunded except in the case of a cancelled performance.
A special discount price is available for disabled guests. Please inquire at the Box Office for details.
Users of wheelchairs are requested to contact the Box Office.
Please note that cast or programme change may be required depending on the situation.