Opera
Tannhäuser
2018/2019 SEASON
Music by Richard WAGNER
Opera in 3 Acts
Sung in German with Japanese surtitles
OPERA HOUSE
27 Jan. - 9 Feb., 2019 ( 5 Performances )
Running time is approx. 4 hours 15 mins including intervals
DETAILS
Richard WAGNER's Tannhäuser is an opera that portrays the inner struggles of an artist and his ultimate redemption through love. The work is full of memorable moments such as the exhilarating overture, the seductive ballet music of Venusberg, the pious harmonies of the Pilgrim's Chorus, and the stirring song contest scene. In this revival of Hans-Peter LEHMANN's classic production, first seen in 2007, Tannhäuser will be sung by the exceptional German tenor Torsten KERL who has performed the part at the Bayreuth Festival as well as at major opera houses. His voice has both the brilliance of a tenor and the strength of a heldentenor, and we eagerly look forward to his heroic portrayal of this challenging role. Wolfram is sung by Roman TREKEL, whose career as a Wagner singer started with this role at Bayreuth, and his lyrical and delicate rendering of the aria "O du, mein holder Abendstern" will surely be a musical highlight. Latvian Liene KINČA, who is quickly making her name as a Wagnerian soprano, sings the role of Elisabeth. Making his long-awaited return to the New National Theatre Tokyo is renowned conductor Asher FISCH, who appears regularly at the Met and other major international houses.
SYNOPSIS
Medieval Germany. The minstrel knight Tannhäuser has been enjoying worldly pleasures in Venusberg, the realm of the goddess of love. However, now he is weary and longs to go back to the human world. Venus pleads him to stay, but Tannhäuser resists and finds himself back in the Valley of Wartburg. He meets his fellow knights and follows them to the castle.
In Wartburg's Hall of Song, Tannhäuser and Elisabeth rejoice in their reunion, and he decides to take part in the song contest. The Landgrave Hermann announces "the nature of love" as the subject of the contest: Wolfram von Eschenbach sings of love as a fountain of pure water and the other knights also sing of spiritual love. However, Tannhäuser contradicts them with his song in praise of Venus and sensual love, revealing that he has been in the Venusberg. The knights try to attack him but Elisabeth intervenes and begs them for mercy. Tannhäuser is ordered by the Landgrave to make a pilgrimage to Rome to seek penance.
Elisabeth prays for Tannhäuser's salvation and awaits his return, but he is not among the group of pilgrims that pass by. Wolfram watches over her and calls on the evening star to guide her way. Finally Tannhäuser appears alone, and he tells Wolfram how the Pope didn't forgive him. In despair, he tries to return to Venusberg but at that moment the news of Elisabeth's death is brought. With the words "Elisabeth, pray for me" he dies and his soul is saved. The chorus praises the grace of God.
CREATIVE TEAM & CAST
CREATIVE TEAM
Conductor: Asher FISCH
Production: Hans-Peter LEHMANN
Set and Costume Design: Olaf ZOMBECK
Lighting Design: TATSUTA Yuji
Choreographer: Mehmet BALKAN
CAST
Hermann: TSUMAYA Hidekazu
Tannhäuser: Torsten KERL
Wolfram von Eschenbach: Roman TREKEL
Walther von der Vogelweide: SUZUKI Jun
Biterolf: HAGIWARA Jun
Heinrich der Schreiber: YOGI Takumi
Reinmar von Zweter: OTSUKA Hiroaki
Elisabeth: Liene KINČA
Venus: Alexandra PETERSAMER
Ein junger Hirt: YOSHIHARA Keiko
Chorus: New National Theatre Chorus
Ballet: The National Ballet of Japan
Orchestra: Tokyo Symphony Orchestra
Conductor

Asher FISCH

Production

Hans-Peter LEHMANN

Hermann

TSUMAYA Hidekazu

Tannhäuser

Torsten KERL

Wolfram von Eschenbach

Roman TREKEL

Walther von der Vogelweide

SUZUKI Jun

Biterolf

HAGIWARA Jun

Elisabeth

Liene KINČA

Venus

Alexandra PETERSAMER
TICKETS
S

¥27,000

A

¥21,600

B

¥15,120

C

¥8,640

D

¥5,400

Z

¥1,620*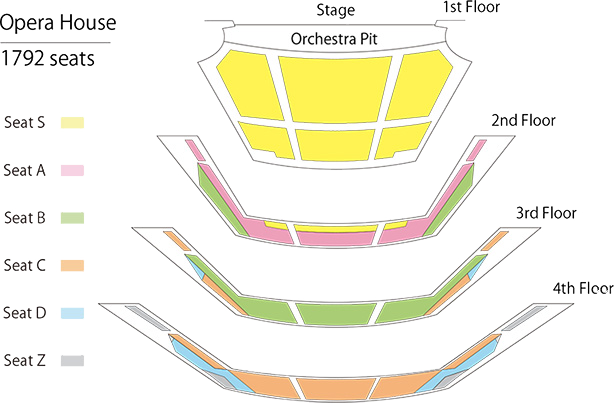 Booking Opens: 2018 Sep 23 (Sun) 10:00
*Booking Z seats (Day tickets) 1,620 yen
You are able to purchase Z seat tickets online from 10:00 am to 11:00 am. Click "BUY TICKETS" next to "Z" under each performance information.
There is a handling charge of ¥324 (incl. tax).
Only when seats allocated as Z seat are still available at 11:00 am, you are able to purchase these tickets at the Box Office of the theatre.
Note that all Z seats are on a first come, first served basis and will come with restricted views.
Concession Prices
Under 15s discounts and Z seats (Day Tickets) are available online. Other types of discount tickets are not available online. Please inquire at the Box Office or by telephone.
Please Note
No admittance to pre-school children. Each child older than this age requires a ticket for entry, even when accompanied by a parent or guardian.
Tickets may not be changed or refunded except in the case of a cancelled performance.
A special discount price is available for disabled guests. Please inquire at the Box Office for details.
Users of wheelchairs are requested to contact the Box Office.
Preferred seats may not be available on the first day of ticket sales.