OPERA
[CANCELLED] Salome
SCHEDULE
2019/2020 SEASON
*As of the 10th of April, we have cancelled all performances of "Salome".
>See for the details
>Refund Information

Music by Richard STRAUSS
Opera in 1 Act
Sung in German with English and Japanese surtitles
OPERA PALACE
17 May - 26 May, 2020 ( 4 Performances )
Running time is approx. 1 hour 40 mins without interval
DETAILS
Salome is a masterpiece by the archetypal German late Romantic composer, Richard STRAUSS. It is a one-act opera based on the eponymous play by Oscar WILDE, featuring an episode from the New Testament. The decadent content of the opera brought a reaction at its first performance and made STRAUSS's name known.A crucible of rich melodies and bold discords, this tense and dramatic one-act performance will take your breath away. This production by the late August EVERDING is a magical masterpiece, set around a huge ancient well in centre stage. A popular repertoire at the NNTT, this is our seventh revival since its first showing in 2000.
Conducting will be Constantin TRINKS, noted for his prowess with Richard STRAUSS. The title role will be played by the Alex PENDA, while heldentenor Ian STOREY will be playing Herodes. Jennifer LARMORE, known for her performance as Kostelnička in "Jenůfa", will play Herodias, while Russian opera and Wagner extraordinaire Tómas TÓMASSON will appear in the role of Johanaan.
SYNOPSIS
The setting is King Herod's palace in Jerusalem around 30 A.D. Salome, daughter-in-law of Herod, who wins his favor, takes interest in Jochanaan (John the Baptist), who is imprisoned in the cistern in the courtyard, and orders Narraboth, captain of the guard, to bring him out for her to see him. She tries to make advances to him, but he repels them and accuses her mother Herodias for the sins she has committed and is taken back to the cistern.
Asked by Herod to dance on condition that he will grant her whatever she desires, Salome puts on seven veils over her naked body and dances a bewitching dance.
After her Dance of Seven Veils, she demands the head of Jochanaan.
CREATIVE TEAM & CAST
CREATIVE TEAM
Conductor: Constantin TRINKS
Production: August EVERDING
Set and Costume Design: Jörg ZIMMERMANN
CAST
Salome: Alex PENDA
Herodes: Ian STOREY
Herodias: Jennifer LARMORE
Johanaan: Tómas TÓMASSON
Naraboth: SUZUKI Jun
Ein Page der Herodias: KANOH Etsuko
5 Juden 1: YOGI Takumi
5 Juden 2: AOCHI Hideyuki
5 Juden 3: KAMOSHITA Minoru
5 Juden 4: ITOGA Shuhei
5 Juden 5: HATAKEYAMA Shigeru
2 Nazarener 1: KITAGAWA Tatsuhiko
2 Nazarener 2: AKITANI Naoyuki
2 Soldaten 1: KANEKO Keiichi
2 Soldaten 2: KANEKO Hiroshi
Ein Cappadocier: TOMOKIYO Takashi
Orchestra: Tokyo Philharmonic Orchestra
Conductor

Constantin TRINKS

Production

August EVERDING

Salome

Alex PENDA

Herodes

Ian STOREY

Herodias

Jennifer LARMORE

Johanaan

Tómas TÓMASSON

Naraboth

SUZUKI Jun

Ein Page der Herodias

KANOH Etsuko
TICKETS
S

¥22,000

A

¥16,500

B

¥11,000

C

¥6,600

D

¥3,300

Z

¥1,650*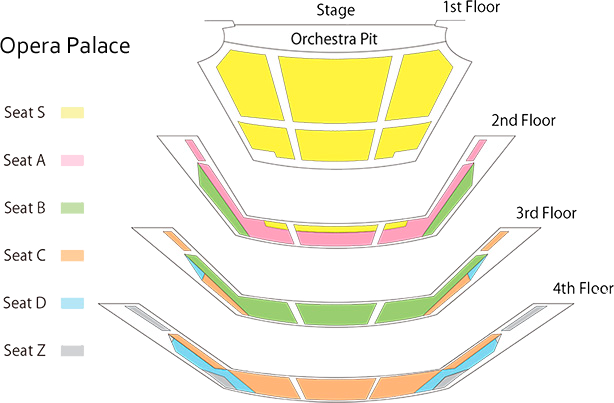 Booking Opens: Sat, 25 Jan 2020, 10:00am
*Booking Z seats (Day tickets) 1,650 yen
You are able to purchase Z seat tickets online from 10:00 am to 11:00 am. Click "BUY TICKETS" next to "Z" under each performance information.
There is a handling charge of ¥330 (incl. tax).
Only when seats allocated as Z seat are still available at 11:00 am, you are able to purchase these tickets at the Box Office of the theatre.
Note that all Z seats are on a first come, first served basis and will come with restricted views.
Concession Prices
Under 15s discounts and Z seats (Day Tickets) are available online. Other types of discount tickets are not available online. Please inquire at the Box Office or by telephone.
Please Note
No admittance to pre-school children. Each child older than this age requires a ticket for entry, even when accompanied by a parent or guardian.
Tickets may not be changed or refunded except in the case of a cancelled performance.
A special discount price is available for disabled guests. Please inquire at the Box Office for details.
Users of wheelchairs are requested to contact the Box Office.
Preferred seats may not be available on the first day of ticket sales.