OPERA
Madama Butterfly
SCHEDULE
2018/2019 SEASON
Music by Giacomo PUCCINI
Opera in 2 Acts
Sung in Italian with ENGLISH and Japanese surtitles
OPERA PALACE
1 Jun - 9 Jun, 2019 ( 4 Performances )
*4 Jun. Not for General Sales.
No Z seats (Day Tickets) available.
Running time is approx. 2 hours 35 mins including one interval
DETAILS
Set in Meiji period Nagasaki and punctuated with vibrant melodies such as the well-known aria "Un bel dì, vedremo", Puccini's Madama Butterfly is known and loved around the world. The Japan depicted by Puccini, who had never actually set foot in the country, feels real and we can only marvel at his deep insight and imagination. The NNTT production directed by KURIYAMA Tamiya casts a sharp eye on the social background of the story, especially Japan's relationship with America at the time. No matter how many times you have seen it, you will find something new in this outstanding production. This season, Madama Butterfly is played by SATO Yasko. Having performed on the international stage, including Florence, Bologna and Seattle, she is now one of the most sought-after Japanese sopranos in this role. It's also noteworthy that celebrated American tenor Stephen COSTELLO makes his role debut as Pinkerton at the NNTT. His beautiful and noble voice is perfectly suited to the role of the handsome but naïve naval officer who captures Cio-Cio-San's heart. In the pit, experienced Italian conductor Donato RENZETTI makes his first appearance at the NNTT.
SYNOPSIS
Set in Meiji-period Nagasaki. US naval officer Lieutenant Pinkerton, who is about to take a young Japanese bride, is inspecting a house he is leasing from Goro, a marriage broker. He boasts that he can terminate the lease and marriage any time, but the American consul Sharpless, who knows that the bride is serious about the marriage, is worried about his frivolous attitude.
The procession of the bride and her friends arrives. Cio-Cio-San, who sings that she is the happiest girl in the world, admits that she is fifteen. Her family was once wealthy but her father was forced to commit suicide, and she now earns her living as a geisha. The ceremony is interrupted by her uncle Bonzo, a Buddhist priest, who denounces her for abandoning her faith. Festivities over, the couple retreat and enjoy the wedding night.
Three years have passed since Pinkerton has left for America. Cio-Cio-San awaits his return, believing his promise that he would come again 'when the robins build their nests'. Sharpless and Goro advise her to remarry, but she declines, as she has had a son by Pinkerton in his absence. Sharpless, who knows that Pinkerton has wed an American wife, leaves in shock. Eventually, Pinkerton's ship arrives in Nagasaki harbor. Cio-Cio-San and Suzuki, her loyal maid, decorate the house with flowers and await his arrival but he doesn't appear.
As Cio-Cio-San rests, Sharpless brings Pinkerton and Kate, Pinkerton's new wife, and Suzuki receives them. Pinkerton is full of remorse and runs from the scene. Cio-Cio-San sees Kate instead of Pinkerton and she agrees to give up her child so he could be brought up in America. She takes a final farewell of her child and stabs herself with her father's dagger, choosing "to die with honor rather than live in shame". Pinkerton is heard desperately calling her name.
CREATIVE TEAM & CAST
CREATIVE TEAM
Conductor: Donato RENZETTI
Production: KURIYAMA Tamiya
Set Design: SHIMA Jiro
Costume Design: MAEDA Ayako
Lighting Design: KATSUSHIBA Jiro
CAST
Madama Butterfly: SATO Yasko
Pinkerton: Stephen COSTELLO
Sharpless: SUDO Shingo
Suzuki: YAMASHITA Makiko
Goro: HARE Masahiko
Lo zio Bonzo: SHIMAMURA Takeo
Il Principe Yamadori: HOSHINO Jun
and others
Chorus: New National Theatre Chorus
Orchestra: Tokyo Philharmonic Orchestra
Conductor

Donato RENZETTI

Production

KURIYAMA Tamiya

Madama Butterfly

SATO Yasko

Pinkerton

Stephen COSTELLO

Sharpless

SUDO Shingo

Suzuki

YAMASHITA Makiko

Goro

HARE Masahiko

Lo zio Bonzo

SHIMAMURA Takeo

Il Principe Yamadori

HOSHINO Jun
TICKETS
S

¥21,600

A

¥16,200

B

¥10,800

C

¥6,480

D

¥3,240

Z

¥1,620*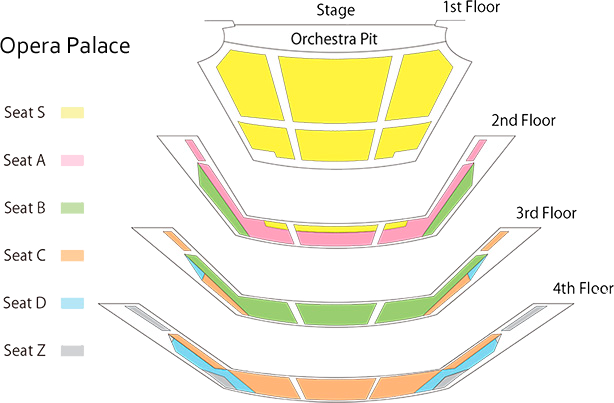 Booking Opens: Sat, 26 Jan 2019, 10:00am
*Booking Z seats (Day tickets) 1,620 yen
You are able to purchase Z seat tickets online from 10:00 am to 11:00 am. Click "BUY TICKETS" next to "Z" under each performance information.
There is a handling charge of ¥324 (incl. tax).
Only when seats allocated as Z seat are still available at 11:00 am, you are able to purchase these tickets at the Box Office of the theatre.
Note that all Z seats are on a first come, first served basis and will come with restricted views.
Concession Prices
Under 15s discounts and Z seats (Day Tickets) are available online. Other types of discount tickets are not available online. Please inquire at the Box Office or by telephone.
Please Note
No admittance to pre-school children. Each child older than this age requires a ticket for entry, even when accompanied by a parent or guardian.
Tickets may not be changed or refunded except in the case of a cancelled performance.
A special discount price is available for disabled guests. Please inquire at the Box Office for details.
Users of wheelchairs are requested to contact the Box Office.
Preferred seats may not be available on the first day of ticket sales.