OPERA
La Traviata
SCHEDULE
2019/2020 SEASON

The 74th National Arts Festival by Agency for Cultural Affairs presents

Music by Giuseppe VERDI
Opera in 3 Acts
Sung in Italian with English and Japanese surtitles
OPERA PALACE
28 Nov - 7 Dec, 2019 ( 5 Performances )
Running time in approx. 2 hours 40 mins including intervals
DETAILS
"La traviata" is set in the world of Parisian high society. This popular opera tells the story of the courtesan, Violetta Valéry: her loves and her sad fate. It is based on the dramatic adaptation of the romantic novel, "La Dame aux Camélias" by Alexandre DUMAS fils, modeled by the author on the high-class mistress, Marie Duplessis. Giuseppe VERDI then took the story, making its heroine a contemporary woman, and writing an innovative opera in which he raised the role of the music itself to that of expressing the story's emotions. Starting with "Libiamo ne' lieti calici" ("Let's drink from the joyful cups"), which has become a well-known, staple tune of gala concerts, the work features numerous other famous songs, such as Violetta's most technically demanding aria, "Ah, fors'è lui-sempre libera" ("Ah, maybe he's the one-Always free"), in the prelude foretelling tragedy, and Germont's "Di Provenza il mar, il suol" ("The sea and soil of Provence").
The director, Vincent BOUSSARD, is a recognized authority of sophisticated staging with an unerring eye for colour. His production of "La traviata" (first staged in 2015) displays that aesthetic sensibility. At the same time, he effectively holds up a mirror on the world to paint an imagined landscape, taking the theme of a woman's fate in the world of men. Upon curtain fall, we are left with the vivid picture of a woman who has lived her life with unwavering pride.
Violetta will be played by world-class soprano Myrtò PAPATANASIU, with her majestic voice and brilliant stage presence. The role of Alfredo will be taken on by the up and coming Dominick CHENES, who made his debut at leading theatres in Europe from the US. Ivan REPUŠIĆ, former General Music Director of the Staatsoper Hannover and presently Principal Conductor of the Münchner Rundfunkorchester, will take up the conductor's baton.
SYNOPSIS
Violetta, a courtesan in Paris, opens her heart to Alfredo, a son of a wealthy man, though she is hesitant to accept his sincere courtship. They begin to enjoy each other's company living together in the suburbs of the city.
One day during Alfredo's absence, his father Germont calls on Violetta to ask her to give up his son so that marriage arrangements for his daughter will proceed smoothly. Violetta decides to abandon her love and leaves Alfredo. After her return to Paris, Alfredo appears in front of her and accuses her of her betrayal in the presence of other people.
Time passes, but it is too late when all misunderstandings have come to light. Sick in bed, Violetta dies as she is embraced by the love of Alfredo, who asks for her pardon.
CREATIVE TEAM & CAST
Conductor

Ivan REPUŠIĆ

Production, Costume Design

Vincent BOUSSARD

Violetta Valéry

Myrtò PAPATANASIU

Alfredo Germont

Dominick CHENES

Giorgio Germont

SUDO Shingo

Flora Bervoix

KOBAYASHI Yuka

Visconte Gastone

OHARA Keiroh
TICKETS
S

¥27,500

A

¥22,000

B

¥15,400

C

¥8,800

D

¥5,500

Z

¥1,650*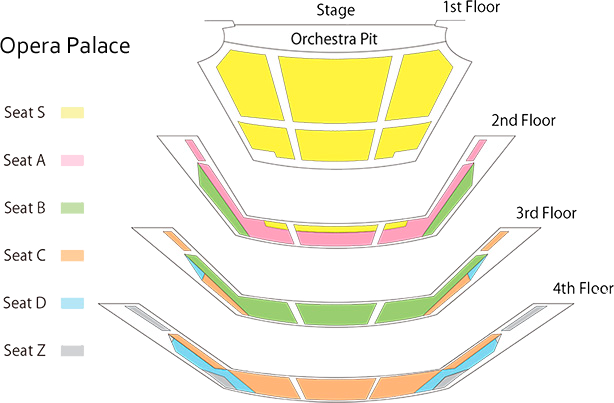 Booking Opens: Sat, 17 Aug 2019, 10:00am
*Booking Z seats (Day tickets) 1,650 yen
You are able to purchase Z seat tickets online from 10:00 am to 11:00 am. Click "BUY TICKETS" next to "Z" under each performance information.
There is a handling charge of ¥330 (incl. tax).
Only when seats allocated as Z seat are still available at 11:00 am, you are able to purchase these tickets at the Box Office of the theatre.
Note that all Z seats are on a first come, first served basis and will come with restricted views.
Concession Prices
Under 15s discounts and Z seats (Day Tickets) are available online. Other types of discount tickets are not available online. Please inquire at the Box Office or by telephone.
Please Note
No admittance to pre-school children. Each child older than this age requires a ticket for entry, even when accompanied by a parent or guardian.
Tickets may not be changed or refunded except in the case of a cancelled performance.
A special discount price is available for disabled guests. Please inquire at the Box Office for details.
Users of wheelchairs are requested to contact the Box Office.
Preferred seats may not be available on the first day of ticket sales.