OPERA
Falstaff
SCHEDULE
2018/2019 SEASON
Music by Giuseppe VERDI
Opera in 3 Acts
Sung in Italian with Japanese surtitles
OPERA PALACE
6 Dec - 15 Dec, 2018 ( 4 Performances )
Running time is approx. 2 hours 35mins including one interval
DETAILS
For most of his career, Giuseppe VERDI, the great master of nineteenth-century Italian opera, chose historical plays or tragedies for the subject of his operas. But at the end of his life, he finally turned to comedy. Falstaff is based largely on The Merry Wives of Windsor by SHAKESPEARE, whose plays he had often set. VERDI's mature writing is subtle and sophisticated with a brilliant sense of comedy.
New National Theatre Tokyo (NNTT) will revive the well-loved production by the British director Jonathan MILLER, renowned as the director of BBC's Shakespeare project. It is an elegant production that also reflects his keen observation of human nature. The work is conducted by the experienced and highly respected Italian maestro Carlo RIZZI, making his first appearance at the NNTT. In the title role is baritone Roberto DE CANDIA, a familiar face who has appeared in several buffo roles at the NNTT. The cast includes two further Italian singers, Eva MEI as Alice and Mattia OLIVIERI as Ford, who will surely bring an authentic Italian flavour to this comedy.
SYNOPSIS
The amorous old knight Sir John Falstaff, who is proud of his portly belly, believes that Alice Ford and Meg Page are attracted to him and writes love letters to both in the hope of seducing them. Alice and Meg read the letters together and are amused to find that they are identical. Together with the quick-witted Mistress Quickly, they decide to teach Falstaff a lesson. Meanwhile, Ford also learns of Falstaff's plan to seduce his wife and sets out to punish the knight.
Mistress Quickly visits Falstaff and arranges the rendezvous with Alice at her house. In turn, Ford, in disguise, visits Falstaff and is shocked to learn he has already set up to meet his wife. Alice receives Falstaff but while he is wooing her, Meg interrupts and he hides in the laundry basket. Shortly after, Ford rushes in with his men to search the house for Falstaff, but instead, he finds his daughter Nannetta and Fenton kissing behind the screen. In amidst this mayhem, the laundry basket containing Falstaff is thrown into the Thames.
Falstaff, unrepentant, agrees to meet Alice again, this time in Windsor Great Park at midnight. As they meet, the spirits appear - in fact Ford and the townspeople in disguise, lead by Nannetta as the Fairy Queen - and they pinch and poke the terrified Falstaff until he finally repents. In the confusion, Nannetta and Fenton are married and Ford gives them his blessing. In the final fugue, Falstaff sings "everything in the world is a jest".
CREATIVE TEAM & CAST
CAST
Sir John Falstaff: Roberto DE CANDIA
Ford: Mattia OLIVIERI
Fenton: MURAKAMI Kota
Dr. Cajus: AOCHI Hideyuki
Bardolfo: ITOGA Shuhei
Pistola: TSUMAYA Hidekazu
Mrs. Alice Ford: Eva MEI
Nannetta: KOUDA Hiroko
Mrs. Quickly: Enkelejda SHKOZA
Mrs. Meg Page: TORIKI Yayoi
Chorus: New National Theatre Chorus
Orchestra: Tokyo Philharmonic Orchestra
Conductor

Carlo RIZZI

Production

Jonathan MILLER

Sir John Falstaff

Roberto DE CANDIA

Ford

Mattia OLIVIERI

Fenton

MURAKAMI Kota

Mrs. Alice Ford

Eva MEI

Nannetta

KOUDA Hiroko

Mrs. Quickly

Enkelejda SHKOZA
TICKETS
S

¥23,760

A

¥19,440

B

¥12,960

C

¥7,560

D

¥4,320

Z

¥1,620*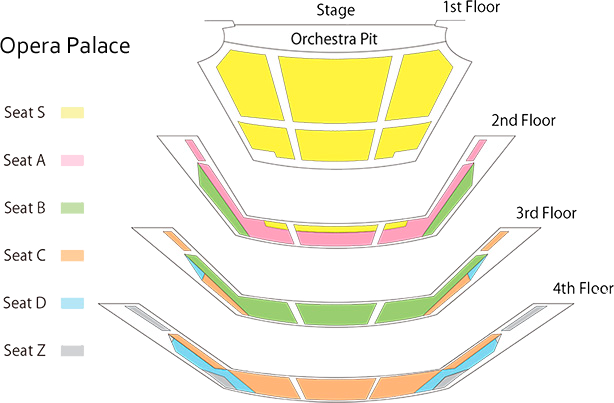 Booking Opens: Sat, 25 Aug 2018, 10:00am
*Z seats are available online from 10:00 am to 11:00 am on the day of the performance. One ticket per person.
Please Note
No admittance to pre-school children. Each child older than this age requires a ticket for entry, even when accompanied by a parent or guardian.
Tickets may not be changed or refunded except in the case of a cancelled performance.
A special discount price is available for disabled guests. Please inquire at the Box Office for details.
Users of wheelchairs are requested to contact the Box Office.
Preferred seats may not be available on the first day of ticket sales.