Opera
Eine florentinische Tragödie / Gianni Schicchi
SCHEDULE
2018/2019 SEASON
New Production
"Eine florentinische Tragödie"
Music by Alexander ZEMLINSKY
Opera in 1 Acts
Sung in German with Japanese surtitles
"Gianni Schicchi"
Music by Giacomo PUCCINI
Opera in 1 Acts
Sung in Italian with Japanese surtitles
OPERA PALACE
7 Apr - 17 Apr, 2019 ( 4 Performances )
Running time is approx. 2 hours 25 mins including one interval
DETAILS
Expansion of repertoire is a major objective of Artistic Director ONO Kazushi. As a first step in this direction, this season he has put together an intriguing double-bill of one-act operas both set in Florence. ZEMLINSKY's Eine florentinische Tragödie (A Florentine Tragedy), with its lush and dazzling sound world, and PUCCINI's comic masterpiece Gianni Schicchi will each bring out different aspects of the city's multifaceted charms. The all-Japanese creative team is lead by AGUNI Jun, one of the most sought-after opera directors in Japan, and the production will be conducted by NUMAJIRI Ryusuke, experienced opera conductor and former music director of Theater Lübeck, who has special affinity with late Romantic repertoire. There is also a strong emphasis on Japanese talent in the cast, including SAITO Junko (Bianca), a Europe-based Japanese soprano hand-picked by Artistic Director ONO, and SUNAKAWA Ryoko and MURAKAMI Toshiaki as the young lovers in Gianni Schicchi. There is much to look forward to from international stars as well, with Sergei LEIFERKUS as the jealous Simone in Eine florentinische Tragödie and Carlos ALVAREZ playing the wily old Schicchi.
NEWS & FEATURES
7TH April, 2019
A double-bill of "Eine florentinische Tragödie" and "Gianni Schicchi" has opened on April 7.
SYNOPSIS
"Eine florentinische Tragödie"
When wealthy cloth merchant Simone arrives home early from a business trip, he finds his wife Bianca in the company of Guido Bardi, a Florentine prince. Simone pretends to believe that Guido has come to buy his merchandise and offers him the most expensive cloths, but Guido then asks to buy Bianca. Despite the provocation, Simone hosts a dinner but he strongly suspects the relationship between Bianca and the prince and leaves the room. Guido gives Bianca a long kiss and she declares her love. As Guido takes his leave, Simone challenges him to a duel and in the struggle he strangles Guido to death. Discovering how strong her husband really is, Bianca finds renewed love and they embrace over Guido's dead body.
"Gianni Schicchi"
The wealthy aristocrat Buoso Donati has just died and his relatives have gathered in mourning - but in fact they are only concerned about his will. Rinuccio finds it, but will not hand it over until his Aunt Zita agrees that he may marry Lauretta, the daughter of Gianni Schicchi. When the relatives read the will, they discover that the deceased has left his fortune to the monastery. Hoping to forge a will, they turn to the shrewd Gianni Schicchi for help. At first he refuses but is persuaded by Lauretta who wants to marry Rinuccio ("O mio babbino caro"). He devises a plan to impersonate the dead man and dictate a new will. But when the notary comes, he leaves the greater part of the fortune to himself. The relatives are furious but helpless. At the end he addresses the audience, begging them not to judge him too harshly.
CREATIVE TEAM & CAST
CREATIVE TEAM
Conductor: NUMAJIRI Ryusuke
Production: AGUNI Jun
Set Design: YOKOTA Atsumi
Costume Design: MASUDA Emi
Lighting Design: OSHIMA Masao
CAST
"Eine florentinische Tragödie"
Guido Bardi: Vsevolod GRIVNOV
Simone: Sergei LEIFERKUS
Bianca: SAITO Junko
"Gianni Schicchi"
Gianni Schicchi: Carlos ÁLVAREZ
Lauretta: SUNAKAWA Ryoko
Zita: TERATANI Chieko
Rinuccio: MURAKAMI Toshiaki
Gherardo: AOCHI Hideyuki
Nella: HARIU Michiko
Gherardino: YOSHIHARA Keiko
Betto di Signa: SHIMURA Fumihiko
Simone: OTSUKA Hiroaki
Marco: YOSHIKAWA Kenichi
La Ciesca: NAKAJIMA Ikuko
Maestro Spinelloccio: SHIKANO Yoshiyuki
Ser Amantio di Nicolao: OKUBO Mitsuya
Pinellino: MATSUNAKA Teppei
Guccio: MIZUNO Hideki
Orchestra: Tokyo Philharmonic Orchestra
Conductor

NUMAJIRI Ryusuke

Production

AGUNI Jun

Guido Bardi

Vsevolod GRIVNOV

"Eine florentinische Tragödie"

Simone

Sergei LEIFERKUS

"Eine florentinische Tragödie"

Bianca

SAITO Junko

"Eine florentinische Tragödie"

Gianni Schicchi

Carlos ÁLVAREZ

"Gianni Schicchi"

Lauretta

SUNAKAWA Ryoko

"Gianni Schicchi"

Zita

TERATANI Chieko

"Gianni Schicchi"

Rinuccio

MURAKAMI Toshiaki

"Gianni Schicchi"
TICKETS
S

¥27,000

A

¥21,600

B

¥15,120

C

¥8,640

D

¥5,400

Z

¥1,620*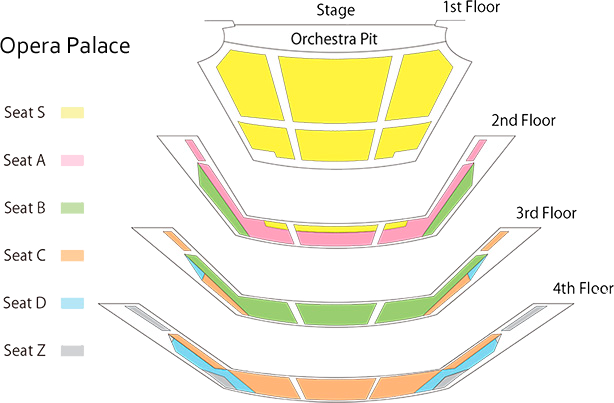 Booking Opens: Fri, 23 Nov 2018, 10:00am
*Booking Z seats (Day tickets) 1,620 yen
You are able to purchase Z seat tickets online from 10:00 am to 11:00 am. Click "BUY TICKETS" next to "Z" under each performance information.
There is a handling charge of ¥324 (incl. tax).
Only when seats allocated as Z seat are still available at 11:00 am, you are able to purchase these tickets at the Box Office of the theatre.
Note that all Z seats are on a first come, first served basis and will come with restricted views.
Concession Prices
Under 15s discounts and Z seats (Day Tickets) are available online. Other types of discount tickets are not available online. Please inquire at the Box Office or by telephone.
Please Note
No admittance to pre-school children. Each child older than this age requires a ticket for entry, even when accompanied by a parent or guardian.
Tickets may not be changed or refunded except in the case of a cancelled performance.
A special discount price is available for disabled guests. Please inquire at the Box Office for details.
Users of wheelchairs are requested to contact the Box Office.
Preferred seats may not be available on the first day of ticket sales.