OPERA
Don Pasquale
SCHEDULE
2019/2020 SEASON

The 74th National Arts Festival by Agency for Cultural Affairs presents

New Production
Music by Gaetano DONIZETTI
Opera in 3 Acts
Sung in Italian with English and Japanese surtitles
OPERA PALACE
9 Nov - 17 Nov, 2019 ( 5 Performances )
Running time is approx. 2 hours 25 mins including one interval
DETAILS
From Bel Canto opera, the pinnacle of opera, we bring you a new production of "Don Pasquale", an Opera Buffa piece by G. DONIZETTI known to rival "L'Elisir d'amore". In the style of Opera Buffa, the classic characters include a Basso Buffo in the title role and a Soubrette Soprano in the role of Norina, while the comical storyline takes place within a day. The thrilling arias and ensemble include Norina's cavatina "Quel guardo il cavaliere" ("That look stabbed the cavalier") and Ernesto's "Cercherò lontana terra" ("I shall seek a far‑off land"), unfolding in recitativo accompagnato style accompanied by the orchestra.
The production, by director Stefano VIZIOLI, is a popular one, having been performed in Ravenna, Bologna, Cagliari, Genova, Oman and Trieste since its initial performance at Teatro all Scala di Milano in 1994. This brilliant production shines with contemporary sensibilities in its delicate psychological expressiveness and how it unfolds scene by scene. Opera fans will not want to miss the cast line-up, with the title role played by Roberto SCANDIUZZI, well-known in Japan, the role of Norina played by rising star soprano Hasmik TOROSYAN, and the role of Ernesto played by Maxim MIRONOV, who has previously impressed audiences as the handsome Il Conte d'Almaviva.

An elegant and vocally fine Don Pasquale in Tokyo
★★★★
Bachtrack


NEWS & FEATURES
7TH November, 2019
Interview clips of "Don Pasquale" Casts !
26TH July, 2019
Cast change : Gaetano Donizetti's "Don Pasquale" (9th to 17th November 2019)
25TH July, 2019
Interview:Roberto Scandiuzzi on Don Pasquale
SYNOPSIS
Don Pasquale is a rich old man who, because his only successor, his nephew Ernesto, rejects the marriage arrangement he made for him, declares that he himself will marry and produce a child.
Ernesto is in love with the young widow, Norina. Ernesto's friend Malatesta is a doctor, who hatches a plan for the young couple. Disguised as his younger sister, Norina is introduced to Don Pasquale, who falls head over heels for her as she plays the pure young maiden.
He signs the marriage papers, upon which Norina discards all pretence and makes a complete transformation into the wife from hell, indulging in every possible luxury. Don Pasquale is at a complete loss and starts to regret that he married. He finally consents to the marriage of Ernesto and Norina. Even though realizing that he has been duped by Malatesta's scheme, he gives his blessing to the young couple.
CREATIVE TEAM & CAST
CREATIVE TEAM
Conductor: Corrado ROVARIS
Production: Stefano VIZIOLI
Set Design: Susanna ROSSI JOST
Costume Design: Roberta GUIDI DI BAGNO
Lighting Design: Franco MARRI
Assistant Director: Lorenzo NENCINI
Conductor

Corrado ROVARIS

Production

Stefano VIZIOLI

Don Pasquale

Roberto SCANDIUZZI

Dottor Malatesta

Biagio PIZZUTI

Ernesto

Maxim MIRONOV

Norina

Hasmik TOROSYAN
TICKETS
S

¥27,500

A

¥22,000

B

¥15,400

C

¥8,800

D

¥5,500

Z

¥1,650*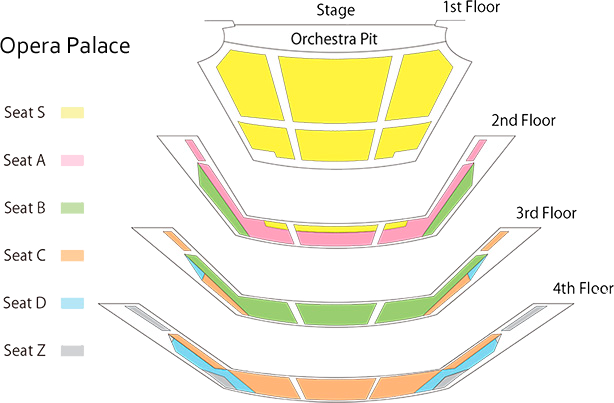 Booking Opens: Sun, 28 Jul 2019, 10:00am
*Booking Z seats (Day tickets) 1,650 yen
You are able to purchase Z seat tickets online from 10:00 am to 11:00 am. Click "BUY TICKETS" next to "Z" under each performance information.
There is a handling charge of ¥330 (incl. tax).
Only when seats allocated as Z seat are still available at 11:00 am, you are able to purchase these tickets at the Box Office of the theatre.
Note that all Z seats are on a first come, first served basis and will come with restricted views.
Concession Prices
Under 15s discounts and Z seats (Day Tickets) are available online. Other types of discount tickets are not available online. Please inquire at the Box Office or by telephone.
Please Note
No admittance to pre-school children. Each child older than this age requires a ticket for entry, even when accompanied by a parent or guardian.
Tickets may not be changed or refunded except in the case of a cancelled performance.
A special discount price is available for disabled guests. Please inquire at the Box Office for details.
Users of wheelchairs are requested to contact the Box Office.
Preferred seats may not be available on the first day of ticket sales.