Opera
Don Giovanni
SCHEDULE
2018/2019 SEASON
Music by Wolfgang Amadeus MOZART
Opera in 2 Acts
Sung in Italian with Japanese surtitles
OPERA PALACE
17 May - 26 May, 2019 ( 5 Performances )
This performance is fully booked on 26 May.
*26 May Not for General Sales.
Running time is approx. 3 hours 25 mins including one interval
DETAILS
World's greatest playboy or liberty seeker? Don Juan is a legendary hero that continues to fascinate us. Countless artists have portrayed this figure but Mozart's masterpiece Don Giovanni towers above them all. In turns a light-hearted comedy and a psychodrama, some have called it the greatest opera in the repertoire for its cathartic power. In this revival production, Nicola ULIVIERI plays a mature and sexy Don Juan. The female roles are played by three emerging stars: Donna Elvira by Japanese mezzo WAKIZONO Aya, who is making a name for herself in Italian opera houses including La Scala, Donna Anna by rising Croatia-born soprano Marigona QERKEZI in her role debut, and Zerlina by KUSHIMA Kanae, a graduate of the New National Theatre Opera Studio. Tenor Juan Francisco GATELL, acclaimed for the bel canto repertoire, sings Don Ottavio, while experienced singers Giovanni FURLANETTO and KUBO Kazunori play Leporello and Masetto respectively. The production is conducted by German Karsten JANUSCHKE, highly regarded for his spirited and energetic renditions of Mozart operas, in his NNTT debut. You can expect great things from this Don Giovanni.
SYNOPSIS
Serial seducer Don Giovanni makes nightly visits to women's apartments while his servant Leporello keeps watch. On this night, he visits Donna Anna but he is found out by her father, the Commendatore, and in a struggle Don Giovanni kills him. Donna Anna asks her fiance, Don Ottavio, to avenge her father's death.
Meanwhile, Giovanni meets another woman who turns out to be Donna Elvira, one of his former conquests, who had come searching for him. He makes a quick escape and Leporello, left with her, explains that his master has seduced over 2000 women all over Europe.
In the village, the wedding of Masetto and Zerlina is taking place, and Giovanni attempts to seduce the bride, but Elvira intervenes. Anna asks Giovanni for his help in finding her father's murderer, only to realize that he is the villain. Giovanni, in a merry mood, invites the whole wedding party to his villa. Anna, Elvira, and Ottavio enter, disguised as guests, and accuse him of his crime.
Don Giovanni exchanges clothes with Leporello in order to seduce Elvira's maid. Just then, Masetto leads a group of peasants in search of Giovanni, and he confides his plan to Leporello - actually Giovanni in disguise - and gets beaten up. The real Leporello, in Giovanni's clothes, escapes from Elvira and others and is reunited with his master.
As they pass the graveyard, the statue of the Commendatore suddenly speaks. Fearless, Giovanni invites him to dinner. The statue arrives and urges Giovanni to repent, but he refuses and is engulfed in flames.
CREATIVE TEAM & CAST
CREATIVE TEAM
Conductor: Karsten JANUSCHKE
Production: Grischa ASAGAROFF
Set and Costume Design: Luigi PEREGO
Lighting Design: Martin GEBHARDT
Conductor

Karsten JANUSCHKE

Production

Grischa ASAGAROFF

Don Giovanni

Nicola ULIVIERI

Il Commendatore

TSUMAYA Hidekazu

Leporello

Giovanni FURLANETTO

Donna Anna

Marigona QERKEZI

Don Ottavio

Juan Francisco GATELL

Donna Elvira

WAKIZONO Aya

Zerlina

KUSHIMA Kanae
TICKETS
S

¥23,760

A

¥19,440

B

¥12,960

C

¥7,560

D

¥4,320

Z

¥1,620*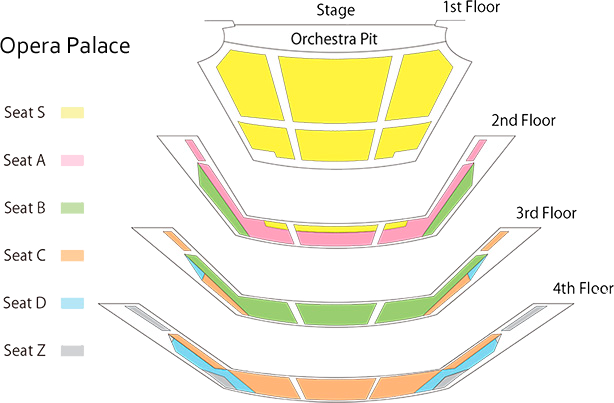 Booking Opens: Sat, 5 Jan 2019, 10:00am
*Booking Z seats (Day tickets) 1,620 yen
You are able to purchase Z seat tickets online from 10:00 am to 11:00 am. Click "BUY TICKETS" next to "Z" under each performance information.
There is a handling charge of ¥324 (incl. tax).
Only when seats allocated as Z seat are still available at 11:00 am, you are able to purchase these tickets at the Box Office of the theatre.
Note that all Z seats are on a first come, first served basis and will come with restricted views.
Concession Prices
Under 15s discounts and Z seats (Day Tickets) are available online. Other types of discount tickets are not available online. Please inquire at the Box Office or by telephone.
Please Note
No admittance to pre-school children. Each child older than this age requires a ticket for entry, even when accompanied by a parent or guardian.
Tickets may not be changed or refunded except in the case of a cancelled performance.
A special discount price is available for disabled guests. Please inquire at the Box Office for details.
Users of wheelchairs are requested to contact the Box Office.
Preferred seats may not be available on the first day of ticket sales.