OPERA
Die Zauberflöte (The Magic Flute)
SCHEDULE
2018/2019 SEASON

The 73rd National Arts Festival by Agency for Cultural Affairs presents
New Production
Music by Wolfgang Amadeus MOZART
Opera in 2 Acts
Sung in German with Japanese surtitles
OPERA PALACE
3 Oct - 14 Oct, 2018 ( 6 Performances )
Running time is approx. 3 hours including an interval
DETAILS
The 2018/19 season, the first under new Artistic Director of Opera, ONO Kazushi, kicks off with a new production of Mozart's much-loved masterpiece Die Zauberflöte. Known as a Singspiel - a form of popular German musical drama with spoken dialogue - the work is full of familiar tunes including the dazzling, stratospheric aria of the Queen of the Night, Papageno's jolly Bird-Catcher's aria and the tuneful "Pa-pa-pa-pageno" duet.
For this season opening, the New National Theatre Tokyo presents South African visual artist William KENTRIDGE's celebrated staging which has been hailed around the world with huge successes at La Monnaie, La Scala, Aix-en-Provence Festival and elsewhere. Increasingly in demand as opera director, including at the Metropolitan Opera and Salzburg Festival, KENTRIDGE makes bold and imaginative use of animated film and projection, which has become a distinct feature of his work. It is the express wish of Artistic Director ONO, with decades of experience in European opera houses, to present this production which tackles contemporary issues yet is also visually pleasing and doesn't distract from the music.
Taking the baton is Roland BÖER who conducted KENTRIDGE's production at La Scala, and the cast includes notable international singers, Mozartian tenor Steve DAVISLIM (Tamino), rising baritone Andrè SCHUEN (Papageno) and young Serbian bass Sava VEMIC (Sarastro), alongside top-class Japanese singers.
SYNOPSIS
A young prince Tamino is saved from a serpent by the Three Ladies in the service of the Queen of the Night. The bird-catcher Papageno boasts that it was him who killed the creature, and is punished. When Tamino learns that the Queen's daughter Pamina has been abducted by the evil Sarastro, he vows to rescue her. He is given a magic flute and Papageno magic bells for protection. When they arrive at Sarastro's palace, however, Tamino discovers that Sarastro is in fact a wise ruler, and it is the Queen of the Night who is evil. Tamino and Papageno are invited into the palace.
Tamino agrees to undergo trials of initiation in order to gain Pamina's hand, and Papageno also reluctantly agrees as he wants a wife too. Meanwhile, the Queen of the Night appears to her daughter, and giving her a dagger orders her to kill Sarastro. Pamina is confused, but Sarastro explains that only love prevails in this sacred place. However, when Tamino won't speak to her because he is on a vow of silence she is grief-stricken and tries to kill herself. Eventually, though, the two are successfully reunited and they face the ordeal of fire and water together. Happily, Papageno finds Papagena too. The Queen of the Night and her followers try to attack the temple but are engulfed in thunder, and the opera ends with a chorus hailing Sarastro and his wisdom.
CREATIVE TEAM & CAST
CREATIVE TEAM
Conductor: Roland BÖER
Production: William KENTRIDGE
Co-director: Luc DE WIT
Set Design: William KENTRIDGE, Sabine THEUNISSEN
Costume Design: Greta GOIRIS
Lighting Design: Jennifer TIPTON
Projection Design: Catherine MEYBURGH
Video Operator: Kim GUNNING
Supervisor for the Lighting: Scott BOLMAN
CAST
Sarastro: Sava VEMIC
Tamino: Steve DAVISLIM
Sprecher und zweiter Geharnischter: NARITA Makoto
Eingeweihter und erster Geharnischter: AKITANI Naoyuki
Königin der Nacht: YASUI Yoko
Pamina: HAYASHI Masako
Erste Dame: MASUDA Noriko
Zweite Dame: KOIZUMI Eiko
Dritte Dame: YAMASHITA Makiko
Papagena: KUSHIMA Kanae
Papageno: Andrè SCHUEN
Monostatos: MASUJIMA Tadahiro
Chorus: New National Theatre Chorus
Orchestra: Tokyo Philharmonic Orchestra
Conductor

Roland BÖER

Production

William KENTRIDGE

Sarastro

Sava VEMIC

Tamino

Steve DAVISLIM

Königin der Nacht

YASUI Yoko

Pamina

HAYASHI Masako

Papagena

KUSHIMA Kanae

Papageno

Andrè SCHUEN

Monostatos

MASUJIMA Tadahiro
TICKETS
S

¥27,000

A

¥21,600

B

¥15,120

C

¥8,640

D

¥5,400

Z

¥1,620*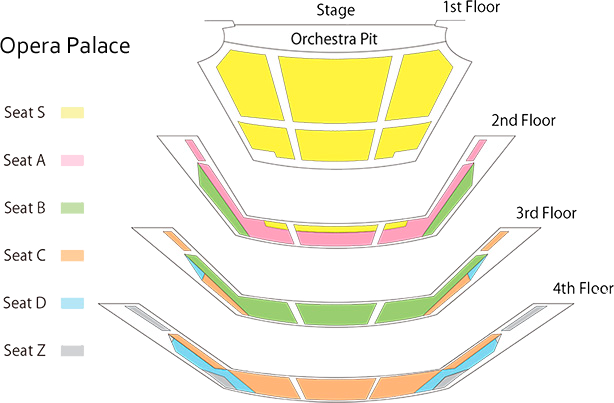 Booking Opens: Sat, 23 Jun 2018, 10:00am
*Z seats are available online from 10:00 am to 11:00 am on the day of the performance. One ticket per person.
Please Note
No admittance to pre-school children. Each child older than this age requires a ticket for entry, even when accompanied by a parent or guardian.
Tickets may not be changed or refunded except in the case of a cancelled performance.
A special discount price is available for disabled guests. Please inquire at the Box Office for details.
Users of wheelchairs are requested to contact the Box Office.
Preferred seats may not be available on the first day of ticket sales.