OPERA
Die Fledermaus
SCHEDULE
2023/2024 SEASON
Music by Johann StraussⅡ
Operetta in 3 Acts
Sung in German with English and Japanese surtitles
OPERA PALACE
6 Dec - 12 Dec, 2023 ( 4 Performances )
Running time is approx. 3 hours including intervals.
Booking Opens: Sat, 7 Oct 2023, 10:00am
DETAILS
Die Fledermaus is one of the greatest operetta masterpieces by The Waltz King, Johann Strauss II. This supreme piece of musical theatre exhilarates audiences with its beautiful waltzes and polkas, light, refined satire and humour. By the denouement, the venue is joyfully awash in song, dance and drama. This blithe, flamboyant work is well known as a staple of year-end/new-year Vienna.
The production was directed by Heinz Zednik, a renowned tenor who also holds the title of Kammersänger of Vienna State Opera. Zednik debuted as a director in 2006 with this production, and directed the Volksoper Wien's Die Fledermaus the following year. Born in Vienna and with a repertoire that includes the four roles in Die Fledermaus, Zednik personifies the Viennese spirit. This orthodox production makes ample use of elegant yet delightfully unconventional devices, fully conveying the charms of this joyful operetta.
Patrick Hahn, a young, Austrian conductor offering a host of talents such as jazz piano, makes his debut at the New National Theatre Tokyo, along with a fresh and vibrant cast.
SYNOPSIS
Afternoon of the last day of the year. Gabriel von Eisenstein, staying with his wife Rosalinde at their villa outside Vienna, is angry: a mistake by his attorney is about to land him in jail. But at the urging of his friend Dr. Falke, he is secretly headed that evening for a ball at Prince Orlofsky's mansion, giving his wife the pretext that he is turning himself in at the jail.
At the elegant ball, following Falke's instructions, Eisenstein has disguised himself as someone else; he flirts with a beautiful masked woman, not realizing it is his wife.
Reporting to jail the next morning, Einstein accuses Rosalinde, who has also come running to the jail, of adultery. But she pulls out the watch he had given the masked woman the night before, and he is caught red-handed. Falke, the mastermind of this farce, now appears, and there is a grand finale-blaming it all on champagne.
CREATIVE TEAM & CAST
CREATIVE TEAM
Conductor: Patrick HAHN
Production: Heinz ZEDNIK
Set and Costume Design: Olaf ZOMBECK
Choreographer: Maria Luise JASKA
Lighting Design: TATSUTA Yuji
CAST
Gabriel von Eisenstein: Jonathan MCGOVERN
Rosalinde: Eleonore MARGUERRE
Frank: Henry WADDINGTON
Prinz Orlofsky: Tamara GURA
Alfred: ITO Tatsundo
Dr. Falke: Thomas TATZL
Adele: Kerstin AVEMO
Dr. Blind: AOCHI Hideyuki
Frosch: Horst LAMNEK
Ida: ITO Hare
Chorus: New National Theatre Chorus
Orchestra: Tokyo Philharmonic Orchestra
Conductor

Patrick HAHN

Production

Heinz ZEDNIK

Gabriel von Eisenstein

Jonathan MCGOVERN

Rosalinde

Eleonore MARGUERRE

Frank

Henry WADDINGTON

Prinz Orlofsky

Tamara GURA

Alfred

ITO Tatsundo

Dr. Falke

Thomas TATZL

Adele

Kerstin AVEMO

Frosch

Horst LAMNEK
TICKETS
S

¥26,400

A

¥22,000

B

¥15,400

C

¥9,900

D

¥6,600

Z

¥1,650*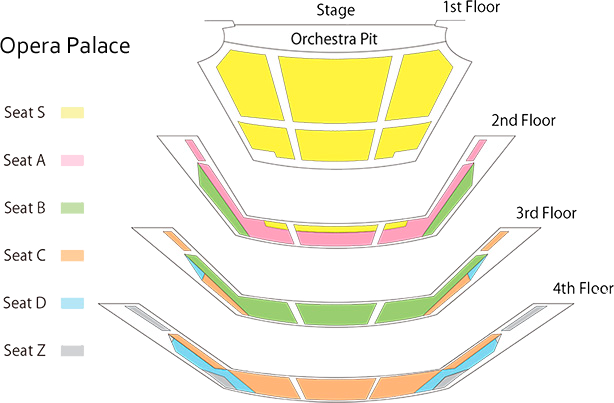 Booking Opens: Sat, 7 Oct 2023, 10:00am
Booking Z seats (Day tickets) 1,650 yen
You are able to purchase Z seat tickets online from 10:00 am. Click "BUY TICKETS" next to "Z" under each performance information.
There is a handling charge of ¥330 (incl. tax).
Only when seats allocated as Z seats are still available at 11:00 am, you are able to purchase these tickets at the Box Office of the theatre.
Note that all Z seats are on a first come, first served basis and will come with restricted views.
Concession Prices
Under 15s discounts and Z seats (Day Tickets) are available online. Other types of discount tickets are not available online. Please inquire at the Box Office or by telephone.
Please Note
Latecomers will not be admitted to the auditorium unless there is a suitable break or interval.
For Seat D of Opera performances, maximum of 2 tickets per person on the first day of ticket sale.
No admittance to pre-school children. Each child older than this age requires a ticket for entry, even when accompanied by a parent or guardian.
Tickets may not be changed or refunded except in the case of a cancelled performance.
A special discount price is available for disabled guests. Please inquire at the Box Office for details.
Users of wheelchairs are requested to contact the Box Office.
Please note that cast or programme change may be required depending on the situation.