OPERA
Così Fan Tutte
2023/2024 SEASON
Music by Wolfgang Amadeus Mozart
Opera in 2 Acts
Sung in Italian with English and Japanese surtitles
OPERA PALACE
30 May - 4 Jun, 2024 ( 4 Performances )
Running time is approx. 3 hours and 25 mins including intervals.
Booking Opens: Sat, 16 Mar 2024, 10:00am
DETAILS
This famous work by Wolfgang Amadeus Mozart makes up part of the "Lorenzo Da Ponte trilogy", together with Le Nozze di Figaro and Don Giovanni. The title means "all women are like that". The work is said to have been commissioned by Joseph II, the Holy Roman Emperor, based on a line spoken by Basilio in Le Nozze di Figaro. When it premiered in Vienna, it was such a success that the encores doubled the performance time. Today, it is recognised for its true value as a masterpiece by Mozart, a youthful romantic comedy that shows the subtleties of male and female emotions, human nature and foolishness through incisive human insight, interwoven by beautiful music. The elegant ensemble is the pinnacle of Mozart's operas, with vocal duets, trios, quartets and quintets providing a balanced representation of subtle emotions.
Directed by Damiano Michieletto who is in high demand at opera houses around the world, this production premiered in May 2011, set in a modern camping ground. This new and relevant development of "Camping Così" has won over audiences and become a major talking point. Set in a dense forest full of huge trees and the wafting smell of moss, the conspicuous modernity and playfulness of the colourful costumes and props make the thoroughly realistic stage design a major highlight.
This production brings together renowned singers, including Serena Gamberoni, Daniela Pini and Joel Prieto, under the baton of Iimori Norichika, who conducted the 2020/2021 season opening performances of A Midsummer Night's Dream to great acclaim.
NEWS & FEATURES
6TH June, 2023
Cast change : Così fan tutte (30 May - 4 June, 2024) / Role of Guglielmo
7TH March, 2023
2023/2024 Season Opera at the New National Theatre Tokyo
SYNOPSIS
The officers Guglielmo and Ferrando are engaged to the beautiful sisters Fiordiligi and Dorabella, respectively. Persuaded by the wise old philosopher Don Alfonso, the two officers decide to test the fidelity of their sweethearts. They pretend that they have been ordered away by their regiment and bid the sisters a false farewell.
Later, disguised as Albanians, the two men court Fiordiligi and Dorabella passionately. The two girls weaken little by little to the Albanians' various advances. First, Dorabella yields to her sister's fiancé Guglielmo, and finally, Fiordiligi also succumbs to Ferrando after much resistance.
When a double wedding for the two new couples is being arranged, a military march suddenly signals the return of the army.
CREATIVE TEAM & CAST
CREATIVE TEAM
Conductor: IIMORI Norichika
Production: Damiano MICHIELETTO
Set and Costume Design: Paolo FANTIN
Lighting Design: Alessandro CARLETTI
CAST
Fiordiligi: Serena GAMBERONI
Dorabella: Daniela PINI
Despina: KUSHIMA Kanae
Ferrando: Joel PRIETO
Guglielmo: ONISHI Takaoki
Don Alfonso: Filippo MORACE
Chorus: New National Theatre Chorus
Orchestra: Tokyo Philharmonic Orchestra
Conductor

IIMORI Norichika

Production

Damiano MICHIELETTO

Fiordiligi

Serena GAMBERONI

Dorabella

Daniela PINI

Despina

KUSHIMA Kanae

Ferrando

Joel PRIETO

Guglielmo

ONISHI Takaoki

Don Alfonso

Filippo MORACE
TICKETS
S

¥26,400

A

¥22,000

B

¥15,400

C

¥9,900

D

¥6,600

Z

¥1,650*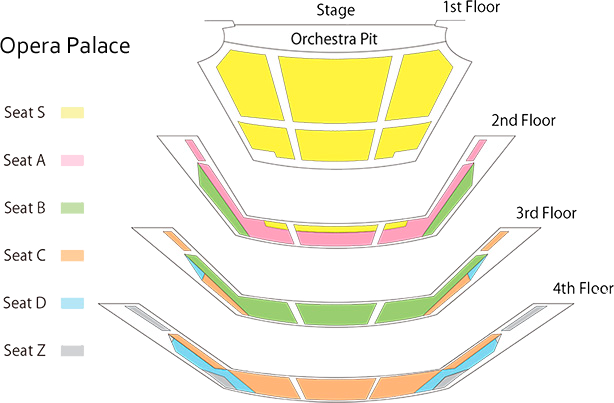 Booking Opens: Sat, 16 Mar 2024, 10:00am
Booking Z seats (Day tickets) 1,650 yen
You are able to purchase Z seat tickets online from 10:00 am. Click "BUY TICKETS" next to "Z" under each performance information.
There is a handling charge of ¥330 (incl. tax).
Only when seats allocated as Z seats are still available at 11:00 am, you are able to purchase these tickets at the Box Office of the theatre.
Note that all Z seats are on a first come, first served basis and will come with restricted views.
Concession Prices
Under 15s discounts and Z seats (Day Tickets) are available online. Other types of discount tickets are not available online. Please inquire at the Box Office or by telephone.
Please Note
Latecomers will not be admitted to the auditorium unless there is a suitable break or interval.
For Seat D of Opera performances, maximum of 2 tickets per person on the first day of ticket sale.
No admittance to pre-school children. Each child older than this age requires a ticket for entry, even when accompanied by a parent or guardian.
Tickets may not be changed or refunded except in the case of a cancelled performance.
A special discount price is available for disabled guests. Please inquire at the Box Office for details.
Users of wheelchairs are requested to contact the Box Office.
Please note that cast or programme change may be required depending on the situation.