OPERA
Carmen
SCHEDULE
2018/2019 SEASON

The 73rd National Arts Festival by Agency for Cultural Affairs presents
Music by Georges BIZET
Opera in 3 Acts
Sung in French with Japanese surtitles
OPERA PALACE
23 Nov - 4 Dec, 2018 ( 6 Performances )
Running time is approx. 3 hours 35mins including intervals
DETAILS
One of the most popular works in the whole operatic repertoire, this is Bizet's masterpiece from beginning to end with plenty of tuneful melodies including the "Habanera" and "Seguidilla". UYAMA Hitoshi's production evokes the atmosphere of 19th century Seville and the title role will be sung by an Italian-American mezzo-soprano Ginger COSTA-JACKSON who was born to play Carmen. Her lover Don José is sung by the star from Bolshoi Opera, Oleg DOLGOV, known for his lyricism. The dashing bull-fighter Escamillo will be sung by rising American baritone Timothy RENNER, and acclaimed Japanese soprano SUNAKAWA Ryoko reprises the role of Micaëla for which she has been highly praised.
In the pit, French music master Jean-Luc TINGAUD conducts the Tokyo Philharmonic Orchestra. With a cast representing the new generation of operatic talents, it's sure to be an exciting production.
SYNOPSIS
In a square in Seville, the girls from the cigarette factory nearby come out for a break. One of them, the gypsy Carmen, flirts with the soldiers while she sings her habanera song. As she leaves, she throws a flower at corporal Don José. At that moment, Micaëla, José childhood sweetheart from his home village, brings a letter from his mother, putting him in a nostalgic mood. A fight erupts between Carmen and another girl, and Carmen is arrested. José is ordered to guard her, but seduced by her alluring words, he lets her go.
At Lillas Pastia's inn, Carmen waits for José who has just been released from prison. The bull-fighter Escamillo enters and is attracted by her but she refuses him. José arrives and Carmen starts to dance for him, but soon he is summoned back to the barracks. As he struggles between love and duty, Zuniga, his captain, turns up to see Carmen and José attacks him in a jealous rage. Zuniga is led away by Carmen's smuggler friends Dancairo and Remendado, and José has no choice but to join the smugglers' group.
The smugglers are in their mountain hideout. Carmen is tired of José and they quarrel. Reading her fortune in the cards with her friends, Carmen forsees death. Micaëla appears and begs José to come home as his mother is dying. He leaves, but warns Carmen he will return.
On the day of the bullfight in Seville, Carmen comes to see her lover Escamillo in the fight. Her friends warn her that José is looking for her and to be careful. The two meet outside the arena and José begs her to return to him, but she refuses: she was born free and free she will die. Enraged, José stabs Carmen to death as the cheers for Escamillo's triumph is heard.
CREATIVE TEAM & CAST
CREATIVE TEAM
Conductor: Jean-Luc TINGAUD
Production: UYAMA Hitoshi
Set Design: SHIMA Jiro
Costume Design: OGATA Kikuko
Lighting Design: SAWADA Yuji
Choreographer: ISHII Jun
CAST
Carmen: Ginger COSTA-JACKSON
Don José: Oleg DOLGOV
Escamillo: Timothy RENNER
Micaëla: SUNAKAWA Ryoko
Zuniga: ITO Takayuki
Moralès: YOSHIKAWA Kenichi
Le Dancaïre: NARITA Makoto
Le Remendado: IMAO Shigeru
Frasquita: HIBINO Miyuki
Mercédès: NAKAJIMA Ikuko
Chorus: New National Theatre Chorus
Dancers: The National Ballet of Japan
Orchestra: Tokyo Philharmonic Orchestra
Conductor

Jean-Luc TINGAUD

Production

UYAMA Hitoshi

Carmen

Ginger COSTA-JACKSON

Don José

Oleg DOLGOV

Escamillo

Timothy RENNER

Micaëla

SUNAKAWA Ryoko
TICKETS
S

¥23,760

A

¥19,440

B

¥12,960

C

¥7,560

D

¥4,320

Z

¥1,620*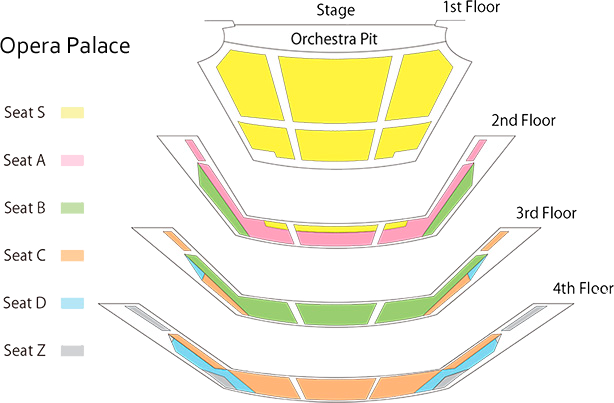 Booking Opens: Sun, 15 Jul 2018, 10:00am
*Z seats are available online from 10:00 am to 11:00 am on the day of the performance. One ticket per person.
Please Note
No admittance to pre-school children. Each child older than this age requires a ticket for entry, even when accompanied by a parent or guardian.
Tickets may not be changed or refunded except in the case of a cancelled performance.
A special discount price is available for disabled guests. Please inquire at the Box Office for details.
Users of wheelchairs are requested to contact the Box Office.
Preferred seats may not be available on the first day of ticket sales.