Ballet Asteras
What is "Ballet Asteras" ?
Ballet Asteras has been annually staged since 2009 with our hope to support Japanese ballet dancers who are mainly performing outside of Japan.
"Asteras" comes from Latin term "stella" and ancient Greek term "aster", both meaning "stars". We wish our Ballet Gala will be the first step for upcoming dancers to becoming stars in the future.
The number of Japanese participants have grown over the years, who danced either with a foreign or Japanese dance partners. Almost all of them are soloists or principals in their own company. Students of NNT Ballet School have gained special experience by performing with dancers whose career is based overseas and students of the world's most prominent ballet schools such as Vaganova Ballet Academy, by joining them on stage in "Ballet Asteras".


ABOUT THE PERFORMANCE
BALLET ASTERAS 2022
~Inviting Japanese Dancers from Overseas~
Date and Time:

Saturday, 6TH August 2022, 14:00

Sunday, 7TH August 2022, 14:00

Place:

OPERA PALACE at the New National Theatre, Tokyo

Committee:

ADACHI Etsuko (Tokyo City Ballet)

OKAMOTO Katsuko (The Inoue Ballet Foundation)

OGURA Sachiko (NNT Ballet School)

OYAMA Kumi (Star Dancers Ballet)

KOBAYASHI Noriko (Noriko Kobayashi Ballet Theatre)

HOMURA Makio (Homura Tomoi Ballet Company)

HORIUCHI Jyu (Osaka University of Arts)

MITANI Kyozo (Asami Maki Ballet Tokyo)


ARCHIVE
2021
Saturday, 28TH August 2021, 14:00
Sunday, 29TH August 2021, 14:00
BALLET ASTERAS 2021 ~Inviting Japanese Dancers from Overseas~
OKUBO Saya (Former dancer of Dutch National Ballet) & MORIMOTO Ryosuke (Hungarian National Ballet)
KAMINAKA Yuki (Former dancer of Slovak National Theatre) with SHIOTANI Ayana (Star Dancers Ballet)
HASHIMOTO Arisa (Kazakh State Academic Theatre of Opera and Ballet named after Abay) & WASHIO Karin (Kyoto Ballet Company / Former dancer of State Ballet of Georgia)
FUKUDA Yuka & ARAKI Motoya (The Musical Theatre of the Republic of Karelia)
MIZUI Shunsuke (Asami Maki Ballet Tokyo/ Former dancer of Polish National Ballet) with AOYAMA Kika (Asami Maki Ballet Tokyo)
SHIBAYAMA Saho & WATANABE Takafumi (National Ballet of Japan)
Students of NNT Ballet School (29 Aug.)
2020
Saturday, 12TH September 2020, 0:00
Sunday, 13TH September 2020, 0:00
[Cancelled] Ballet Asteras Special 2020 -World Ballet School Festival & Asteras Gala-
2019
Saturday, 3RD August 2019, 18:30
Sunday, 4TH August 2019, 15:00
BALLET ASTERAS 2019 ~Inviting Japanese Dancers from Overseas~
ISHIZAKI Futaba & Dávid MOLNÁR (Hungarian National Ballet)
EBIHARA Yuka & Kristóf SZABÓ (Polish National Ballet)
KAGEYAMA Mai & Marco ESPOSITO (Polish National Ballet)
KIKUCHI Momoka & Pablo OCTÁVIO(Badisches Staats Theater Karlsruhe Ballett)
TAKAMORI Miyu & MORIMOTO Ryosuke(Hungarian National Ballet)
NAOTSUKA Miho & Alisher KALIBAY (The Moscow Music Theatre)
NAGAI Ayaka & Robert ENACHE(Sibiu Ballet Theater & Opera National Bucharest)
MIYAZAKI Tamako & TAKIGUCHI Masanori (Washington Ballet)
YOKOYAMA Ruika & Diego BUTTIGLIONE (State Ballet of Georgia)
YONEZAWA Yui & WATANABE Takafumi and others (National Ballet of Japan)
Students of Canada's National Ballet School
Students of NNT Ballet School
2018
Saturday, 28TH July 2018, 15:00
BALLET ASTERAS 2018
TAKADA Akane & HIRANO Ryoichi (The Royal Ballet)
AIZAWA Yumi & Vladimir IPPOLITOV (Ballet of Grand Théâtre de Genève) (Geneva Dance Events)
ACRI Luca & Mayara MAGRI (The Royal Ballet)
ISEDA Yuka & Edgar CHAN (Pennsylvania Ballet) (Freelance)
OGASAWARA Yuki & Ruslan SAVDENOV (Ballet du Capitole)
CHINO Marc & Stanislava POSTNOVA (The Bolshoi Ballet)
MIZUTANI Miki & Tzu-Chao CHOU (Birmingham Royal Ballet)
MIYATA Ayami & Joseph TAYLOR (Nothern Ballet)
YONEZAWA Yui & OKUMURA Kosuke(National Ballet of Japan)
Students of La Scala Theatre Ballet School
Students of NNT Ballet School
2017
Saturday, 22ND July 2017, 15:00
BALLET ASTERAS 2017
KAGEYAMA Mai & Dawid TRZENSIMIECH (Polish National Ballet)
KAMIKUSA Yoshiko & Luzemberg SANTANA (Canada's Royal Winnipeg Ballet)
KANNO Marina & Rishat IULBARISOV (Berlin State Ballet)
KUWABARA Mana & KANAZASHI Jotaro (Russian Krasnoyarsk theatre Opera and Ballet)
TAKANO Yonen (State Ballet of Georgia)
TERADA Midori & OKAWA Koya (Tatar State Academic Opera and Ballet Theatre)
NAKASHIMA Asami & OMAKI Yuya (Slovene National Theatre Maribor)
IKEDA Risako & IZAWA Shun (National Ballet of Japan)
Students of Vaganova Ballet Academy
Students of NNT Ballet School
2016
Sunday, 31ST July 2016, 15:00
BALLET ASTERAS 2016
ARAI Yoshihisa & Anais BUENO (Joffrey Ballet)
ISHIHARA Koto & Vitor LUIZ (San Francisco Ballet)
URABE Kurimu & MACHIYAMA Takashi (National Academic Bolshoi Theatre Republic of Belarus)
EBIHARA Yuka & Dawid TRZENSIMIECH (Polish National Ballet)
KOIKE Saori & Motuzov EGOR (Kremlin Ballet)
SUZUKI Rieka & Tamás Kristóf DARAI (Croatian National Theatre & Theater Augsburg)
MIYAZAKI Tamako & Andile NDLOVU (Washington Ballet)
ABE Mao, MINAMOTO Saori (Inoue Ballet) & NAKANOME Tomoaki (Ballett Am Rhein Düsseldorf Duisburg)
OKADA Ayumi & OMORI Yasumasa (NBA Ballet)
KIMURA Yuri & WATANABE Takafumi (National Ballet of Japan)
Students of NNT Ballet School
2015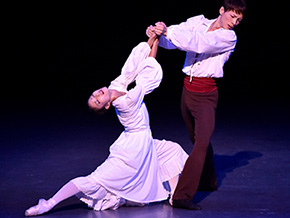 Sunday, 19TH July 2015, 15:00
BALLET ASTERAS 2015
OKUNO Rin & Robert ENACHE (Bucharest National Opera)
KANNO Marina & Wei WANG (Berlin State Ballet)
KONO Mai & James LYTTLE (Bavarian State Ballet in Munich)
TAKUDA Sayaka (Russian Ballet Moscow) & KIYOTAKI Chiharu (Asami Maki Ballet Tokyo)
HIDAKA Sena & YOSHIDA Shuhei (Bucharest National Opera)
FOGARTY Miko (Indiana Ballet Conservatory) & Noah LONG (Former member of The National Ballet of Canada)
UEYAMA Haruna & TSUKAMOTO Shiro (Sadamatsu-Hamada Ballet)
SAITO Yo (Tani Momoko Ballet) & MIKI Yuma (Tani Momoko Ballet)
HAYASHI Yurie & KINOSHITA Yoshito (Star Dancers Ballet)
KIMURA Yuri & IZAWA Shun (National Ballet of Japan)
Students of NNT Ballet School
2014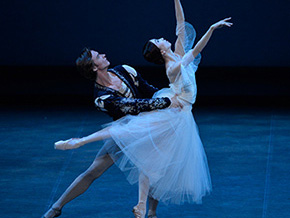 Sunday, 20TH July 2014, 15:00
BALLET ASTERAS 2014
ICHIKAWA Rie & Altankhuyag DOUGARAA (Boston Ballet)
KAJIYA Yuriko & Jared MATTHEWS (American Ballet Theatre)
KONDO Ako (Australian Ballet) & CHENGWU Guo (Australian Ballet)
NAOTSUKA Miho (Saint Petersburg Ballet Theatre) & TAKAYA Ryo (Grand Theater Łódź)
NEMOTO Shumpei & Patricia VÁZQUEZ (Cullberg Ballet)
HASHIMOTO Kiyoka & KIMOTO Masayu (Wiener Staatsballet)
YONEYAMA Mika & OKUDA Taketomo(Ballet de l'Opéra National de Bordeaux)
ORIYAMA Mariko & NAKAYA Masahiro (Asami Maki Ballet Tokyo)
SHIGA Ikue & KIM Sejong (Tokyo City Ballet)
SHIMAZOE Akiko & TOMIKAWA Naoki (Noriko Kobayashi Ballet Theatre)
YONEZAWA Yui & SUGANO Hideo(National Ballet of Japan)
Students of NNT Ballet School
2013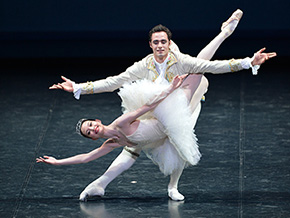 Sunday, 21ST July 2013, 15:00
BALLET ASTERAS 2013
EBIHARA Yuka & Vladimir YAROSHENKO (Polish National Ballet)
OGASAWARA Yuki & Claudio CANGIALOSI (Semperoper Ballet)
O' NEILL Hannah & Florent MELAC (Ballet de l' Opéra national de Paris)
KARASAWA Hideko & Kendall G. BRITT Jr. (Ballet Memphis)
SAKUMA Nao & CAO Chi (Birmingham Royal Ballet)
Takahashi Erina & Arionel Vargas (English National Ballet)
TERADA Midori & OKAWA Koya (Odessa National Academic Theatre Opera and Ballet)
Students of Kazakhstan Republic State Almaty Choreographic School named after A.V. Seleznev
TERADA Asako & OKUMURA Kosuke (National Ballet of Japan)
HORIGUCHI Jun & KAIKAWA Tetsuo (National Ballet of Japan)
Students of NNT Ballet School
2012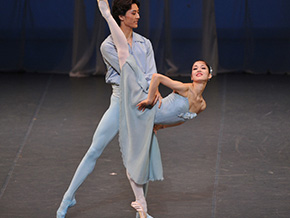 Sunday, 22ND July 2012, 15:00
BALLET ASTERAS 2012
KANNO Marina & Rainer KRENSTETTER (Berlin State Ballet)
SAKUMA Nao (Birmingham Royal Ballet) & ATSUJI Yasuo (National Ballet of Japan)
SUGANO Mayo (Diablo Ballet) & Rory HOHENSTEIN (Joffrey Ballet)
TAKAHASHI Erina & Zdenek KONVALINA (English National Ballet)
TAKITA Shinobu (Kiev National Ballet)
FUJII Miho, Yannick BITTENCOURT & Grégory DOMINIAK (Ballet de l' Opéra national de Paris)
Students of San Francisco Ballet School
ITO Yukiko & NAKAYA Masahiro (Asami Maki Ballet Tokyo)
ONO Ayako & YAHATA Akimitsu (National Ballet of Japan)
MOTOJIMA Miwa & Maylen TLEUBAEV (National Ballet of Japan)
Students of NNT Ballet School
2010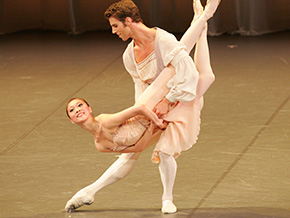 Sunday, 1ST August 2010, 15:00
BALLET ASTERAS 2010
SAKUMA Nao & ATSUJI Yasuo (Birmingham Royal Ballet)
KAJIYA Yuriko & Jared MATTHEWS (American Ballet Theatre)
KANNO Marina & Rainer KRENSTETTER (Berlin State Ballet)
KURANAGA Misa & James WHITESIDE (Boston Ballet)
TAMAI Rui (Wiener Staatsballet) & Evgeniy LAGUNOV (Kiev National Ballet)
TOGAWA Arika & Oleg KLYMYUK (Semperoper Ballett Dresden)
TOMIMURA Kyoko & FUJINO Nobuo (Hong Kong Ballet)
FUJII Miho & Yannick BITTENCOURT (Ballet de l' Opéra national de Paris)
YAMAGUCHI Mayumi (Royal Swedish Ballet)& Remi WöRTMEYER (Dutch National Ballet)
SAITO Miho & HAGA Nozomu (National Ballet of Japan)
ONO Ayako (National Ballet of Japan) & KIYOTAKI Chiharu (Asami Maki Ballet Tokyo)
Students of NNT Ballet School
2009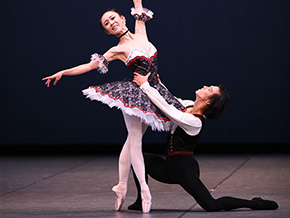 Sunday, 9TH August 2009, 15:00
BALLET ASTERAS 2009
ASAMI Hiroko & Oleg KLYMYUK (Semperoper Ballett Dresden)
SUGANO Mayo (Diablo Ballet) & Casey HERD (Dutch National Ballet)
TERAYAMA Harumi with Jubal BATTISTE (Cedar Lake Contemporary Ballet)
NAGASAKI Mako with LÜ Méng (Liaoning Ballet of China)
HARIYAMA Emi with Wieslaw DUDEK (Berlin State Ballet)
YASUKAWA Chiaki & Eddy TOVAR (Orlando Ballet)
IWATA Yukiko (Iwata Ballet) & IWATA Morihiro (Bolshoi Ballet)
ITO Yukiko & KYOTO Yuichiro (Asami Maki Ballet Tokyo)
MOTOJIMA Miwa (National Ballet of Japan) & Lkhagvasuren OTGONNYAM (Asami Maki Ballet Tokyo)
Students of NNT Ballet School