【20th Anniversary】New National Theatre, Tokyo Celebrating 20 Years

The New National Theatre, Tokyo is celebrating 20th Anniversary this 2017/2018 Season.
We are opening the Season with WAGNER's "Twilight of the Gods"and all 28 productions are presented as the "20th Anniversary Production" including three "Special Productions" with celebratory meaning.
The whole theatre will be decorated and the festive anniversary spirit awaits your visit.
Here are some of the highlights we have installed.

■ 20th Anniversary Website (All Articles are in English and/or with English subtitles!)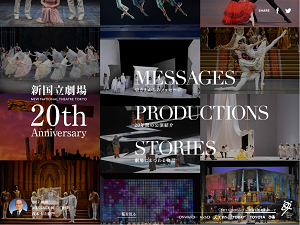 "20th Anniversary Website" is launched with the content including three parts;

MESSAGES features interviews of important figures in Japanese performing arts scene.
PRODUCTIONS will be a photo gallery of all our 650 productions produced by the Theatre during these 20 years.
STORIES features historical episodes from before the birth of the Theatre to the last 20 years.

All these parts will be updated every Friday with new information, so please visit the site as often as you can.
Enjoy! www.nntt.jac.go.jp/20th/


■ Special Productions in Celebration of 20 Years

6th ~ 7th January, 2018 NEW YEAR BALLET
5th ~ 22nd April, 2018 OPERA "AIDA"
20th May ~ 2nd June, 2018 OPERA "FIDELIO"


■ Other Events


・Welcome Flower Arrangement : 1st October ~ 5th November, 2017
A gorgeous flower arrangement will welcome you at the entrance of the Theatre specially arranged by TESHIGAWARA Akane, Head of Sogetsu School.


・Welcome Flags : All year round
A special welcome flags will be decorated inside and around the Theatre. We hope you feel welcomed.


・Poster Exhibition: 2nd ~ 8th October, 2017
At Shinjuku Station, underground passage called "Keio New Board" between Odakyu Line and Keio Line,a grand scale poster exhibition will be held. Not to be missed.


・20th Anniversary Souvenirs
Specially designed 20th Anniversary souvenirs are sold at our shops in the foyer and by the entrance.


Thank you for your continuous support.
We look forward to welcoming you to the Theatre this Season.


---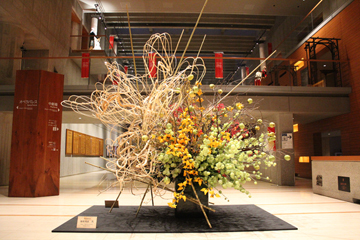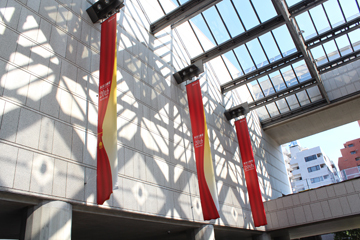 ---