Watch the Video Archive at the Information Centre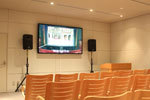 New National Theatre Tokyo has presented more than 600 productions of Opera, Ballet, Dance and Drama since its inception in 1997.

You can watch the video footage of approx. 400 productions at the Information Centre (Library) which is on the 5th floor of New National Theatre Tokyo.

There are 4 video booths which you can freely choose to watch recordings of our productions from the opening series to 2014/2015 Season.
If you come with two other friends, groups over 3 people can use the Video Theatre to watch our productions on the big 85-inch screen.

The productions most recently added to our video archive are as below.
Opera: "Parsifal"  (2nd October, 2014)
Opera: "Die Fledermaus"  (4th February, 2015)
Opera: "Manon Lescaut"  (12th March, 2015)
Ballet:  "Cinderella"  (21st December, 2014)
Dance: Kaiji Moriyama "Circus" (25th June, 2015)

In addition, you can also watch video footage of the performances by tablet devices which are installed at the Reading Room.

The Information Centre is open from Wednesdays to Sundays.
Please come and enjoy the facilities of our Information Centre.

For further information, please refer to this page.