Message from the Artistic Director of Drama about our 2016/2017 Season
2016/2017 Season Drama

Message from the
Artistic Director of Drama
,
MIYATA Keiko
Various Perspectives
We are opening the 2016/2017 Season with 2014 Pulitzer Prize winner, "The Flick". Written by playwright Annie BAKER and set in a run-down cinema, this outstanding play follows the lives of characters who are becoming estranged from a changing society. The play will be directed by MAKINO Nozomi.
From November to December, we present you with SHAKESPEARE's "Henry IV, Parts I & II". This performance of "Henry IV", preceded by the "Henry VI" trilogy (performed in 2009) and "Richard III" (performed in 2012), will add to our stream of historical works. It will be directed by UYAMA Hitoshi; the same team of cast and creative staff continuing on from previous productions, with new faces added to the line-up. Staging by the same actors in these productions is unprecedented anywhere in the world, and not only lays a clear framework for the production, but also vividly portrays the human drama that grows and changes with the times.
From March to May, our series on the topic of "Perspectives beyond Generation: the Power of Japanese Drama" will see three young directors take on Japanese plays written from the late 1950s to early 1960s.An economic white paper entitled "It is no longer termed postwar" was issued in 1956 and the title became a popular phrase in the late 1950s and early 1960s, just as Japan plunged into a period of rapid economic growth. The playwrights' clear views of its time that were knowingly or unknowingly buried in history and distorted amidst those rapidly changing times come clearly to life in each of these works.This particular era of embarking on the first step towards modernism is recreated through the perspectives of three directors. In March, TANI Kenichi will make his debut at the New National Theatre, Tokyo with MISHIMA Yukio's "The Nest of the White Ants" (1956). In April, KAMIMURA Satoshi, who directed an elaborate work of "Les Séquestrés d'Altona" in 2014, will present ABE Kobo's "The Fortress" (1962). In May, OGAWA Eriko, who brought us "OPUS" in 2013 and "Constellations" in 2014, will direct NAKATA Chikao's "The Head of Mary" (1959).
Then in June, as the sixth part of our series "JAPAN MEETS...A Look at Lineage of Contemporary Drama", I will direct William SAROYAN's "The Time of Your Life" (1939), depicting ordinary lives of Americans in simple brushstrokes. The work conveys the wholesome savour of human life, of the humble people frequenting a bar in a run-down corner of town whose lives are full of daily struggles and yet have their dreams nonetheless.
In July, we continue our "JAPAN MEETS..." series XII with John OSBORNE's "Look Back in Anger" (1956), a play that paved new ground in the history of modern British theatre. This classic piece, portraying the lives of the working-class smouldering with dissatisfaction, anger and frustration at the society, will be directed by CHIBA Tetsuya, who has made numerous appearances both as an actor and director at the New National Theatre, Tokyo.
I hope you will enjoy this season's line-up of heavyweight productions, each with its own unique perspective.
Profile of MIYATA Keiko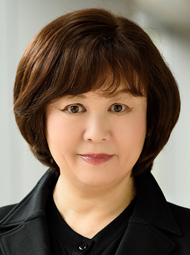 MIYATA started her career as the resident theatre director at the Literary Department of Seinenza Theatre Company in 1980. She made her debut with "A Sigh" written and directed by herself at the Studio Theatre of the Company in 1983. Since then, she has directed a wide range of plays from Western classics to modern plays, straight plays to musicals, commercial theatre to small theatre productions. She is enthusiastic in drama education and training as well as promoting the development of drama across Japan. She is the Executive Director of Association of Japanese Theatre Companies, and Vice President of Japan Directors Association. She was appointed as the Artistic Director of Drama at the New National Theatre, Tokyo in 2014.
Awards
1994 29th Kinokuniya Drama Awards Best Director for "Mother" (Seinenza)
1997 5th Yomiuri Drama Awards Best Director for "Fuyuhiko" (Seinenza)
1998 Minister of Culture Awards Best Newcomer for "Dear Liar" (New National Theatre, Tokyo)
2001 43rd Mainichi Arts Awards
2001 Yomiuri Drama Awards Best Director
for "Red Shirt" "Mortifying Woman" (Seinenza) "Sarah" (Shochiku)
Other works
Seinenza "Bunna, Come Down From the Tree" "The Wife, the President and Kyu-chan" "Zenzai Woman"
Shochiku "Love is a Variation of Mystery" "Things We Do For Love" "Gabrielle Chanel"
Horipro "Noises Off" "Elephant Man" "Dirty Rotten Scoundrels"
Parco "Second Love" "LOVE30"
Directorial works at the New National Theatre, Tokyo
Before inaugurating as Artistic Director
"Dear Liar" "Thus New Year Comes" "Beauty and the Beast" "The Roof Garden"
As the Artistic Director
2010/2011 Season "Hedda Gabler" "Our Town" "Poison Tester"
2011/2012 Season "The Decline and Fall of Suzaku" "Sixteen Wounded"
2012/2013 Season "The Crucible" " A Long Line of Grave Stones" "An und Aus"
2013/2014 Season "Pygmalion" "Time Stands Still"
2014/2015 Season "The Threepenny Opera" "The Lady from the Sea"
2015/2016 Season "Passion" "Tsuki・koukou, Kaze・Sousou "