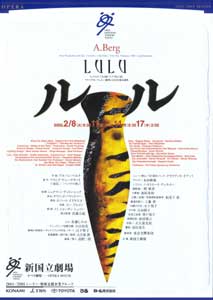 Lulu
, Alban Berg's masterpiece, depicts the vicissitudes of life that Lulu, a vampire who fascinates and ruins all people she meets, goes through. The music by the Austrian composer, who was a member of the so-called New Vienna School, is complicated and subtle as characterized by 12-note serial motifs and structures that incorporate diverse styles. It delivers the mysterious drama to the audience with tonal, sweet, and lyrical sounds. Wedekind's conflation of two plays,
Erdgeist
(Earth Spirit) and
Die Büchse der Pandora
(Pandora's Box), on which the opera is based, scathingly criticized moralistic society through Lulu, who is a manifestation of sensuality and lives on instinct.
Die Büchse der Pandora
was such a shocking work that the authorities issued an order to scrap it and ban its performance. It can be said that the opera was a product of urban culture, including expressionist art, the Bauhaus movement, revues and cabarets, which all flourished in Germany in the period of social crisis and hedonism that followed World War I.
Sato Shinobu will take on the challenge of singing Lulu, a most demanding soprano role that requires singing ability as well as personal beauty and acting ability. Countess Geschwitz, who admires Lulu, will be sung by Koyama Yumi, one of the prominent mezzo sopranos in Japan. The young and promising conductor, Stefan Anton Reck, is an expert on Alban Berg. The producer will be David Pountney, whose direction of NNTT's premiere of Madama Butterfly was much talked about. Pountney has created a sensation in various cities and the forthcoming production of Lulu is attracting the attention of the world. The major highlights of the opera will be expressive scenery designs, which vividly visualize the aesthetics of Lulu, and many gorgeous costumes that make abundant use of diverse materials and ornaments, beautifying the heroine in particular.
Synopsis
Lulu's patron, Dr. Schön, arranges Lulu's marriage to someone else, but her husbands die an unnatural death one after another with the first, dying of a heart attack and the second, killing himself with a razor. Unable to free himself from Lulu's domination, Dr. Schön finally marries her. Around Lulu, who lives as free and unrestrained a life as before, gather her dubious admirers, including the lesbian Countess Geschwitz, and even Dr. Schön's son Alwa confesses his love for Lulu. No longer able to tolerate the situation, Dr. Schön demands that Lulu kill herself with a pistol, but he is shot to death by her instead. Lulu is arrested but successfully escapes from prison as Countess Geschwitz takes her place. Lulu flees to Paris and then to London with Alwa, but her fate follows a path of degradation. Ruined, she makes a living as a prostitute, and she is finally killed by Jack the Ripper.