"What is a Glass Harmonica?" Free Lecture & Performance by Sascha RECKERT (22 Mar 2017)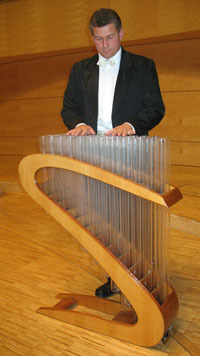 From the 14th to the 26th March, we present a New Production of Opera "Lucia di Lammermoor" by Gaetano DONIZETTI; a co-production with the Opèra de Monte-Carlo directed by the Jean-Louis GRINDA.


In this production, we use an instrument called "glass harmonica" in the famous "mad scene" as DONIZETTI's original conception which is often replaced by the flute obbligato.
Mr. Sascha RECKERT who plays the glass harmonica in "Lucia di Lammermoor" will introduce this delicate and mysterious instrument.
(He will speak in German with a Japanese translation.)


Date: 22nd March (Wed.) 18:30-19:30
Venue:THE PIT
Admission free
Advance booking is required.
Book now from the online application form.
Introduction to Glass Harmonica by Mr. Sascha RECKERT (in English)
Sascha RECKERT
Sascha RECKERT has specialised since 1986 in glass instruments both as a musician, performing in all important opera houses throughout the world and as the only manufacturer nowadays of all kinds of glass instruments such as historical ones like the glass harmonica and modern ones. He invented the modern glass instrument "verrophone", which creates a stronger sound than the glass harmonica and may fill even big opera houses without being amplified.
Sascha RECKERT is promoting since more than twenty years the original glass harmonica parts in operas like STRAUSS' Frau ohne Schatten and DONIZETTI's Lucia di Lammermoor. Thanks to his commitment, the Salzburger Festspiele did in 1991 the World Premiere of Frau ohne Schatten with the original glass harmonica part, as intended by Richard STRAUSS. In the following years the international opera houses one by one adopted the original instrumentation of Frau ohne Schatten and Lucia di Lammermoor. In 2010 Sascha Reckert did the first recording of Lucia di Lammermoor in the original instrumentation with the Mariinsky Theatre St. Petersburg under Valery GERGIEV.
In 1996, he founded sinfonia di vetro a professional ensemble of glass musicians to reinstate the classical glass harmonica repertoire including original compositions from MOZART's time, contemporary compositions, operas, symphonies, solo concertos, and various arrangements for glass instruments, singers and other instruments in different styles of music.
Sascha RECKERT played as soloist in opera houses and with orchestras like Royal Opera Covent Garden London, La Scala Milano, Bayerische Staatsoper Munich, Opéra National de France Paris, Semperoper Dresden, Muziektheater Amsterdam, opera houses Tokyo, Nagoya/Japan, La Monnaie Brussels, Oper Frankfurt, Oper Zurich, Berliner Philharmoniker, Wiener Philharmoniker. He did productions and recordings among others with Anna NETREBKO (Sempre Libera), Diana DAMRAU, Elena MOSUC and Natalie DESSAY.