"Hybrid - Rhythm & Dance" Spain Tour
(21 Oct.- 4 Nov. 2016)
"Hybrid - Rhythm & Dance" which was first performed on 25th-27th March 2016 at New National Theatre Tokyo is now touring Spain.


"Hybrid - Rhythm & Dance" is the third in a series that began in 2008 when the company first took up the challenge of developing a piece around STRAVINSKY's The Rites of Spring. Then in 2013, Trip Triptych, a performance deviced around the music of three composers RAVEL, DEBUSSY and SATY was presented. This third offering in the music series features the work of the ever-evolving choreographer and dancer, HIRAYAMA Motoko, exploring the roots of dance & rhythm of the txalaparta (a traditional percussion instrument from the Basque region of Spain.)


Details of the Spain tour are as follows:


MOTOKO HIRAYAMA, EMI TOKO & OREKA TX DSS2016 TOUR
"HYBRID Rhythm & Dance"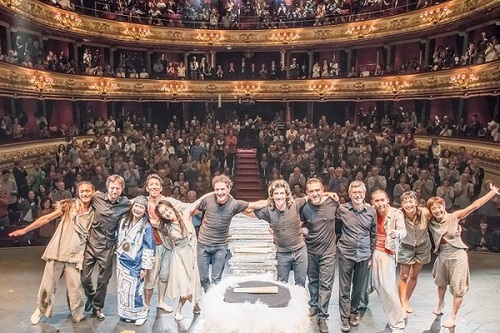 Direction and Choreography by HIRAYAMA Motoko
Music Performance Oreka TX
Singer: TOKO Emi
Cast:  KOJIRI Kenta, OBA, SUZUKI Ryu, MINAKAWA Mayumu, NISHIYAMA Yuki


Presented by Donostia / San Sebastián 2016 Europako Kultur / alfalfa / Txalap.art
Sponsored by Agency for Cultural Affairs of Japan / EU Japan Fest / Eusko Jaularitza, Kultur saila / Gipuzkoako Fory Aldundia
First Performed at the Playhouse of the New National Theatre, Tokyo on the 25th March, 2016.