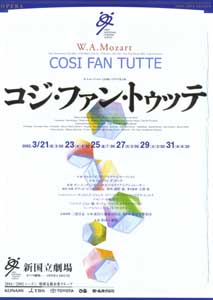 Together with Don Giovanni and Le Nozze di Figaro, Così Fan Tutte (All Women Behave Like This) is the last of what is known as Mozart's Da Ponte trilogy. Behind the simple comedy in which two pairs of lovers swap their partners is a sharp insight into the subtleties of the feelings of men and women, as well as the true nature of human beings and their foolishness. Well-balanced elegant ensembles, including duets, trios, quartets and quintets, which express a mixture of delicate sentiments, could be said to be the ultimate in Mozartian opera. Fine music that cleanses the soul of the listener permeates the entire opera.
Repschläger's direction will reveal perilous shifts in morality while following the delicately changing sentiments of the characters. The scenery designer is Davide Pizzigoni, a multi-talented designer, who will work for this opera following last year's Tales from Spain. In addition to the beautiful, elaborate stage designs, the audience can enjoy how the lovers will disguise themselves, a theatrically important point in the opera. The gorgeous cast of singers, who are highly popular with the NNTT's audiences, will be brought together to sing the six major roles. The two sisters will be sung by Veronique Gens, who is often called the leading Mozart singer today, and Fabiola Herrera, who left a vivid impression on the audience as Carmen this past summer. Despina, a maid and an instructor in the ways of love, will be sung by Nakajima Akiko, a talented soprano, who performed well as Susanna. As their lovers, Rudolf Rosen will appear at the NNTT again and Gregory Turay, who is a new star of the Metropolitan Opera, will appear for the first time. And Bernd Weikl, who showed his fully developed singing techniques as Falstaff, will play the role of Don Alfonso, a philosopher. Dan Ettinger, a young conductor and Barenboim's favorite student, who created an elaborate ensemble for Falstaff, will lead Mozart's delicate music. Look forward to a quality performance, which the NNTT believes will impress even serious opera fans with a discerning eye.
Synopsis
The officers Guglielmo and Ferrando are engaged to the beautiful sisters Fiordiligi and Dorabella, respectively. Persuaded by the wise old philosopher Don Alfonso, the two officers decide to test the fidelity of their sweethearts. They pretend that they have been ordered away by their regiment and bid the sisters a false farewell. Later, disguised as Albanians, the two men court Fiordiligi and Dorabella passionately. The two girls weaken little by little to the Albanians' various advances. First, Dorabella yields to her sister's fiancé Guglielmo, and finally, Fiordiligi also succumbs to Ferrando after much resistance. When a double wedding for the two new couples is being arranged, a military march suddenly signals the return of the army.