KUBO Mayako

: Osan
from "Shinju Ten no Amejima"

<Opera in 2 Acts>

<sung in Japanese>

OPERA HOUSE
---
<OPERA TALK>

Please click here



<REHEARSAL SCENE>

Please click here
---
STAFF
| | | |
| --- | --- | --- |
| Music by | : | Kubo Mayako |
| Libretto by | | Kubo Mayako |
| Original by | : | Chikamatsu Monzaemon |
| | | |
| Conductor | : | Kanda Keiichi |
| Production | : | Aguni Jun |
| Scenery Design | : | Yokota Atsumi |
| Costume Design | : | Masuda Emi |
| Lighting Design | : | Oshima Masao |
| Stage Manager | : | Onita Masahiko |
| Production Advisor | : | Hatanaka Ryosuke |
| | | |
| Chorus Master | : | Misawa Hirofumi |
| Chorus | | New National Theatre Chorus |
| Orchestra | : | The Tokyo Symphony Orchestra |
| Presented by | : | New National Theatre, Tokyo |
---
CAST
| | | |
| --- | --- | --- |
| Osan | : | Nagayoshi Tomoko (25th,27th) / Namikawa Hisami (26th) |
| Jiheh | : | Shibayama Masanobu (25th,27th) / Maiya Takehiko (26th) |
| Koharu | : | Morikawa Eiko (25th,27th) / Yamamoto Mayumi (26th) |
( All Performances )
Hostesses
Ringo
:
Naono Yoko
Lemon
:
Maeda Yuka
Momo
:
Kaneko Toshie
Nana
:
Hasegawa Mitsue
Alummo
Akio
:
Oki Taro
Eiji
:
Maruyama Tetsuhiro
Bunsuke
:
Umehara Mitsuhiro
Fumihiko
:
Kawashima Naoyuki
Ciita
:
Omoto Kazunori
Goro
:
Tokuyoshi Hiroyuki
Daichi
:
Furukawa Kazuhiko
Hiroshi
:
Chino Masayasu
| | | |
| --- | --- | --- |
| Secretary | : | Aochi Hideyuki |
---
PERFORMANCES

February 2005
25
(Fri.)
26
(Sat.)
27
(Sun.)
3:00pm
×
×
6:30pm
×

Doors will open 45 minutes before the opening of the performance.
Approximate running time: 2 hours, 15 minutes with 1 intermission
---
ADVANCE TICKETS

Available from Sunday 28 November , 2004 at 10:00am.
To order tickets, please call +81-3-5352-9999 (10:00am-6:00pm).
Internet ticket reservation available through the following Websites.(Japanese only)
http://t.pia.co.jp/
http://eee.eplus.co.jp/
---
TICKET PRICES (with tax)
| | | | | | | | | | |
| --- | --- | --- | --- | --- | --- | --- | --- | --- | --- |
| Price(yen) | 12,600 | 11,550 | 8,820 | 7,770 | 6,300 | 5,250 | 4,200 | 3,150 | 1,500 |
*Balcony row 4 centre and row 3-4 sides (¥3,150):
Sold at the NNTT Box Office and all Ticket Pia outlets on the performance date only. Up to 2 tickets per person. No phone reservations.
*Seat Z (¥1,500):
Sold to students only at some Ticket Pia outlets on the day before the performance. Any tickets not sold by the performance date will be released to the general public at the NNTT Box Office and some Ticket Pia outlets. One ticket per person. No phone reservations. Students must bring a valid student ID.
*Same day student tickets
(
50% off Except for seats for ¥3,150
and
¥1,500
)
:
Sold at the NNTT Box Office and some Ticket Pia outlets on the performance date. One ticket per person. No phone reservations. Students must bring a valid student ID.

*Opera House Ticket Prices & Seating Plan
---
Endless Conflicts of Love, Financial Crisis, and Success
World Premiere of a New Opera That Portrays from the Life of a Woman in Modern Japan from Various Angles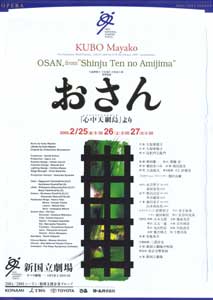 One of the main pillars of the program lineup of The New National Theatre, Tokyo (NNTT), is the performance of operas by Japanese composers. The NNTT has produced eight such works, from Takeru, performed to commemorate the grand opening of the theatre, to Narukami and Shunkan. Each of these works has aroused the interest of the audience and became the talk of the town for its subject, music performance, and stage direction. Osan---from Shinju Ten no Amijima was composed by Kubo Mayako, who has been highly praised in Europe for the successful performance of the opera Rashomon, which she wrote at the request of the Opernhaus Buhnen Graz in Austria and the organizers of the Steirischer Herbst (Styrian Autumn) Festival, and other accomplishments. Osan is a romantic tragedy based on Chikamatsu Monzaemon's play Shinju Ten no Amijima, which stems from eroticism and reason. Inspired by the conflicts of love in Chikamatsu's play and early capitalism against which the play was written, Kubo sets Osan in modern Japan and depicts the life of Osan---a woman who has led her business to success and is at the peak of her prosperity---with focus on the conflicting emotions of love and the pangs of conscience she goes through.
<Note by the Composer>
There is no end to the stimulation my imagination receives from original drama by Chikamatsu. This testifies that the original drama is rich in content. Why did Osan intend to rescue Jiheh and Koharu without thinking of herself? Why was Jiheh unable to make a decision to choose between his wife and Koharu? Was Osan simply a good wife and wise mother? Answers are varied. I want to write about the absurdity of love based on humanism derived from Chikamatsu rather than his Shinju Ten no Amijima.
Synopsis
The setting is a banquet hall in which a splendid party is being held with a large attendance to celebrate the completion of the new office building of a company, Taiyo Sangyo. The female president of the company, Osan, is visiting each table to greet the guests. While praising her business ability, those attending also engage in backbiting, saying that she was so enthusiastic about her work that she has never experienced a woman's happiness. Her husband took another lover, fell into debt and ran away, and is now suspected of murder. Subsequently, Osan took over her husband's company and reconstructed it. She moves to another room and casually turns on a radio, which reports that her husband Jiheh has been found dead. Osan is struck speechless with astonishment. Her memory traces back to 10 years ago...
| | | |
| --- | --- | --- |
| <Music> | <Conductor> | <Production> |
| | | |
| Kubo Mayako | Kanda Keiichi | Aguni Jun |
<Cast>
Nagayoshi Tomoko
Namikawa Hisami
Shibayama Masanobu
Maiya Takehiko
Morikawa Eiko
| | | | | |
| --- | --- | --- | --- | --- |
| | | | | |
| Yamamoto Mayumi | Naono Yoko | Kaneko Toshie | Maeda Yuka | Hasegawa Mitsue |
| | | | | |
| --- | --- | --- | --- | --- |
| | | | | |
| Oki Taro | Umehara Mitsuhiro | Omoto Kazunori | Furukawa Kazuhiko | Maruyama Tetsuhiro |
| | | | |
| --- | --- | --- | --- |
| | | | |
| Kawashima Naoyuki | Tokuyoshi Hiroyuki | Chino Masayasu | Aochi Hideyuki |