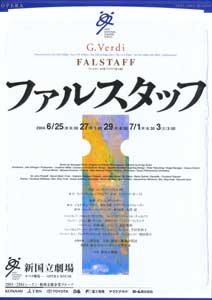 Verdi Provides Future Opera Fans with a Blissful Comedy
Join Us in Enjoying the Magnificent Staging of a Comedy that Has a Laugh at the Niceties of Human Life
With Falstaff, the NNTT will close its 2003/2004 season, which has seen a series of adventures under the theme of "The Fate of Men." A man who has lived through diverse experiences enters upon the last days of his life, smiling at the world with a detached air. This comedy, which could be described as the last will of Verdi and Shakespeare, promises audiences a fitting ending to their "operatic journey."
In his old age, Verdi, who had become a master of Italian opera with his soul-stirring music and touching tragedies, chose comedy as the subject for final opera. Based on Shakespeare's The Merry Wives of Windsor and Henry IV, Falstaff is a great work that features incomparably enjoyable drama and music and is filled with profound philosophical views of life. Above all there is the great highlight of the final ensemble in which, just before the fall of the curtain to the last act, Falstaff sings "All the world's a jest" and his words are overtaken over by the other soloists, resulting in a grand fugue that envelops the entire theatre.
The opera will be directed by Britain's distinguished director Jonathan Miller, who will appear at the NNTT for the first time. Especially well known for his direction of Shakespearean plays, including productions at the Royal Shakespeare Company and for the BBC's Shakespeare series, Miller will bring to the direction of this work his rich sense of humor and life experiences. The conductor Dan Ettinger will unleash the energy of the Italian composer in a youthful fashion, and he will be joined by popular and distinguished singers who will provide unrivaled performances in this dazzling upcoming production. These singers include Bernd Weikl, the greatest baritone today, as well as Vladimir Chernov, John Ken Nuzzo, Susan Anthony and Alexandrina Milcheva. No lover of opera will want to miss this exciting production.
Synopsis
The fat, old Sir John Falstaff sends love letters to two ladies of means, Alice Ford and Meg Page, asking for money. The women realize that the letters they have received are identical, and conspire together with Falstaff's retainers Bardolfo and Pistola, who bear a grudge against their master, as well as Ford and Dr. Cajus, to teach Falstaff a lesson. While Falstaff is lured out and is pinched and pricked in Windsor Park, it emerges that Ford's daughter Nannetta has actually married her lover Fenton, thereby bring the opera to a happy ending.