---
<STAFF>

| | |
| --- | --- |
| Libretto | : Anton Chekhov |
| Embellished by | : Horikoshi Makoto (based on the translation by Jinzai Kiyoshi) |
| Directed by | : Kuriyama Tamiya |
| Set Designer | : Horio Yukio |
| Lighting Designer | : Katsushiba Jiro |
| Sound Designer | : Yamamoto Koichi |
| Costume Designer | : Maeda Ayako |
| Hairstyling and make-up | : Hayashi Yuko |
| Assistant Director | : Suzuki Higashi |
| Stage Manager | : Tsuda Mitsumasa |
| | |
| Artistic Director | : Kuriyama Tamiya |
| Presented by | : New National Theatre, Tokyo |
---
<CAST>

| | | |
| --- | --- | --- |
| Mori Mitsuko | | Tsukayama Masane |
| Danta Yasunori | | Kimura Midoriko |
| Yoshizoe Ayako | | Nishiyama Mizuki |
| Ishida Keisuke | | Sukegawa Wataru |
| Okamoto Toshiaki | | Kaou Osamu |
| Seshimo Kazuhisa | | Gin Pun Chou |
| Mitani Noboru | | Sato Kei |
---
<PERFORMANCES>

June
2002
Fri.
21
Sat.
22
Sun.
23
Mon.
24
Tue.
25
Wed.
26
Thu.
27
Fri.
28
matinée
1:00pm
No
Performance
1:00pm
1:00pm
evening
7:00pm
6:00pm
7:00pm
7:00pm




June-July
2002
Sat.
29
Sun.
30
Mon.
1
Tue.
2
Wed.
3
Thu.
4
Fri.
5
Sat.
6
matinée
1:00pm
1:00pm
No
Performance
1:00pm
1:00pm
1:00pm
evening
6:00pm
7:00pm
7:00pm
6:00pm




July
2002
Sun.
7
Mon.
8
Tue.
9
Wed.
10
Thu.
11
Fri.
12
Sat.
13
Sun.
14
matinée
2:00pm
No
Performance
2:00pm
All
Reserved
All
Reserved
All
Reserved
2:00pm
2:00pm
evening
6:00pm




July
2002
Mon.
15
Tue.
16
Wed.
17
Thu.
18
Fri.
19
Sat.
20
Sun.
21
matinée
No
Performance
2:00pm
2:00pm
2:00pm
2:00pm
evening
7:00pm
7:00pm
6:00pm

Doors will open 45 minutes before the start of each performance.
Please understand entries will be restricted during the performances.
---
<ADVANCE TICKETS>
Available from Saturday 11 May, 2002 at 10:00am.
To order tickets, please call +81-3-5352-9999 (10:00am-6:00pm).
Internet ticket reservation available through the following Websites.(Japanese only)
http://t.pia.co.jp/
http://eee.eplus.co.jp/
---
<TICKET PRICES>

| | | |
| --- | --- | --- |
| Type | Seat A | Seat B |
| Price | ¥6,300 | ¥3,150 |

Seat Z(¥1,500) is sold only on the performance day at the Box Office and exclusive Ticket Pia Offices.
---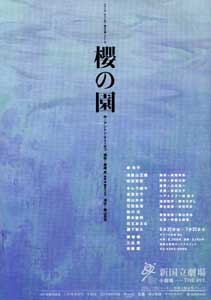 Anton Chekhov, who had spent his life struggling with his illness, completed his last play The Cherry Orchard by truly devoting all his energy to it. It could be said that this is a work that clearly reflects the state of mind that Chekhov, who had observed the various delicate feelings of people with deep insight and warm sympathy, reached in his last days. Even today the play gently tells us that even if people suffer a tragic event, their daily lives could still be humorous and pitiable and that it is important not to lose one's hope at all times. The forthcoming production of The Cherry Orchard at the New National Theatre, Tokyo (NNTT) will depict Chekhov's original work by shifting its setting from Russia to Japan. Set in the province of Shinshu (today's Nagano Prefecture) in the late Meiji period (in the early 1900s), the universal story will be interpreted in a more familiar setting for Japanese. What makes this production extremely interesting is that there are elaborate ideas such as changing the names of the characters to Japanese ones and skillfully weaving the social conditions of the period into the plot.
Chino Urarako (Madame Ranevskaya in the original work), a noblewoman who has become tired of her life in France and is financially pressed, has come back to the Cherry Orchard in Shinshu, her home country, for the first time in five years. This land she owns, however, is now being put up to auction. Urarako and her elder brother, Gamo Ryuichiro (Gaev), grieve about having to give up her land, but they cannot get over their habit of spending money wastefully. Ironically, the successful bid for the Cherry Orchard was made by Mizorogi Eikichi (Lopahin), the son of a peasant who had once worked at the estate and became a wealthy merchant.
Based on the translation of The Cherry Orchard by Jinzai Kiyoshi, whose translation is reputedly accurate and beautiful, Horikoshi Makoto, who has published high-profile works mainly in the world of commercial drama, adapts the play for the NNTT's production. He carefully picks up Chekhov's elaborately woven language. Attention will also be focused on Kuriyama Tamiya, artistic director of the NNTT's drama division, whose detailed stage direction highlights the complicated human relationships among the characters. Appearing at the NNTT for the first time since the opening production of the theatre, Mori Mitsuko will take on the challenge of acting as Madame Ranevskaya, the role that has been played by many distinguished actresses in the past. Also appearing in the play will be Tsukayama Masane, Danta Yasunori, and Sato Kei. Expectations for this splendid cast of actors and actresses are growing.
The Cherry Orchard adorns the ending of the NNTT 2001/2002 season as well as of the Chekhov: Series - The Work of the Soul, which constitutes part of the program for the season. The Russian dramatist's message, which must not be forgotten in all ages, will deeply and quietly move the heart of the audience.