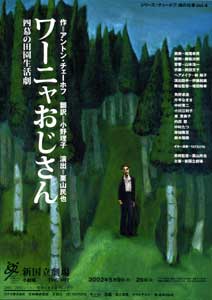 Uncle Vanya - Four-scenes from Country Life

The fourth in NNTT's"Series/Chekhov: The Work of the Soul" is Uncle Vanya, the masterpiece that won the dramatist Chekhov and the Moscow Art Theatre an indisputable reputation when premiered in Moscow following the success of The Seagull. Set in a Russian province in the late 19th century when Chekhov lived, Uncle Vanya, which elaborately depicts the troubled feelings of persons who lead unrewarding lives, has strongly appealed to people over the centuries with its spiritual depth and social criticism. The impatience, hope and a sense of emptiness, which Chekhov, who did things for other people and aspired for coexistence with nature, talked about while looking at a hundred or a thousand years ahead, sound as a direct alarm to those who live today.

The setting is a quiet mansion surrounded by vast forests. Vanya is living frugally with his deceased younger sister's daughter, Sonya, while managing the estate of an old professor. In early summer, the retired professor returns to his mansion with his young second wife, Yelena. With the arrival of the arrogant and selfish professor and the beautiful Yelena, who idles her time away, the life of the whole family starts to go wrong. Vanya has long admired the old professor, but he becomes disappointed with him when he realizes the truth that the professor has neither talent nor made any achievements and Vanya makes advances to Yelena. Astrov, who calls on the professor at his mansion, also gives up his profession as a doctor, abandons the task of forest management which he had found worth doing, and approaches Yelena. Sonya, who secretly loves Astrov, begins to feel that her hope for love is fading away with the appearance of the beautiful stepmother. At the end of summer, when a commotion was created among the characters, the professor abruptly proposes to sell his property in order to return to urban life.

Based on a new and elaborate translation of Uncle Vanya by Ono Michiko, a scholar of Russian literature, the artistic director Kuriyama Tamiya will grapple squarely with the stage direction of the play. Kuriyama, who planned the"Series"to bring Chekhov's"work of the soul" to the stage, will finally tackle the Russian playwright's work at NNTT. The performance of Uncle Vanya, which faithfully conveys Chekhov's views of the world, will be presented soon with a cast of talented actors and actresses, including Kadono Takuzo and Katahira Nagisa, both of whom have steadily brought results in drama and visual arts, Nakamura Ikuji, who appears on stage for the first time since the dissolution of the Kakusuko theatre company, and Ogawa Eriko, who draws public attention with her fresh acting.