A Streetcar Named Desire
PLAYHOUSE
---
<STAFF>

| | |
| --- | --- |
| Written by | : Tennessee Williams |
| Translated by | : Shiro Narumi |
| Directed by | : Tamiya Kuriyama (Artistic Director) |
| Set Designer | : Yukio Horio |
| Lighting Designer | : Jiro Katsushiba |
| Music | : Makoto Ozone |
| Sound Designer | : Joji Fukagawa |
| Costume Designer | : Ayako Maeda |
| Action | : Hiroshi Atsumi |
| Assistant Director | : Hideki Kawahata |
| Stage Manager | : Nobuyuki Tanaka |
| | |
| Presented by | : New National Theatre, Tokyo |
---
<CAST>

| | | | | | | |
| --- | --- | --- | --- | --- | --- | --- |
| Kanako Higuchi | | Masaaki Uchino | | Natsumi Nanase | | Toshiyuki Nagashima |
| Masayo Umezawa | | Shu Nakajima | | Kei Shandy | | Yoshiyuki Kaneko |
| Eiko Kanazawa | | Masashi Shinohara | | Satomi Kuroki | | Haruyuki Kachi |
---
<PERFORMANCES>

October,
2000
Fri.
20
Sat.
21
Sun.
22
Tue.
24
Wed.
25
Thr.
26
Fri.
27
Sun.
29
Mon.
30
Tue.
31
matinée
1:00pm
1:00pm
2:00pm
1:00pm
2:00pm
evening
7:00pm
7:00pm
7:00pm
7:00pm
7:00pm
November,
2000
Wed.
1
Thr.
2
Fri.
3
Sat.
4
Sun.
5
Mon.
6
Tue.
7
Wed.
8
Thr.
9
Fri.
10
Sat.
11
matinée
2:00pm
1:00pm
1:00pm
1:00pm
2:00pm
1:00pm
evening
7:00pm
7:00pm
7:00pm
7:00pm
7:00pm

There will be no performances on Monday 23.
Seats for Saturday 28 at 1:00 p.m. have all been reserved for groups, except Z seats, for which tickets will be available.
Doors will open 60 minutes before the start of each performance.



Additional performances will be held!
Additional performances will be held on Monday 30 (2:00pm) and Monday 6 (7:00pm).
For details, please refer to New National Theatre Tokyo News.
---
<ADVANCE TICKETS>
Available from Sunday 3 September, 2000 at 10:00am.
To order tickets, please call +81-3-5352-9999 (10:00am-6:00pm)
---
<TICKET PRICES>

| | | | |
| --- | --- | --- | --- |
| Type | Seat S | Seat A | Seat B |
| Price | ¥6,300 | ¥5,250 | ¥3,150 |


Seat Z(¥1,500) is sold only on the performance day at the Box Office and a part of Ticket Pia Offices.
---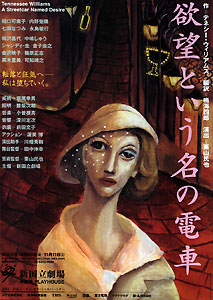 Downfall and madness -- I am being degraded.
Blanche, a woman who took a streetcar named Desire, looks like a white moth flying about in the darkness. And Stanley is filled with an animal-like joy for living. When the two meet, they cannot help but become attracted, only because they fiercely hate one other. A Streetcar Named Desire, whose plot unfolds at a location outside the city center of New Orleans in a raw, hot world, is performed worldwide as a drama that features universal conflicts of human emotion and desire. It was written by Tennessee Williams, a dramatist representing postwar America, who is also known for his "The Glass Menagerie", "Cat on a Hot Tin Roof", and other plays. "A Streetcar Named Desire" is his greatest masterpiece for which he won a Pulitzer Prize and other awards, and it is highly popular because it was filmed by movie director Elia Kazan with the leading roles played by Vivien Leigh and Marlon Brando. It has also seen an excellent performance of its stage version featuring Haruko Sugimura presented in Japan. A Streetcar Named Desire, after thorough preparation, is the first dramatic work to be directed by Tamiya Kuriyama since he became Artistic Director for the drama division of the New National Theatre, Tokyo. In addition, a superbly attractive cast of actors and actresses has been put together with Kanako Higuchi as Blanche, one of the most appealing heroines created this century, and Masaaki Uchino as Stanley, a hero full of energy. Expectations for the forthcoming performance are rising. This should not be missed.

When I directed The Glass Menagerie by Tennessee Williams for the first time, I keenly felt anew the expanse of his dramatic world and the centripetal density of each character. People of diverse ethnic origins go back and forth in devastated scenes in postwar New Orleans, and into this chaotic world appears Blanche, who seems to have lost herself and looks like a white moth. I do not know of any other drama that portrays complicated human relationships in such a delicate manner. In any age, a masterpiece such as this gives us the power to reexamine human existence. (by Tamiya Kuriyama)

Synopsis
A poor yet lively, attractive corner of the French quarters in New Orleans. Blanche DuBois (Kanako Higuchi), who takes a streetcar named Desire, transfers to another one called Cemeteries, and gets off at Elysian Fields. She arrives at an apartment in which her younger sister, Stella Kowalski (Natsumi Nanase), lives. Reared in a large plantation called Belle Reve somewhere in the South, the two sisters have their roots in the higher classes of days gone by. Blanche is surprised at her younger sister's poor, indecent life, but Blanche's elegance is an eyesore to Stanley Kowalski (Masaaki Uchino), Stella's husband of Polish descent. From the first time they meet, Blanche and Stanley become antagonistic toward one other and tension between the two mounts. Blanche, who has fled from her past, places her last hope on the love of Stanley's friend, Mitch (Toshiyuki Nagashima). But...