LA BAYADÈRE
New Production / Ballet in 3 Acts
OPERA HOUSE
---
<STAFF>

| | |
| --- | --- |
| Artistic Director / Revised Choreography | : Asami Maki |
| Music | : Leon Minkus |
| Choreography | : Marius Petipa |
| Repetiteur | : Boris Akimov |
| Lighting | : Mutsumi Isono |
| Arranged & Conducted by | : John Lanchbery |
| Orchestra | : Tokyo Philharmonic Orchestra |
| Stage Manager | : Hajime Morioka |
| | |
| Presented by | : New National Theatre, Tokyo |
| Co-production with | : Akiko Tachibana Memorial Foundation |
---
<CAST>

November
2000
Friday
17
Saturday
18
Sunday
19
Tuesday
21
Wednesday
22
Thursday
23
Nikiya
Anna Antonicheva
Hana Sakai
Mariko Miyauchi
Anna Antonicheva
Misae Shiga
Anna Antonicheva
Solor
Carlos Acosta
Tomohiko Henmi
Naoya Kojima
Carlos Acosta
Kentaro Morita
Carlos Acosta
Gamzatti
Yuko Tanaka
Kumiko Ochi
Yuko Nishiyama
Yuko Tanaka
Yu Takayama
Yuko Tanaka
The High Brahmin
Guennadi Iline
Takayuki Sato
Takayuki Sato
Guennadi Iline
Ryo Masaki
Guennadi Iline
Bronze Idle
Naoya Kojima
Masanobu Negishi
Masanobu Negishi
Naoya Kojima
Masanobu Negishi
Naoya Kojima




Mutsuko Endo
Yuki Omori
Ari Takahashi
Mika Nakamura
Takako Nishikawa
Nina Maeda
Mamiko Yukawa
Toru Ichikawa
Shinya Okuda
Nobuo Nagase
Ryuji Yamamoto
NEW NATIONAL THEATRE BALLET, TOKYO


The role of Nikiya on the 17th, 21th and 23th of November will be performed by Anna Antonicheva(Bolshoi Theatre Ballet), due to the physical condition of Nadezhda Grachova.
---
<PERFORMANCES>

| | | | | | | |
| --- | --- | --- | --- | --- | --- | --- |
| November 2000 | Friday 17 | Saturday 18 | Sunday 19 | Tuesday 21 | Wednesday 22 | Thursday 23 |
| 2:00pm | | | X | | | X |
| 3:00pm | | X | | | | |
| 6:30pm | X | | | X | X | |

The theatre opens 60 minutes before the curtain rises.
---
<ADVANCE TICKETS>
Available from Friday 15 September, 2000 at 10:00am.
To order tickets, please call +81-3-5352-9999 (10:00am-6:00pm)
---
<TICKET PRICES>

| | | | | |
| --- | --- | --- | --- | --- |
| Type | Seat S | Seat A | Seat B | Seat C |
| Price | ¥10,500 | ¥8,400 | ¥6,300 | ¥3,150 |

Seat Z(¥1,500) is sold only on the performance day at the Box Office and a part of Ticket Pia Offices.
---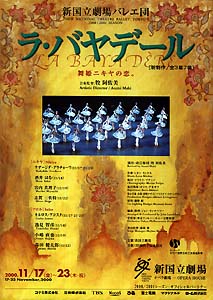 Bayadere Nikiya's love
La Bayadere is a masterpiece of ballet music that depicts a passionate yet pathetic love between a bayadere (female dancer) and a warrior in the setting of ancient India.
Called La Bayadere in French, this title refers to a female dancer who serves at an Indian temple.

Nikiya, a bayadere, falls in love with Solor, a young troop commander who serves a Rajah (king). However, Gamzatti, daughter of the Rajah for whom Solor works, wants to marry him and the Rajah tries to have her wish realized. An officer in the royal army, Solor cannot go against the Rajah's wish and consents to marry Gamzetti. On the day of the betrothal ceremony, Nikiya dances a congratulatory dance in the lowest of spirits. She is then lured into a trap and bitten by a poisonous snake and dies. In total despair, Solor has hallucinations in which he meets Nikiya again and spends a happy time with her. When he comes out of these dreams, however, with a loud roaring sound the temple collapses due to the anger of the gods. And the lovers rise to heaven through a ray of light.

Because of its grand scale, this masterpiece, full of overwhelming exoticism and poetic sentiment, has not been given many performance opportunities worldwide. In February of this year, the NNTT presented only the Kingdom of Shades act, famous for its fantastic scenes. It was well received by the audience, and in the forthcoming performance, the NNTT will present all of the acts for those eager to see the complete work. In addition to Anna Antonicheva from the Bolshoy Ballet Company and Carlos Acosta from the British Royal Ballet Company, both of whom will be invited as guest dancers, soloists of marked individuality will dance various fascinating dances. You will also enjoy the new elaborate stage setting and costume produced by the British designer A. Livingston and the beautiful melodies conducted by John Lanchbery, who is also responsible for the arrangement of music for this work.